Last updated Apr. 18, 2023 by Peter Jakes
There's no better way to invest in the stock market than through an online stock broker. The low cost and abundance of educational materials offered by online stock brokers make them an excellent choice for first-time investors. The only issue is that many online brokers can choose from the internet. So how can you tell which one is the best fit for your personality?
Our financial experts collated a list of the best brokerage accounts for new and seasoned investors. We have curated the 13 Best Online Brokerage Accounts: For Beginners And Experienced Investors for you. To achieve your investment objectives, use this guide to locate an online stock broker who can best assist you.
Who Is a Stock Broker?
A stock broker is a financial professional who buys and sells securities (stocks, bonds, mutual funds, etc.) on behalf of clients. An investor's transactions are handled by a stockbroker, who acts as a go-between.
A brokerage firm employs a stockbroker responsible for executing trades on behalf of various clients. Individual investors and institutions, such as businesses and organizations, are examples of clients. They'll typically be paid a commission for each transaction they process.
Importance of Having a Stock Broker
Although you can buy securities directly from a public company, buying from a stock broker is much easier. A stock broker also provides additional security for the company and the investor. Stock brokers ensure that the company from which you are purchasing is legitimate. They will also ensure that an investor does not have a false identity or a criminal history.
What Do You Need To Open a Brokerage Account?
To open up a brokerage account, you'll need to collect some personal information like:
Name
Social security number
Phone number
Email address
Date of birth
Driver's license or passport information
Employment status/occupation
Annual income
Net worth
Good read: Whole Life vs. Universal Life Insurance: Best Insurance for investing?
What to Know Before Opening a Brokerage Account.
Delegation of Authority:
You may be able to delegate decision-making authority over your account to someone else (for example, your spouse)—you may need to provide written legal authorization.
Appetite for Risks:
Some online brokers may ask you to list your financial goals and how much you are willing to risk with your investments. Capital preservation, income, growth, and retirement are some achievable financial goals. Risk tolerance is how aggressively you are eager to invest, whether putting more money into a single stock or investing in risky stocks.
Financial assets management:
You might have money in your broker account that hasn't been invested yet, like interest or dividend money. You might be able to choose what to do with the money. Most online brokers let you move the money to a bank account, put it back into mutual funds, or just leave it alone.
Be prepared to budget for some of the fees that online brokers may charge:
Commissions
Fees for account maintenance
Fees for inactivity (some brokers charge a fee if you haven't transacted in a while)
Account closure charges
Fees for wire transfers (some brokers charge a small percentage when you transfer money to an external bank account)
Many of the best brokerage accounts for beginners in this guide have extremely low fees and commissions, making them ideal for new investors.
Read also, 10 Things to Know Before Investing in Penny Stocks
Types of Brokerage Accounts
A cash account and a margin account are the most common types of brokerage accounts offered by brokerage firms.
You'll have to put down the entire purchase price right away when buying securities with a cash account.
You can borrow money from your brokerage to buy a security with a margin account. If you need to buy a security in a hurry (say, because the price of a stock you've been eyeing suddenly spiked) but don't have the funds in your account, this could be a lifesaver.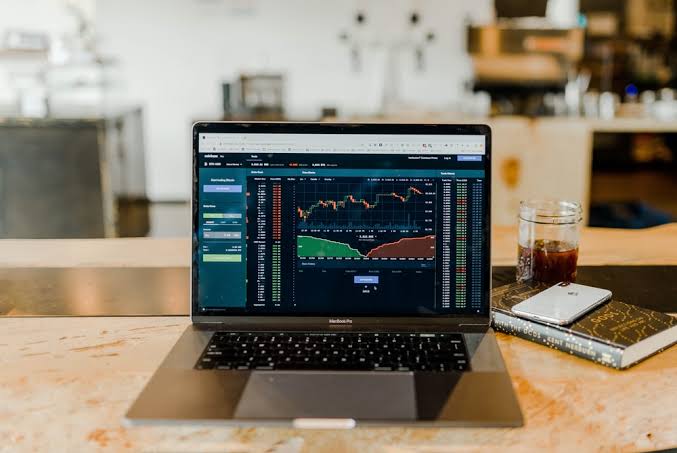 On the other hand, the brokerage firm uses your assets as collateral to lend you money. The greater purchasing power that comes with a margin account comes at the expense of greater risk. Don't take out more money than you can afford to repay.
1. Fidelity (Best broker for low costs)
2. Robinhood (Best broker in mobile experience and for beginners)
3. TD. Ameritrade (Best broker for Investor Education)
4. Merrill Edge (Best broker for integration with Bank of America)
5. Sofi Active Investing
6. Firstrade (Best broker for low-cost trading)
7. Webull(Best broker for low-cost options trading)
8. E*Trade (Best broker for ease of trading experience)
9. M1 Finance
10. Charles Schwab
11. Cash App
12. Acorns
13. Ally Invest
1. Fidelity
Rating: 4.8/5.0
Fidelity is a great broker for both beginners and experienced investors. So it's no surprise that Fidelity is one of the largest brokers in the United States. It caters to a wide range of clients, from novices to seasoned investors, those looking for self-directed guidance, and those who want highly personalized service.
Fidelity provides different tools for research and resources for the casual, buy-and-hold investor. For example, Fidelity's Active Trader Pro is a downloadable program with real-time streaming data and a customizable trading interface for more serious investors and traders.
However, despite offering a wide range of services, the company does not support some widely used trading products, such as futures, commodities, and cryptocurrencies.
Fidelity's Advantages
A wide range of research providers is available through Fidelity, including companies that monitor stock and market performance. You may find these resources helpful if you plan to invest in the stock market.
Fidelity also provides a variety of low-cost index funds. Investors who want to save for retirement or build a diversified investment portfolio will find this ideal.
The Fidelity platform is exceptionally user-friendly.
Many educational resources are available at Fidelity, including seminars, webinars, and robust research with rich asset screeners.
Fidelity Drawbacks
The Fidelity website can be a bit of a challenge to use.
You can't trade futures, commodities, or crypto.
Only US and main island residents can buy it.
There is no live news or data on the website.
Broker-assisted trades (trades your request over the phone when you don't have internet access) can cost you a lot of money.
High fees for trading with a broker
Start using Fidelity Online brokers now.
Good read: Truebill Review: Can it Really Cut Your Bills Automatically
2. Robinhood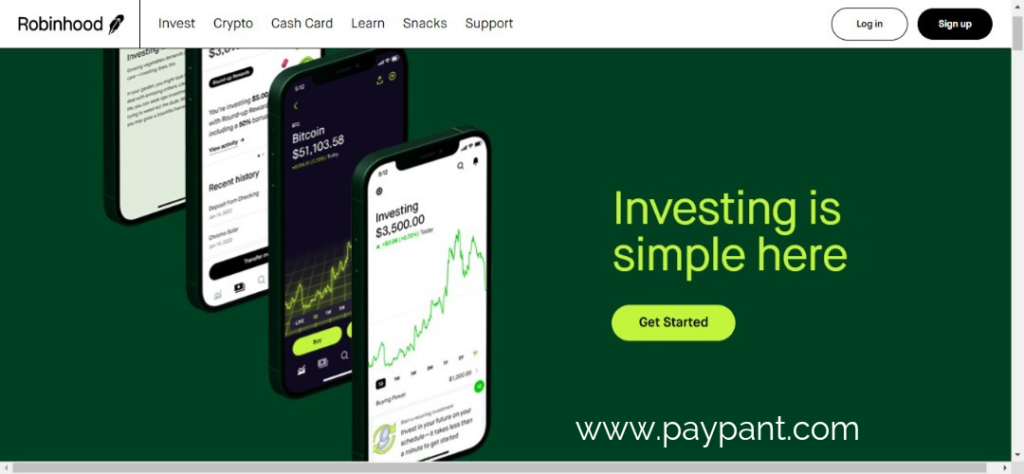 Rating: 4/5
As one of the newest and most popular online stock brokers, let's start with Robinhood. Because of its large user base of 31-year-olds, Robinhood has clearly positioned itself as a good option for those looking to invest for the first time, even if it is in small amounts through fractional shares.
The app and website are simple because of Robinhood's overall simplicity. As a result, Robinhood is an excellent place to start if you want to get into cryptocurrency investing. You'll be able to trade Bitcoin, Ethereum, and other cryptocurrencies on their platform.
A new options trading platform from Robinhood has made the broker a viable option for options traders, despite concerns about the quality of trades.
First-time investors could benefit from Robinhood's user-friendly platform, but more experienced investors may find it too simplistic for their liking.
Robinhood's Advantages
You can find basic features such as watch lists, stock charts, and price alerts on Robinhood's mobile app and web platform.
You'll get a reasonable interest rate on your brokerage account's uninvested cash.
Robinhood's Drawbacks
For more experienced investors, the mobile app and web platform may not have enough features.
There are few research and educational resources available for finding profitable investments.
Limited investment opportunities
Inadequate payment transparency for order flow
3. TD. Ameritrade
Rating: 4.5/5
Since its inception, TD Ameritrade, one of the world's largest online brokers in the United States, has made a concerted effort to attract new clients. As a result, new investors will benefit significantly from TD. Ameritrade includes numerous tools, while more experienced investors will find a wide range of investment options appealing. It is our 3rd choice of the 13 Best Online Brokerage Accounts: For Beginners And Experienced Investors.
TD offers multiple platforms for different skill levels. For example, Ameritrade is an easy-to-use web-based and standard mobile app platform for both passive and active investors.
Though the robust think or swim platform is likely the best bet for casual and day traders due to its extensive screening capabilities, charting tools, and advanced analytics, this is not the case for investors.
TD. Ameritrade has a wide range of trading platforms and overall offerings that will please both passive investors and active investors, as well as casual traders and day traders.
TD. Ameritrade's Advantages
New investors can take advantage of TD—Ameritrade's educational resources, including learning pathways.
The interface of the mobile app is very appealing.
The platform allows new investors to test it out without incurring cancellation fees.
The TD. Ameritrade Network provides new investors with hours of educational programming.
TD. Ameritrade's Drawbacks
Cash in a brokerage account earns a low-interest rate for investors.
TD. Ameritrade doesn't have fractional shares available.
Cash that isn't being used doesn't automatically go into a money market fund.
Some features are missing from TD. Ameritrade's platform that experienced investors may require.
Account and fund fees that are higher than those of competitors
Start investing with TD. Ameritrade now
4. Merrill Edge
Rating: 4.1/5
Merrill Edge's technology and range of services are ideal for:
first-time
intermediate-level
do-it-yourself investors.
Long-term investors and day traders will find ample technical and fundamental resources at Merrill Edge, an online brokerage.
In addition to the Preferred Rewards program, Merrill Edge provides a seamless banking/investing experience, a wide variety of educational offerings, and solid in-person support as part of the Bank of America financial services universe.
Merrill Edge has plenty of helpful resources for new investors, especially if you have an account with Bank of America.
Merrill Edge's Advantages
Merrill Edge's customer service is excellent. Financial advisors at Bank of America branches across the country can meet with customers one-on-one. These advisors can assist customers more with financial planning than with investment advice. Online chat and phone support are also available.
The portfolio analysis tools at Merrill Edge can assist you in building a more robust and well-rounded investment portfolio.
Context-sensitive help pop-ups are exclusive to the Merrill Edge trading platform. For new investors, this is a crucial feature.
Merrill Edge's Drawbacks
It costs a lot of money to borrow money for a margin account.
The platform has limited capabilities
Futures, futures options, and cryptocurrency trading are all out of bounds.
5. SoFi Active Investing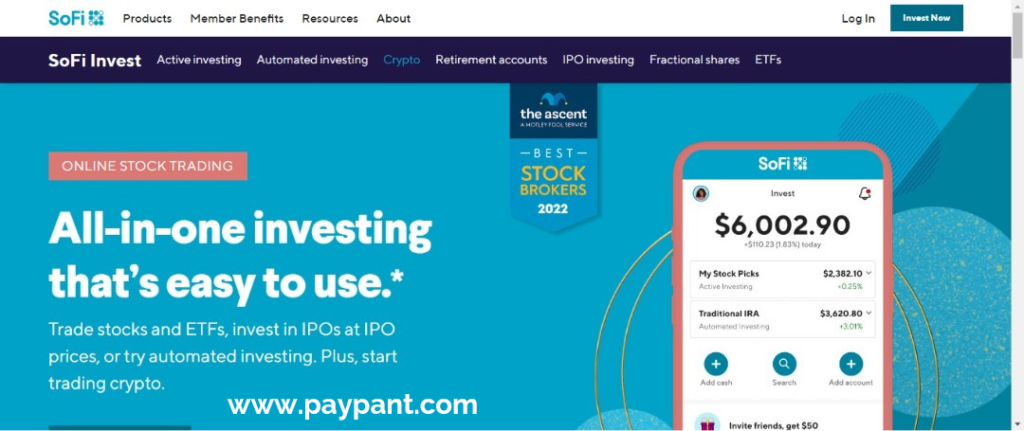 Rating: 4.2/5
Beginner stock and ETF investors looking for low account minimums, no commissions, and an easy-to-use mobile app should consider SoFi. In addition to student loan refinancing, credit cards, and mortgages, SoFi offers a broad array of other financial services, making it a great choice if you want to keep your finances in one place.
But if you want to invest in mutual funds, options, or futures—or anything other than stocks, ETFs, or crypto—SoFi is not your broker. So for those looking for a broker that provides a robust trading platform, you'll need to look elsewhere.
Several financial products are available through the SoFi platform, but the SoFi Active Investing platform is specifically designed for young investors (not "beginning" investors).
SoFi Active Investing Advantages
Additionally, your account comes with free financial counseling.
Online resources and research tools provided by SoFi can assist you in becoming more knowledgeable about the world of investing and locating the best securities.
In addition to career coaching and educational events, SoFi Active Investing frequently hosts events.
To use this platform, you must be willing to conduct your stock research.
SoFi Active Investing Drawbacks
SoFi Active Investing has a smaller selection of securities, which is a disadvantage.
Investors trying to save for retirement may be put off by the limited number of mutual funds available.
Start investing with SoFi Active Invest
6. Firstrade
Rating: 4.3/5
Firstrade is a good choice for people who want to trade traditional assets like stocks, ETFs, and bonds. Options traders will like Firstrade because it is one of the few platforms that does not charge a fee per contract. Most brokers take a fee out of each option contract even if they don't charge commissions.
The online brokerage platform is a good option for investors whose first language is Mandarin or Cantonese.
In addition to TD Ameritrade, Firstrade is another online stock broker recommended for retirement investors with a long time horizon. Investors at all levels can benefit from its wide range of options.
Firstrade lets you free trade stocks, mutual funds, ETFs, and options. The fees for not trading are low. There are a lot of tools to help with research, such as trading ideas and detailed fundamental data. In addition, the broker has a lot of great ways to learn, like videos and webinars.
Firstrade Advantages
It's an excellent online investment broker because mutual funds have no commission fees.
Firstrade has three trading platforms (including a mobile app) that are simple to use and can be customized.
You can use a variety of excellent resources to conduct research.
Referring friends and family to Firstrade earns you free stock. So get in touch with your pals!
Firstrade Drawbacks
There are a lot of features geared toward retirement investors, but there isn't much for those who prefer to trade actively.
The products cover only the US market.
Web and mobile platforms don't have much more than order entry and basic charting.
No trading in forex, cryptocurrencies, futures, or options on futures
There is no customer service. 24/7
No credit cards, debit cards, or electronic wallets can be used to send money.
Try out Firstrade features here.
7. Webull
Rating: 4.4/5
Webull is a relatively new online broker, founded in 2017 and launching in May 2018 with a mobile app. This online broker's most important demographic is millennials, and this mobile-first launch reflects that demographic.
New and active traders and those attracted to a platform with no account minimums, commission-free trading of stocks/ETFs and their options, and a wide range of cryptocurrencies are potential customers for Webull. Webull caters to self-directed investors better than full-service competitors, with a less comprehensive offering.
The Webull platform is excellent, with a wide range of useful tools and features and competitive margin rates for customers. We'll take a close look at Webull to see if it's a good fit for your portfolio management needs or not.
Webull is designed for investors with some experience who want to manage their portfolios online only. It has a lot of different types of assets, including cryptocurrency.
Webull Advantages
Both the desktop app and the mobile App for Webull are easy to use.
There are trading tools here that you might not find on any other apps on this list.
This online broker is a low-cost trading platform that requires no money to open an account.
Webull Broker Drawbacks
Webull isn't known for its educational tools, so investors with at least some experience are often told to use it.
There is no income from excess cash.
Possible execution halt due to payment for order flow (PFOF)
Portfolio management tools are limited.
Webull does not offer mutual funds as an option for investing, fixed income, foreign exchange, or futures markets.
Check out the Webull broker here.
8. E*Trade
Rating: 4.7/5
As one of the first online brokers, E*TRADE has set itself as one of the best places to trade options online. It is a good choice for any investor, whether a beginner or an experienced trader.
E*TRADE is trying to get more active traders by offering two good trading platforms, a full-featured mobile app, a variety of investment choices, and strong tools for trading options. The power E*TRADE broker platform has a lot of tools for trading stocks, options, and futures that are easy to understand and use.
This broker platform is for people who love to watch the markets and trade. Its main website, etrade.com, has a lot of resources for learning and researching, as well as a large number of no-fee funds. E*TRADE, like many other large online brokers, can help investors of all levels.
The online broker platform has one of the most accessible trading platforms, so it is an excellent online broker for people just starting.
E*Trade Advantages
E*Trade uses several different platforms. It has three platforms for computers and two platforms for mobile devices. Each platform is best for another type of investor and is easy to use.
Each E*Trade app has a wide range of investment features.
Investors can "paper trade" stocks with the E*Trade apps, which is an excellent way for new investors to learn how to invest. It's also a good way to try out new ways to invest.
You can use "Pre-built Portfolios" on E*Trade if you have more money. This pre-built portfolio will automatically put your money into several different mutual funds or ETFs, so you can quickly build a portfolio of securities with a wide range of types.
E*Trade Drawbacks
The online brokerage platform does not give you direct access to markets in other countries.
Trading options are more expensive for infrequent traders.
Only through a dividend reinvestment plan (DRIP) or a Robo-advisor portfolio can you buy fractional shares.
You can't combine your other financial accounts, which would be helpful if you wanted a complete picture of your net worth. But on the other hand, most new investors probably won't care much about their net worth.
9. M1 Finance
Overall Rating: 3.9/5
M1 Finance offers an intriguing combination of automated investing, extensive portfolio customization, and borrowing and spending capabilities. You can choose from over 60 pre-built portfolios referred to as "pies" (a reference to pie charts) or create your strategy.
This platform helps those seeking to automate their strategy while aligning with their personal preferences, risk tolerance, and diversification objectives.
The app's broker also receives high marks for the platform's overall low cost, charging no fees for investment management or trading, allowing you to put more of your money to work.
M1 Finance is an inexpensive Robo-advisor for independent investors. In addition to having no commission or account management fees, this financial services app integrates banking, investing, and borrowing. These features enable investors to obtain a more comprehensive view of their finances in one location and leverage their investments by borrowing.
This Robo-advisor is suitable for: Self-directed investors seeking a user-friendly app to manage investing, banking, and short-term borrowing in a single location.
M1 Finance Advantages
Investment incorporated with banking and credit line
No commissions
Free account management
Low cost-to-income ratios
Dynamic Reweighting
Fractional trading of shares
Reduced account minimums
M1 Finance Cons
No access to human consultants and financial advisors are not available.
There is no tax-loss harvesting.

Financial calculators

, tools, and goal setting are limited.
There is no aggregation of external accounts for investment allocation.
Start investing with M1 Finance here.
10. Charles Schwab
Rating 4.0/5
Charles Schwab is another online broker with a lot to offer and is suitable for both new and experienced investors.
It is a full-service broker that manages more than $6.6 trillion in customer assets. Because the company has grown through acquisitions, Schwab's customers will eventually be able to use TD. Ameritrade's thinkorswim trading engine.
The app's StreetSmart online trading platform, which already meets the needs of less serious investors, will be joined by TD. Ameritrade's platform for traders.
Schwab's wide range of financial products is also enough for the average investor. Still, it might not be the best choice for active options traders or people who want to trade on foreign exchange (FX), cryptocurrency, and futures markets.
Charles Schwab Advantages
There are a lot of mutual funds with no expense ratios at Charles Schwab, so it's an excellent place for investors who are saving for retirement or want a diversified portfolio.
Charles Schwab has a wide range of research providers to choose from. Research is also connected to Google Assistant, so a tech-savvy investor can ask their Google smart speaker to tell them more about the security they are interested in.
The trading platform can be changed and looks nice.
You could always put your money in the Schwab Value Advantage Money Fund, which pays a much better interest rate, just that it's not the default choice.
Charles Schwab Drawbacks
You can only trade Bitcoin futures. You can't trade foreign exchange (FX), and futures need a different platform.
The interest rate on the money in your brokerage account is pretty bad.
Still, there's no way to move cash to a money market account automatically.
Charges for trading options may be too high for active traders, especially those who use more than one leg strategies.
The margins are higher than those of some of its competitors.
Check out the Charles Schwab online broker here
11. CashApp Investing
Rating 3.9/5
Cash App, a popular way to send and receive payments, now has a brokerage feature that lets users buy and sell securities through the same app they use to send and receive payments.
With Cash App Investing, users can trade stocks for free and buy fractional shares, among other cool features that new or mobile investors need from an online broker.
This platform is a good fit for: Beginning investors may see the most value from the lack of commissions and the ability to invest small amounts via fractional share purchases. Investors that want to use Cash App for IRAs and other investments (for example, options and mutual funds) will want to look elsewhere.
Cash App Investing Advantages
No commissions
Great for beginning investors with fractional share investing
Cash management features
Cash App Investing Drawbacks
Limited investment options
Limited account types
12. Acorns
Rating 3.8/5
Acorns is a robo-advisor that invests users' spare change to make investing more convenient. In addition to an easy-to-use app and straightforward pricing, the platform boasts more than 8 million users and a feature-rich linked checking account. Our Acorns review can help you decide if it's right for you if you're looking to simplify your investing.
You should use this Robo-advisor if you want to automate your investments to the greatest extent possible. Then, acorns are the best option for you. It is our 12th-best pick of the 13 Best Online Brokerage Accounts: For Beginners And Experienced Investors.
Acorns Online Broker Advantages
Automatic "round-up" investing
Intuitive app and friendly user interface
Children's accounts are available.
Clear and simple pricing
Members can open a checking account.
Acorns Online Broker Drawbacks
There is no way to harvest tax losses.
Investing without the assistance of human, financial advisers
With a small balance, fees can add up quickly.
ETFs (Exchange Traded Funds) serve as vehicles for all investments.
Inadequate investing education
Only US citizens are eligible to open an investment account, limiting the potential.
Customer service is subpar.
13. Ally Invest
Rating: 4.5/5
Ally Bank's brokerage business is called Ally Invest. It's a good choice for traders and investors because it has low costs, low minimums, and a good (if a bit old) trading platform.
Options trades cost just $0.50 per contract, and minimum balances and account fees are low or don't exist. In addition, there are no commissions on stocks and ETFs, and options trades cost just $0.50 each.
Existing Ally Bank customers and those looking to switch to online banking will find Ally Invest an excellent choice because it allows them to view their entire financial picture in one place.
You can open an Ally Invest account with no minimum balance requirement or a managed fund that requires just $100 to open an account. In addition, traders of all levels can benefit from Ally Invest's competitive rates, a robust and easy-to-use trading platform, educational resources, and helpful tools like screeners.
Ally Invest Advantages
Ally Invest Platform is easy to use and understand
Cash balances can earn interest.
There is foreign exchange trading
Ally Invest Drawbacks
There are problems with the website, the streaming service, and the mobile app.
Mobile App does not support all available trading products
There is no support for contingent orders or other orders.
No trading in cryptocurrencies or futures
Start investing with Ally Invest now.
Other Things You Need For a Brokerage Account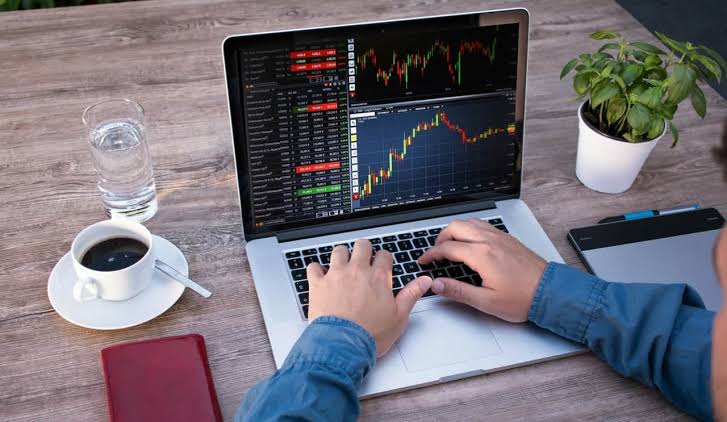 When choosing a brokerage, there are factors that you should consider. First, the cost is essential, but you should also think about other things that might make your experience better, such as:
Research:
How much research is offered by the broker? Is it done in-house or by someone else? Do you need information about specific stocks, or are you looking for funds? These are some of the questions you need to ask.
Education: Many brokers offer many ways to learn about investing so that you can do it well. If you want to trade more often, many brokers provide articles and webinars on using their advanced products and tools.
Trading simulators: Some brokers offer trading simulators that give you a bunch of fake money and let you use the simulator to try out their platform and test your skills.
Customer service:
If you're starting, you may have many questions. Hence, good customer service can be essential. First, check a broker's schedule to see if it fits your needs.
Mobile apps: If you want to trade on your phone, you might want to check out the broker's app. Even though some brokers focus on mobile and know how good their app is, almost all major online brokers have apps that can do the job.
Some investors use their investments to make money, while others use them to build or keep their wealth. Consider your financial goals when choosing a broker, and make sure the broker can help you reach those goals.
Bottom Line
Starting as a newbie investor is difficult because you may be working with a limited budget. That means a broker with no account minimum, zero commissions, and more educational resources may be a good fit for you.
Pay close attention to commissions and fees, especially for the markets that are most important to you. Also, think about the technology the broker offers and if it fits your way of investing, whether you are a long-term investor or a trader who buys and sells often.
A good broker is more than just a place where trades can be made. Look for a broker who can help you with sound research and learning materials to help you grow as an investor and help you make intelligent choices in the markets.
Lastly, remember how important it is that you can get live customer service. Some brokers focus much on this area and offer live support by phone and chat 24 hours a day, seven days a week. Others would rather spend more time on technology and only offer customer service by email or text chat.
Frequently Asked Questions
Q: Is My Money Safe In An Online Brokerage Account?
If your brokerage firm fails, money in your online brokerage account is protected up to a certain amount by the Securities Investor Protection Corporation (SPIC). The SPIC, established in 1970, is similar to the Federal Deposit Insurance Corporation (FDIC), insuring deposits held by FDIC-insured banks.
Customers of SPIC-member brokerages are insured up to $500,000 for accounts held at a single brokerage, with a maximum of $250,000 for uninvested funds. This insurance means that if your brokerage is a SPIC member, you will be protected if the brokerage goes out of business. The SPIC, however, does not cover money lost while investing.
Q: Do I need much money to use an online brokerage?
You don't need much money to open a brokerage account, which is good news. Most discount brokers have account minimums of $0. This zero minimum makes it easy for almost anyone to start trading.
Q: How To Withdraw Money From A Stock Broker
Retrieving money from a stockbroker's account is relatively straightforward. To transfer the desired amount, you must first determine how much cash you have available to invest and then sell any investments you have.
A transfer to your bank account can then be initiated from your brokerage account. Plan and start the process a few days before you need the money, which usually takes a few days.
Q: Can I use a Robo advisor?
Digital investment managers, also known as Robo advisors, are designed for investors who don't want the hassle of selecting investments and managing a portfolio. Of course, this makes Robo advisors appealing to beginners. Investors who use them do not always require educational resources or access to a diverse range of asset types.
The best brokers for beginners are concerned with assisting you in growing as an investor by providing you with the right resources at the right time. They will not only help you grow, but they will assist you in building a solid portfolio with little to no effort. So whether you want to do it yourself or hire a Robo advisor, it's better to have options as a beginner.
Q: Can I withdraw money from a brokerage?
Withdrawing funds from a brokerage account is a simple process. It is common for brokerages to invest their money in a specific set of assets. Occasionally, there is money in the account that hasn't been invested. As with a bank account withdrawal, this extra cash can be withdrawn at any time.
Invested funds can only be withdrawn through the sale of existing positions. Selling your investments like stocks, ETFs, and mutual funds is a part of this process. You'll be able to get your money once you've sold it.