Last updated Mar. 12, 2023 by Favour Chinaza
If you're planning a kitchen, remodel, or new construction, you might be looking for ways to save money without sacrificing quality. An IKEA kitchen is one option to consider.
IKEA, a Swedish furniture company, is a well-known home furnishings and provides a wide range of low-cost kitchen products such as cabinets, countertops, appliances, and accessories.
They are known for their contemporary design and competitive pricing.
Its kitchen appliance products, although durable, are known for their expensive pricing.
If you want to remodel your kitchen using IKEA cabinets and other kitchen products, you will likely spend a lot of money.
Here are some ways to save money on IKEA kitchen products.
Related: 7 Ways to Save Money at IKEA (& a Secret Hack to Get 4x Savings)
13 Ways to Save Money on Your IKEA Kitchen Renovation
1. Take Advantage of the Kitchen Sale Event
IKEA organizes a popular kitchen sales event from time to time. This event allows you to schedule a one-on-one planning session with an expert.
The IKEA kitchen sale occurs three or four times a year and lasts about a month.
IKEA generally offers up to 20% off all kitchen items, such as cabinets, appliances, countertops, and organizers. The kitchen event covers almost everything related to cooking!
To be eligible for the IKEA kitchen sale, you must spend at least $1,000. This will result in a 10% gift card refund. If you buy two appliances along with your kitchen, your cashback will increase to 15%; buying three or more will increase to 20%.
Surprisingly, some customers mentioned that the IKEA kitchen sale offered 15% cash back on a minimum $2,000 purchase. It also included free shipping. So, while the IKEA kitchen sale isn't identical in every way, one thing is certain: the deal is unbeatable.
An IKEA gift card will be given to you after you seek professional service at the event. You're also eligible for a gift card when you make a purchase that surpasses $1000
2. Apply for an IKEA Credit Card (Save 5%)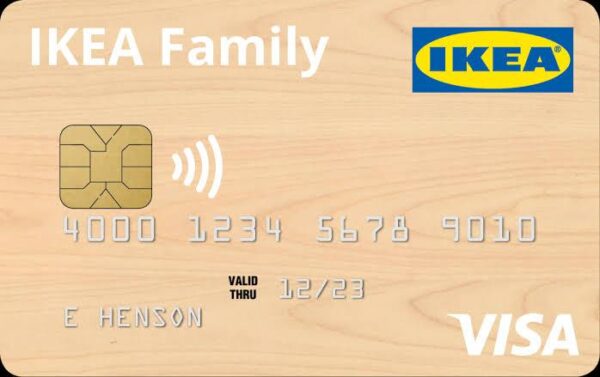 Many businesses provide a store credit card, which allows you to save a specific amount of money each time you buy at their establishment.
IKEA offers two separate credit cards, each with its benefits.
The IKEA Visa card gives you a 5 percent cashback incentive on all transactions. It also provides 3 percent cash back on items like groceries and utilities.
The IKEA® Visa® credit card* has no annual fee and gives you 5% back in rewards on IKEA purchases, including Traemand installation and TaskRabbit assembly services.
You also get 3% back in rewards on purchases made at restaurants, grocery stores, and utilities and 1% back in rewards on all other purchases made with your IKEA Visa credit card.
You can only use your rewards at IKEA, Traemand, and TaskRabbit. The rewards are good for 36 months after they are given out.
The welcome bonus is $25 off your first IKEA purchase of $25 or more, which you can get right away if you use the card right after getting it in-store or get a statement credit if you use it right after getting it online.
Plus, you get $25 in IKEA Reward Dollars as a bonus if you spend $500 or more outside of IKEA, TaskRabbit, and Traemand within the first 90 days of opening your account.
The $50 total reward bonus isn't enough for your monthly store trip to buy meatballs.
With 0% introductory APR financing for IKEA purchases only available through a different card, the IKEA Projekt Card, the IKEA Visa doesn't offer any major extra benefits.
Even though credit cards rarely offer bonus rewards for paying for utilities, remember that many utility companies pass on their credit card transaction fees directly to the customer, so paying with a bank account may be a better option.
3. Restore Your Old Appliances
Repairing and restoring your existing appliances can save you significant money.
You may prefer to clean your appliances' exterior and functional surfaces to keep them in good condition. More complex issues can be resolved; however, safety must be prioritized.
Not only is electrocution a concern, but improper repair and replacement can lead to fires and other problems such as water damage. So make sure you conduct extensive research, seek assistance when necessary, and don't work alone.
4. Join the IKEA Loyalty Program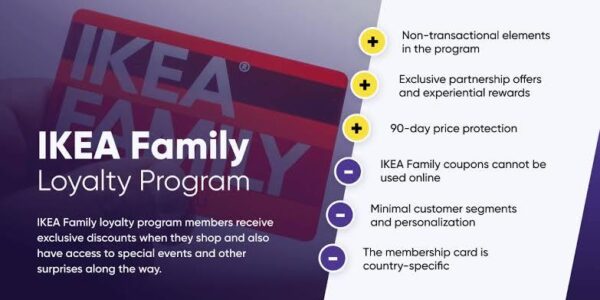 The majority of businesses have a customer loyalty program.
They offers a customer IKEA loyalty program known as IKEA Family. Benefits include exclusive savings, a welcome gift when you first join, a complimentary hot drink every time you visit, a birthday present sent directly to your mailbox, and exclusive access to special events.
You can save money on certain menu items at the IKEA restaurant and give your kids more time to play in Smaland, the store's supervised play area for kids.
Members-only prices on a different section (like art or office supplies) each month could be the best perk. Sign up for email alerts so you can stay in the know.
5. Dress up Budget-friendly IKEA Cabinets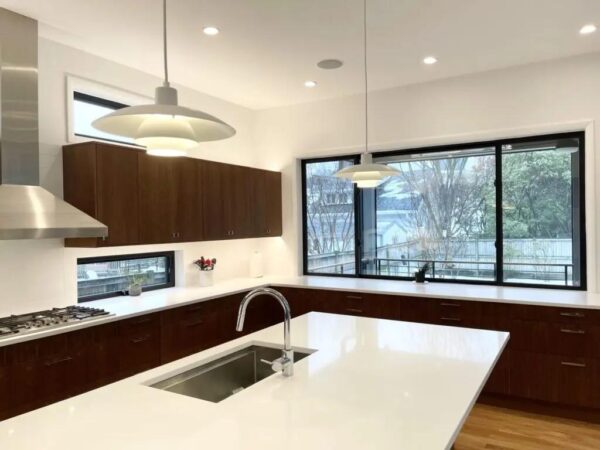 If you don't like kitchen shelves but don't want to spend thousands of dollars on new cabinets, you have a few other options.
Shopping at discount stores like Ikea can help you find low-cost frames you can customize with compatible fronts from companies like Semihandmade and Reform. These are also easily interchangeable in the future.
Stock cabinets can also help you save money (as opposed to buying a custom set). These are typically well-built, so "they're not going to fall off the wall in a year,
However, you may not need to purchase new cabinets during your renovation. Instead, you can spruce up older cabinets by replacing the hardware. Drawer pulls and knobs come in various shapes, sizes, colors, and designs.
If you go this route, ensure the new hardware covers up any marks on your cabinetry and that any exposed hinges match the knobs and pulls.
6. Claim a $25 Moving Credit with IKEA New Mover Program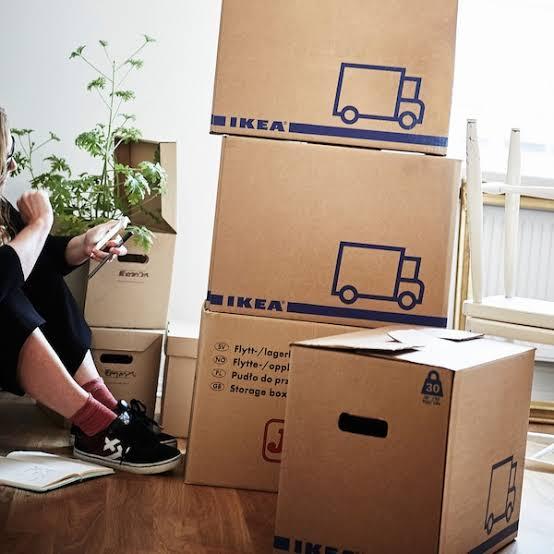 Are you planning to relocate? Do you intend to remodel your new home with some IKEA kitchen products? If yes, you can save money by taking advantage of the IKEA Moving program.
Sign up for the IKEA New Mover program to get a coupon for $25 off an in-store purchase of $250 or more before taxes.
After you sign up for an IKEA profile and choose to receive emails, your coupon will be sent to you via email.
This program provides a voucher for about $25 off when you purchase a $250 product and above.
The coupon is good for 60 days from the date it was printed. Valid only in US stores that are taking part. Not valid online. Before-tax, shipping, and handling, the coupon is applied.
Note that each person or household can only use one coupon per year. You can't use it on purchases you've already made, and you can't use it with other coupons or deals.
The Moving coupon is not valid on the IKEA Kitchen Appliance offer, Click & Collect, Delivery, Assembly, Kitchen Planning, or other services.
Also, you can't use this coupon for IKEA Gift Cards or to pay off your IKEA credit card. Also, it is not valid on food in the IKEA Restaurants, Bistro, or Swedish Food Market.
7. Shop Dent-and-scratch Appliances
Dent-and-scratch appliances are brand-new items that have been heavily discounted because the external packaging has been damaged or the appliance has a few cosmetic flaws.
The appliance often works perfectly well and usually comes with the original manufacturer's warranty.
Look for these reduced appliances at major retailers to save up to 40% off the regular price.
Just keep in mind that there's always the possibility that the appliance will break down or require repairs. You may also be required to install the appliance yourself by the retailer.
Compare the store's offer to the manufacturer's suggested retail price once you've found a potential dent-and-scratch appliance.
You should reconsider your purchase if you do not save at least 40%. However, if you wait long enough, you'll find an appliance on sale.
8. Look Through the IKEA "As Is" Section.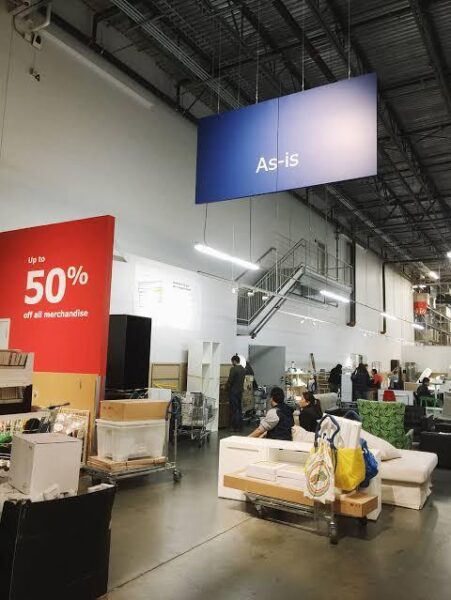 IKEA has a store section called "As Is." This section displays returned items and somewhat damaged items.
The As-Is section contains a selection of discounted floor samples, discontinued items, and customer returns.
IKEA retires a certain amount of merchandise each year to ensure that our product selection is always up to date. As a result, that merchandise and seasonal products left over after the summer or winter holidays may end up in As-Is condition.
Beds, desks, office chairs, sofas, and even kitchen cabinets end up here as floor samples or returned merchandise.
The As-Is selection at each store varies depending on what is available at their location.
Savings can range from 30 to 60% off, so a DIYer may strike gold if they happen to be there and find something they like.
How do you find the best deals?
Because products constantly flow in for one reason or another, the As-Is department in any IKEA location is continuously restocked. Also, because of any weekend returns, Monday or Tuesday afternoons are probably the best times to visit.
Because their new catalog will be available in August 2023, you will notice price reductions on merchandise IKEA previously discontinued in June and July 2022.
These items are frequently stocked in the As-Is section. So you get the chance to get these items before they're gone forever.
Most of these products are sold for 50% less than their original price. I've found some steals at IKEA, such as a $800 sofa that I got for $130 after all was said and done.
I've even seen some of our top-of-the-line, over-dyed Turkish rugs, which can cost as much as $1,000, in As-Is condition.
Perhaps there was minor damage that prevented it from being sold at full price, or it was a floor sample that simply required cleaning.
If you work for IKEA, you're eligible for an employee discount. IKEA provides a 15% employee discount to all its workers regardless of their work position.
9. Shop for New Appliances During Major Sales
If you plan your timing carefully, you can save a lot of time on appliances for your kitchen renovation. So when should you expect big sales?
September and October: Because manufacturers typically introduce their latest models during these months, they will discount the previous year's models to make room for new appliances.
Holiday weekends: Many retailers discount appliances during the holidays, and the best deals on refrigerators and dishwashers are around Black Friday.
However, the pandemic has created a serious supply shortage of major appliances, so Black Friday deals this year are unlikely to be as good."
We suggest splurging on items you use every day.
If you skimp on the refrigerator and end up with one that's too small and lacks key storage features like pullout shelves and crisper bins, and you'll kick yourself every day.
The same is true for a low-cost faucet or "the dishwasher that sounds like a jet engine and doesn't clean the dishes."
10. Do Your Purchases Homework First
Prepare yourself by doing your homework before purchasing at IKEA
This helps you save money.
Walking into the IKEA kitchen sale should not be the first time you think about what you want.
If you want to do it yourself, read our tips for designing and planning the perfect kitchen. We want to assist you with your renovation in any way we can.
Don't come in expecting to sit down at a computer and create a design from scratch or to ask a staff member about the ins and outs of all the different appliances.
IKEA may be a ready-made system, but the possibilities are nearly limitless. Trying to make decisions while bodies move in all directions during the IKEA kitchen sale is a recipe for disaster.
A surefire way to forget something! Allow plenty of time ahead of time to make any changes to your kitchen design and research any appliances you might be interested in purchasing.
Having said that, I've always found the staff to be very helpful for those last few in-store questions.
Being prepared serves two purposes. First, not only should you be prepared with your design, but you should also be prepared with some patience.
Even if I arrive at IKEA with everything planned and in order, I expect to spend about 2-3 hours there. Unfortunately, it also appears that I am not alone, as others have suffered the same fate.
Everything takes time, from placing the kitchen order to paying at the checkout to waiting for the items to be picked up. Remember that they will not pick up your purchased items until you have paid.
11. Stick With the Same Kitchen Layout
Stick with the same layout instead of moving the kitchen sink to the other side of the room or changing the orientation of the kitchen island to save money.
Because of labor costs, structural changes such as moving walls and fixtures are more expensive.
While you may be tempted to knock down a wall to connect your kitchen and dining area, keep in mind that this will significantly increase the cost of your remodel.
Almost any changes to your home's layout will necessitate hiring specialized contractors to handle the plumbing and electrical work.
A good rule of thumb is that almost anything behind the walls necessitates building permits and the services of a plumbing or electrical specialist.
As a result, keeping the same layout is less expensive, but changing minor elements like colors and fixtures to give your space a new look.
12. Create a Kitchen Budget and Stick to It
When planning your kitchen remodel, it's important to create a detailed scope of work, usually provided by your kitchen designer if you are working with one.
This budget sheet should have details of all the design choices and works to be performed to build your new space. It could be one fun way of budgeting for you if cooking is your hobby.
You will use it to get accurate budget estimates from a general contractor. The scope of work should include the layout, fixtures, material choices, and finishes.
Some general contractors will create a detailed budget for you and present you with a fixed-price contract to complete your project.
Others will only offer you an estimate, which means you will absorb any cost overages. I recommend you go the fixed-price route to avoid any surprises. Resist the temptation to change your scope of work during construction.
13. Take Advantage of the IKEA 90- day Price Guarantee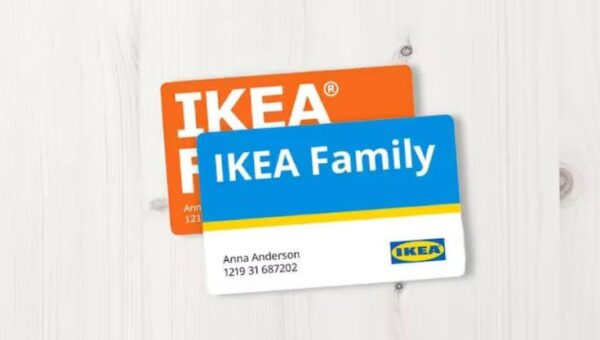 There is a little-known secret that many people are unaware of, which revolves around the IKEA family card. IKEA Family members are entitled to a 90-day price guarantee (on any purchase).
When it comes to the IKEA kitchen sale, that's HUGE. First, you can get your IKEA kitchen at any time of year (pretty much). Then, when the sale arrives, return to IKEA for a price adjustment.
This allows you to avoid the chaos of the IKEA kitchen sale, such as long lines and out-of-stock items.
If you are concerned about purchasing outside of the 90-day window, look at the timing of previous events or ask the staff in the kitchen section when the next IKEA kitchen event will be held.
You are fine as long as it is within 90 days. When doing large-scale renovations, working with contractors, or simply looking to get things done around the house, not having to align your schedule with IKEA's calendar is a benefit.
Bonus Tip for the IKEA kitchen Sale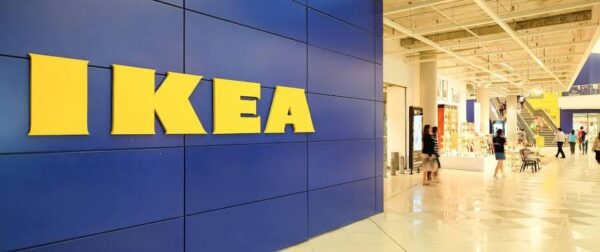 If you can swing it, try to go on a weekday. Mornings are typically the quietest, but any weekday will be better than going on the weekend.
Going on a weekday will minimize crowds and vastly improve the customer service experience. It probably also leads to fewer errors when the items are picked.
Now you're ready to tackle the next IKEA kitchen sale like a pro. So why wait? Get started on your design today so you are prepared when the next kitchen event comes to town!
Make use of Facebook Marketplace or Craigslist
Facebook marketplace and Craigslist are filled with various products sold at discounted prices.
Some people sell secondhand IKEA products on eBay, Amazon, and other online marketplaces.
Also check out places where you can buy discounted gift cards, IKEA cards will definitely be one of them.
Take Advantage of Your Credit Cards Rewards
If you have a cashback credit card from Discover or American Express, you can enjoy cashback on all your purchases from IKEA.
Join Swagbucks
Swagbucks is a survey site that pays people to participate in online surveys. It rewards participants with points that can be converted to gift cards of any type.
You can participate in Swagbucks surveys to earn an IKEA gift card, and if surveys are not your thing, there are other places to find IKEA gift cards.
Save Money with IKEA Kitchen Island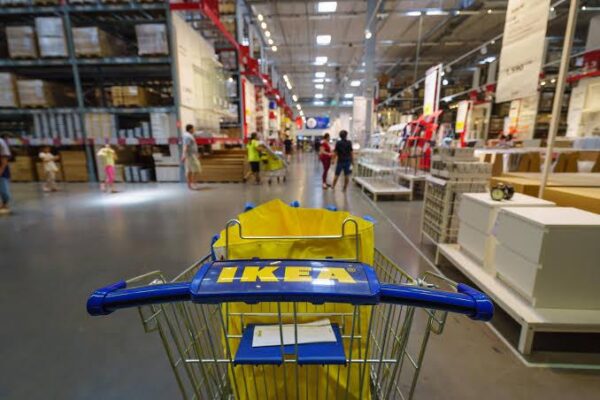 A good kitchen island can do a lot. It gives you more space to work on, more room to store things, and, if you choose a stylish one, it can tie your kitchen together and give it something it needs.
But it takes some work to find the right kitchen island. Your favorite thing to buy from a store might not meet all your needs.
Even if it doesn't, you don't have to give up. People have started making their kitchen islands from pieces they found at IKEA.
Don't miss out on the IKEA Kitchen Island
Ikea is known for its simple design and low prices; a kitchen island is no exception. The kitchen island was created to save space while keeping the kitchen organized.
They're ideal for storing small items that get tossed into drawers but don't need to be held on shelves, and they're ideal for keeping all of your pots and pans close at hand.
There are numerous color and finish options available. They are available in sizes ranging from 22 to 42 inches and are made of durable, easy-to-clean materials.
Although it may appear silly, if you're looking for ways to organize your kitchen, don't overlook the humble kitchen island.
They provide a handy place to store everything from pots and pans to baking trays, adding value to your home.
On the other hand, the organization of your countertop is the key to an efficient and beautiful kitchen. It should be easy to find what you're looking for. However, it must also be functional and easy to clean.
An Ikea kitchen island is a great solution for small spaces.
This is because it provides plenty of storage without being too large. In addition, by placing a cutting board on top of the island, you can gain some extra countertop space.
Another advantage of using an Ikea kitchen island is that you can easily customize its height and design.
Related: 9+ Cheap Home Décor Websites & Stores Near You
Bottom Line
The design cost is usually about 5% of the total cost of remodeling a kitchen. However, this is one of the most important steps in the process, and if you make mistakes at this stage, they could cause big problems during installation and cost you more money than you expected.
A very good way to save on IKEA kitchen renovation is to put together your own IKEA cabinets. Many people find the prospect daunting, but IKEA has invested millions of dollars in decades of research into selling flatpack cabinets with minimal returns.
In other words, they're really good at making it easy to assemble kitchen cabinets. But, of course, it took a lot of time and organization, which you can read about in my other articles on my IKEA kitchen remodel.
However, assembling your cabinets can save you roughly $500-$800 in assembly costs.
Frequently Asked Questions
Q: How much do you save with an IKEA kitchen?
Most of the time, savings will be $1,000 or more. So, if you want to know more, buckle up and let's go! The total cost of your IKEA kitchen project can be broken down into 4 main categories, and you can save between 5% and 20% on each of them.
Q: Is IKEA actually cheaper?
People like to make fun of the Swedish furniture company because you must assemble its famous pieces yourself. However, it's cheaper than a lot of its competitors.
Q: Does IKEA have a low-cost strategy?
IKEA uses flat packaging, a do-it-yourself model, and self-service stores to keep its prices low and competitive without sacrificing quality.
Q: Why is the IKEA kitchen so cheap?
Because IKEA products come unassembled and in flat boxes, their prices don't have to take into account how much space they take up, how much it costs to ship them, or how much time it takes to put them together. (You can also pay extra to have your products put together for you if you'd rather.)
Q: Are IKEA kitchens decent quality?
"We bought our kitchen from IKEA at the beginning of this year. Compared to other kitchens we've had in the past that cost more, I'm very happy with the quality. The units are well-made and have sturdy doors with a tough finish that can handle family use.
Q: Is IKEA kitchen design free?
At IKEA, you can design the kitchen of your dreams yourself. Our free kitchen planners make trying your ideas and implementing your vision easy. In addition, our planners work online*, so you don't have to download any programs to get started.
Q: How much should I budget for a kitchen remodel?
The average cost of remodeling a kitchen across the country is about $22,000. But that number doesn't show everything. Depending on the size and scope of your project, your new kitchen could cost anywhere from $5,000 to $50,000 or more. Most kitchen remodeling jobs cost between $12,500 and $33,000.