Last updated Sep. 25, 2022 by Jessica Green
Eating fast food saves you time and money. Although it's not the healthiest food option, it's no doubt the most affordable.
McDonald's is a popular fast food franchise. It is a well-known fast food corporation in the world. There are more than 14,000 McDonald's outlets in the United States alone.
If you love patronizing fast food places like McDonald's, here are 8 food hacks that will save you money.
Spend less money on the Big Mac
Big Mac just like McDonald's is a fast food franchise. If you want to save money in this restaurant, order a McDouble without the ketchup and mustard. Then specify that you want lettuce and special sauce on the side. This will make you get a double cheeseburger disguised as a Big Mac.
This hack is a terrific low-cost option that tastes similar to the real thing.
Create your version of the Sausage Egg McMuffin
In some McDonald's restaurants, making your own Sausage Egg McMuffin can be a cost-effective than ordering one.
Instead of purchasing a Sausage McMuffin with an egg, just get a plain old Sausage McMuffin and then order a round egg separately – then combine the two to create your own! It has been reported that ordering this manner saves between $0.60 and $1.30 for certain people.
Request for More Rice – It's completely free
Most Chipotle workers will gladly provide you with more rice at no charge if you make a request for it.
Ordering an extra dish of rice does not incur any additional charges.
Request fajita veggies as well as a corn salsa
Chipotle is a fantastic fast food restaurant for obtaining freebies. It offers complimentary meals like fajita veggies.
Filling your tortilla with these items is a smart idea. You can also receive the corn salsa for free, which will help you pack even more flavor into your cheap tortilla.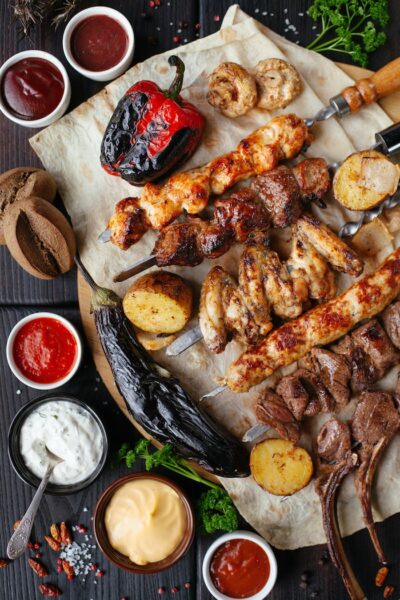 Apply for a Crown Card at Burger King Restaurant
Customers can earn points, known as "crowns," when they place an order at Burger King restaurants.
You may subsequently use these points to redeem free food and beverages.
Make use of the Burger King Mobile Application
Burger King restaurant has an extremely helpful app that can really save you money.
This app allows you to compare prices of foods, and it also notifies you when there is a discount, coupon, or gift card for a food.
Request a Venti Cup that is half-filled with water
Starbucks' bottled water is pricey! Rather than spending money on it, you should request for a Venti cup that is half-filled with water.
Most Starbucks stores provide free Venti cups of water to customers who request for one.
This is one of the most effective healthy fast food hacks.
Opt for a Short Latte rather than a Tall Latte when ordering coffee
Do you know that a Starbucks Short Latte and a Starbucks Tall Latte both contain the same amount of caffeine? So rather than spend more money on a tall latte, you can save money by ordering for a small latte.
This is because the Short Latte has the same amount of caffeine as the Long Latte. Hence, there is no need to order a tall latte.