Last updated Aug. 28, 2023 by Favour Chinaza
Rocket Money  Review: Can It Really Cut Your Bills Automatically
Tracking all your subscriptions and monthly fees these days without apps like Rocket Money might be difficult. And before you know it, you've paid for a streaming service or an online magazine subscription you've never used.
Rocket Money (previously known as Truebill) was designed to assist in resolving this issue. This budgeting and bill management tool gathers all of your monthly expenses in one place to help you keep track of your spending.
It even provides a bill negotiation tool to help you save money on monthly bills like phone and internet service.
Rocket Money (formerly Truebill) is a legitimate money management app owned by the Rocket Companies. Rocket Money may be able to assist you in saving money through planning, cutting your costs, canceling subscriptions, and more.
Why It Stands Out:
It's one of the best applications available for helping individuals save money in many ways, so the monthly fee (beginning at $3) may be well worth it.
Why it stands out: Rocket Money is a great option if you prioritize a budgeting app that helps tackle the causes of overspending. Rocket Money has features that let you track your spending on the bank account and create a budget.
The free version also lacks premium features like automatic savings accounts and automated subscription cancellation. It enables you to manage your subscriptions, automate your savings, and stay on top of your expenditures.
Bills are terrifying! But, because being an adult entails dealing with it regularly, Truebill offers a solution that automatically reduces it.
But you can't quit wondering if it's real, and you want to know if it can truly reduce your crushing bills.
Rocket Money allows you to understand and monitor your credit score, develop a working budget, increase your net worth, and receive the best prices on all of your payments.
Good Read: Rocket Dollar Review: Its Pros, Cons, and Expert Analysis.
What is Rocket Money?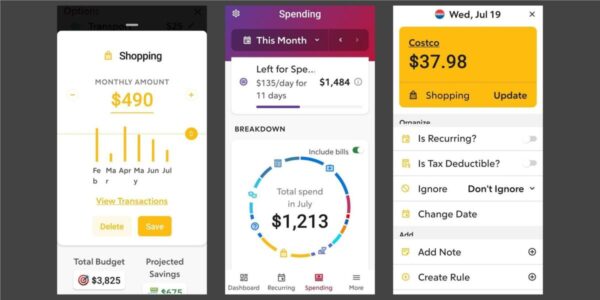 Rocket Money is a personal finance app that is part of the Rocket Companies fintech ecosystem.
Until Rocket Companies acquired Truebill in December 2021, the app was known as Truebill. Truebill was renamed Rocket Money in August 2022.
The major purpose of Rocket Money is to teach you how to manage your money. Many tools in the app can help with this, such as deleting unneeded subscriptions, automating your savings, and negotiating your expenses.
So far, Rocket Money has assisted over 3 million users in saving over $245 million. This includes eliminating nearly $155 million in unnecessary subscriptions. Rocket Money is available through the App Store, Google Play, and online browsers.
What Happened to Truebill?
Rocket Money was known as Truebill prior to mid-2022. Rocket Companies, which owns Rocket Lending, The Rocket Mortgage and LowerMyBills.com, purchased the money management app.
You can use your current login information if you already have a Rocket Companies account from one of these other services.
How Does Rocket Money Work?
To use the app capabilities of Rocket Money, you must first download the app, register an account, and link your bank and credit card accounts so that the concierge can evaluate your spending and monitor your subscriptions and recurring payments.
You will be asked to enter sensitive financial information (such as your checking account login credentials) when you link your accounts. Still, Rocket Money and its partner Plaid use bank-level 256-bit encryption to help keep your information secure.
Once installed, you may use your smartphone to check your spending insights, manage and cancel subscriptions, and use Rocket Money's other services.
Although most services are free, some may require you to join up for a Premium account or pay a price.
Services Rocket Money Works with:
ADT Security
Atlantic Broadband
AT&T
AT&T UVERSE
Boingo Wireless
Boost Mobile
Boston Globe
Brinks Home Security
CenturyLink
Charter Spectrum
Comcast (Xfinity)
Cox Communications
Cricket Wireless
DIRECTV
Dish Network
Extra Space Storage
Frontier
Frontpoint Security
Google Fiber
Grande Communications
HughesNet
Mediacom
New York Times
OnStar
Optimum Cable Vision
Protect America
Public Storage
RCN
SiriusXM
Sparklight
Sprint Wireless
Suddenlink
Terminix
The New Yorker
The Washington Post
Time Warner Cable
T-Mobile
Verizon Fios
Verizon Wireless
Vivint
Wall Street Journal
Wave
Windstream
WOW! Internet
Xfinity Mobile
Verizon Residential/FIOS
How to use Rocket Money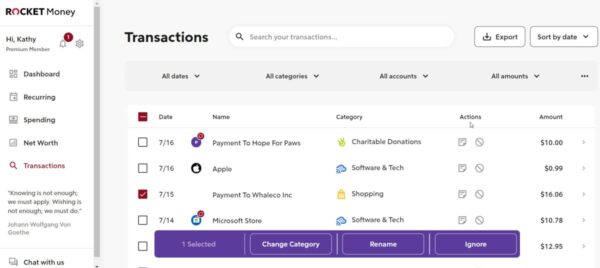 The following are the things you can use Rocket Money for:
1. Keep track of your subscriptions
Rocket Money makes it easier to keep track of your subscriptions by displaying them all on one screen. This could assist you in identifying subscriptions that you are no longer utilizing but are still being charged for.
If you subscribe to the Premium plan, Rocket Money will even cancel undesirable subscriptions for you.
This could save you time and effort overdoing it yourself.
2. Keep Track of your Expenses
The Rocket Money app provides a detailed breakdown of your finances. This involves comparing how much money you've earned to how much money you've spent each month.
You may also discover your top spending categories and get tips on changing your spending patterns and saving more money.
Rocket Money can also send you real-time alerts about upcoming charges and when your account balance falls below a certain threshold. These account balance alerts may help you prevent overdrafts and late fees.
3. Negotiate your Bills
The bill negotiating feature checks your bills automatically to help you find ways to save money. This could involve negotiating your cell phone or cable bill to save money, time and the hassle of negotiating with customer care or sales staff yourself.
Rocket Money can also show you how to secure overdrafts, late fee refunds, and the finest options for cheap vehicle insurance.
Remember that bill negotiating costs nothing unless the negotiation is successful. Rocket Money gets a 40% cut of your savings if successful.
4. Automate your Savings
Rocket Money provides "smart savings" accounts that the Federal Deposit Insurance Corporation insures.
These accounts can automatically transfer funds from your linked bank account to your savings account.
This function is useful for automating your savings and putting them on autopilot, and it's an efficient way to save money without worrying about it.
You have complete authority over editing, stopping, withdrawing from, or canceling your account at any time.
Rocket Money can evaluate your accounts and tell you when the optimum time is to save money, taking some of the uncertainty out of the process.
5. Track and Understand your Credit Score
Rocket Money gives you full access to your credit report and history and may notify you of any changes that affect your credit score.
The app can also provide insights into prospective adjustments to assist you in learning more about credit score calculations and credit history.
6. Set a Budget
Rocket Money analyzes your transactions and tells you how much money you have each month to spend.
The program can also provide a spending breakdown with historical spending patterns to help you identify areas where you should establish budgeting goals and learn how to budget your money.
You can create "budget categories" to specify how much money you wish to spend each month on certain items such as "entertainment," "dining & drinks," or "auto & transport."
You can also create custom categories. However, you are limited to a maximum of two budgeting categories without the Premium subscription.
Set real-time notifications with Rocket Money to be notified so that you don't overspend on a budgeting target to help you keep on top of your budget.
Who is Rocket Money Best for?
Rocket Money is ideal for anyone looking to save money or looking for ways to build their savings account. The app can be useful if you're unsure where to begin and want to learn how to budget efficiently.
Rocket Money is also an excellent option if you wish to improve the efficiency of your current financial plan by using the app's auto functions, such as automatic savings and automated subscription cancellation.
If you don't want to pay a monthly subscription and only want access to the following functions, the free version of Rocket Money is ideal:
Financial monitoring
Credit score
Account alerts
Two budgeting categories
Bill negotiation
The free version may suffice if you only need a simple budgeting app to track your spending or learn how to put up a budget.
The Premium plan, which costs between $3 and $12 per month (you choose how much you want to pay within this range), includes a number of extra features:
Automated cancellations
Unlimited budgeting categories
Smart savings
Net worth
Overdraft and late fee refunds
Access to chat with experts
Credit reports
Real-time account sync
The Premium version will save you more time and money than the free version.
Rocket Money representatives can handle subscription cancellations and refund overdrafts and late fees for you.
The Premium plan also allows you to automate your savings goals and establish as many budgeting categories as you like, giving you more control over your finances.
Keep in mind that combining previous financial plans within the Rocket Money app may make sense.
For example, if you budget with a credit card, simply link your credit card online account to Rocket Money to see all of your costs in one spot.
How Much Can You Save with Rocket Money?
Rocket Money could save you hundreds of dollars annually, depending on your situation. Let's dig into the details of a few example scenarios that highlight Rocket Money features.
✅Cancel your unwanted subscriptions and Save money
Let's say you spend $78 per month on various subscriptions:
Streaming apps like Netflix: $50 per month
Fitness app: $10 per month
Meditation app: $6 per month
Some plant identification app you forgot you signed up for $12 per month
Rocket Money catalogs all of your subscriptions, even the plant identification app you had no idea you were still paying for.
You may now cancel that subscription, saving $144 each year. That's enough for a new pair of AirPods or a substantial increase in a vacation fund.
✅ Automate your savings and Save money
You could actually pay up your debts and travel the world. Assume you wish to go to Seychelles next year. You intend to save some money for this dream trip to meet travel charges.
You believe saving $1,700 per year is a sensible goal that will at least cover your flights if not more.
In two simple steps, you can use a Rocket Money smart savings account to deposit money toward savings goals automatically:
Choose your savings goal.
Set your savings frequency.
In this case, your savings goal would be $1,700. Your frequency is up to you, but because you have a year to reach your target, saving $100 per month could work.
However, you can like $50 every two weeks or $25 every week. Money is automatically transferred from a linked checking account into a smart savings account based on your preferences.
Because everything is automated, you may concentrate on day-to-day spending while gradually approaching your savings goals.
✅Bill Reminders
The app provides bill payment reminders and the payment due date, making it easy to plan ahead and avoid missing a payment. You may still need to adjust your budget for fluctuating costs like your power bill.
✅Track Your Net Worth
A premium subscription can also track your net worth by linking your accounts. This tool isn't as important as budgeting or tracking expenditures, but it's another way to keep track of your financial success.
✅Get real-time alerts
Assume you watch streaming video from multiple streaming services. You usually discontinue a subscription once you've watched the most recent content.
It's a wise strategy that makes sense. After all, why keep paying for a membership you're no longer using?
However, the more streaming services you use, the more difficult it is to keep track of what you're paying for.
You can utilize Rocket Money to cancel unwanted subscriptions. You can also use real-time alerts to learn about planned charges as an added layer of security to help watch your spending, including subscriptions.
If you know you canceled Netflix recently but receive an alert about a $19.99 (at the time of writing, the Netflix Premium plan is $19.99) Netflix bill, you'll know something is wrong.
Perhaps the plan was not canceled, or you were paying for two plans simultaneously.
In either case, you may save roughly $240 per year in this scenario.
How To Get Started With Rocket Money
Step 1: Download the Rocket Money app for IOS and Android
Rocket Money is available for free download on Google Play Store and Apple Play. You can also download it on your Mac and Windows devices.
Step 2: Create an Account by Signing up
After downloading the Rocket Money app on your device, go ahead and sign up with your email address or Facebook account. You'll also have to provide a strong password when signing up.
Step 3: Connect Your Bank Account and Billing Statements
This step demands you connect your bank account or credit cards to the Rocket Money platform. In addition, you will also have to connect your monthly bills to the Rocket Money app.
You can upload an image of your bill to Rocket Money or sign into your billing account through the Truebill app.
Step 4: Set your Financial Goals
After setting up a complete account with Rocket Money, you must tell Rocket Money about your financial goals. This will enable Rocket Money to know what you want for your financial life and ways to improve your finances.
Step 5: Enable TrueProtect
Once you have connected your monthly billing statements to the Rocket Money app, Rocket Money will automatically find and show you all your subscriptions and recurring bills.
You can begin to cut down on your bills by enabling the "TrueProtect" feature.
This feature allows you to choose the bills you would want to lower. After doing this, Rocket Money will take up the job of reducing your bills and canceling unneeded subscriptions.
Note: After enabling the TrueProtect program, Rocket Money will sometimes change your cable subscription and cell phone plans to save money.
Things To Know Before Signing Up For Rocket Money
The free version's tracking and budgeting features are among the best we've tested.
It has minimal ads, and key information is presented upfront. Your transactions update once per day with the free version.
The pricing is complex and can be confusing.
Rocket Money is a free app with premium add-ons. To access the premium services, you must pay a monthly fee of between $3 and $12 per month (you choose how much to pay within this range).
This fee unlocks features like their Cancellation Concierge.
In addition to that monthly fee, Rocket Money charges a 30% to 60% "success fee" for their bill negotiation services. As with the monthly fee, you get to choose how much you pay within that range.
Rocket Money's success fee is paid upfront.
If Rocket Money saves you money from bill negotiation services or gets a credit on your bill, this fee is charged upfront.
For example, if they can save you $20 a month off of your cable and internet, and you choose to pay Rocket Money the suggested success fee of 40%, you'll pay $96 upfront (40% of the $240 annual savings).
This success fee is the source of many complaints.
Based on user reviews, people are often surprised to see a large transaction from Rocket Money for negotiating a bill or securing credit.
Go slow with TrueProtect.
When you're uploading or syncing a bill to be negotiated, you can elect to turn on TrueProtect.
Turning on this feature means giving Rocket Money consent to negotiate at any time on your behalf and make the change without your approval. We recommend going slow at first by turning on this feature at one or two service providers.
Rocket Money's main competitor is Trim.
A notable difference between the two similar services is their success fee is much less, at 15% of the total first year of savings.
What are The Improved Features of Rocket Money That Helps You Manage Money
So, here are some of the services and features that Rocket Money offers.
#The Transaction Register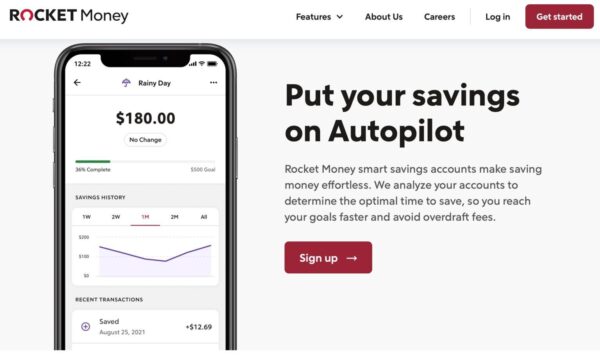 The first thing you should look at is your transaction register. When you click on a transaction, a page with multiple alternatives appears.
You can add the transaction to your recurring transactions, make it tax-deductible, or delete it from your budgets and elsewhere.
You can change the date, add a remark, or split it. You can also construct a rule so that subsequent transactions with the same vendor name are assigned to a category of your choice, renamed, assigned to a bill, ignored, or declared tax deductible. Competitors do not equal this degree of detail.
#Manage your Subscriptions and Recurring bills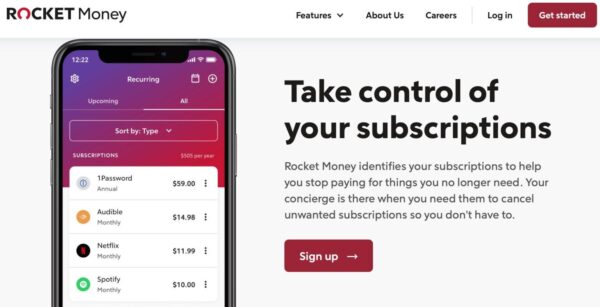 It's challenging to keep track of all your subscriptions and regular bills. And you must admit that you occasionally forget to cancel or cut the price of a subscription.
Rocket Money provides a dashboard to view all your subscriptions and bills.
This dashboard tells you where all your money goes monthly at a glance, making it simple to identify your money-eating expenditures.
Its interface also displays a list of all your regular expenses. This allows you to know which bills are due to avoid late fees and overdrafts.
Furthermore, it searches for and cancels all of your unwanted bills.
#Financial Monitoring with Rocket Money
You connect your financial accounts to the app when you join up for Rocket Money.
The feature analyzes your purchasing habits and generates a report per category. The report explains in detail where your money is going so you may make better spending decisions.
Fees: Many of Rocket Money's features are free of charge. However, you'll need Rocket Money Premium to sync your balance or use Premium Chat, Cancellations Concierge, Custom Categories, Unlimited Budgets, or Smart Savings.
This comes with a monthly cost ranging from $3 to $12. Surprisingly, you get to choose the fee you want to pay yourself.
#Autopilot Savings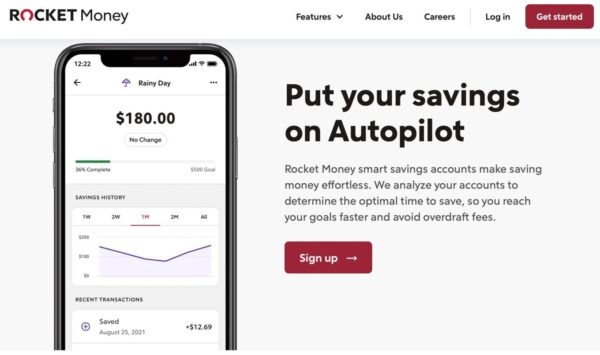 If you are not a good saver, Rocket Money's smart saving tool is ideal for you. It enables you to save money without worrying about having enough balance for other essentials.
This is because Rocket Money examines your accounts and decides the amount that would be ideal for savings. It also allows you to select a saving plan, frequency, and goal.
Following that, money will be deducted automatically for savings. Rocket Money, like a piggy bank, saves your money until you terminate your savings arrangements with it.
Rocket Money saves money in an FDIC-insured US bank-based account; therefore, your Rocket Money savings can only be withdrawn into your account.
Rocket Money also provides you with complete control over your savings. This means you can choose to pause, withdraw, or close your smart savings account. Start saving on autopilot with Rocket Money!
You can also select your bill negotiation cost. Choose between 30% and 60% of your first year's funds.
#Rocket Money's Banking Services
Rocket Money provides a bank account to help you save money. A Rocket Money Smart Saving account allows you to set a goal or just put money aside.
You connect it to your Rocket Money checking account and specify how much and how frequently you want money transmitted.
You can also set it to autopilot, allowing Rocket Money to monitor your bank account and deposit a few bucks every few days.
#Payments from Your Accounts on a Recurring Basis
Second, Rocket Money recognizes recurring transactions, such as monthly streaming service payments, and displays them in a list.
It asks if any of these transactions are subscriptions you want to cancel and then assists you in doing so.
You can add a bill or subscription if it is missing. Rocket Money can also assist you in keeping track of free trials so you can cancel them before being charged.
If you believe that a recurring bill you pay is too high, Rocket Money can try to negotiate a lower rate with the provider.
Rocket Money charges a one-time fee equal to a percentage of the savings it negotiates for this service.
When you submit your request, you can specify a percentage ranging from 30% to 60% of the first year's savings or whatever you believe is appropriate.
Rocket Money is one of the Top Mint alternatives. Mint provides a comparable service for 40% less than that provider for the first 24 months. There are no charges for failed efforts.
#Reports on Spending
It's too simple to lose sight of what you're spending your money on, and it's too easy to spend money without knowing why.
Rocket Money keeps you on track by displaying every detail of your expenses. It puts you on a more realistic track by displaying how you spend your money.
Because Rocket Money is linked to your bank account, it analyzes and discovers your top spending categories, which it then displays to you.
It also shows you places where you can cut back on your spending. This will allow you to save more money.
Rocket Money also sends you alerts and notifications when a charge or subscription renewal is due. Keep track of your spending with Rocket Money.
#Understand your Credit Scores
With Rocket Money, you can determine your qualifications for a loan and your chances of getting better interest rates.
Rocket Money also teaches you the factors contributing to a higher credit score.
Furthermore, Rocket Money provides real-time updates on issues that may affect your credit score, credit reports, and history.
Rocket Money calculates your credit score using the VantageScore 3.0 and Experian Credit report. This will allow you to determine your true creditworthiness. Rocket Money can provide you with your credit score.
#Bill Negotiation to Enable Lower Prices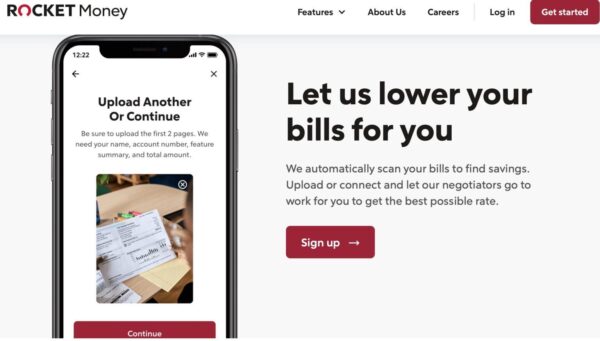 Rocket Money keeps track of all your outages and bills to negotiate when a bill reduction is possible.
It examines all of your cable and cell phone bills and then researches to get the best pricing on each. Following that, it will negotiate on your behalf.
Rocket Money also allows you to get refunds on your bank's overdraft and late fees. It accomplishes this by demonstrating the step-by-step process of obtaining a refund.
If you're having trouble finding the best car insurance rates, Rocket Money can help. Simply connect your auto insurance to Rocket Money, and it will provide you with the best price rates.
Rocket Money bill negotiation says its experts will identify secret discounts on phone bills, cable bills, and other expenses.
You upload images of your bills, and the negotiators identify and arrange cheaper interest rates or credits for you.
However, as a negotiation success fee, you will pay Rocket Money 30% to 60% of your first year's savings. There is no fee if the negotiators do not discover you any discounts.
This is how it works:
Choose a bill: Choose the bill for which you want Rocket Money to negotiate.
Connect your bill: Enter your login information or upload a photo of your monthly billing statement to add your bill to your Rocket Money account.
Enter your preferences for negotiation: This contains personal information and whether or not you are willing to forego features to save money.
Confirm payment method and amount: If Rocket Money decreases your rate, it charges 30% to 60% in annual savings. You decide how much you wish to pay and can pay with any debit or credit card.
If Rocket Money saves you money (for example, by negotiating a lower interest rate), they will charge you between 30% and 60% of the annual savings as a single, lump-sum charge to your credit or debit card. As previously stated in this review, how much you pay within that range is entirely up to you (the default option is 40%).
#Efficient Budgeting and Spending insights
How many times have you made a budget that never worked? A Countless Number of Times! Rocket Money reverses that story by helping you design a budget.
First, Rocket Money does research on your expenditures. It analyzes all your transactions to offer you a real-time report on your spending habits.
This report will assist you in determining a reasonable budget.
After assisting you in building up a budget, Rocket Money will keep giving notifications that elevate your spirit and keep you in the budget game.
#Syncing Accounts
Rocket Money connects your banking, credit card, and investment accounts through Plaid.
For further privacy, this third-party service has read-only access and does not keep your personal information.
Your account balances are updated daily the first time you check-in. The app will send you spending insights and warnings when direct deposits arrive in your account. Linking as many accounts as possible allows you to see exactly how much you spend and earn.
After you've connected your accounts, you may start categorizing your transactions. Because Rocket Money auto-categorizes most transactions, ongoing upkeep is low.
#Keep on Top of Your Credit Game with Trucard
The Truecard function is a solution supplied by Rocket Money that enables you to keep up with your credit game.
It is a feature that's only available in Rocket Money Premium, and it does the following:
Lower Utilization: You can keep your credit utilization rates below 30%.
Maintain on-time Payment: This feature of Rocket Money notifies you ahead of time to avoid overdue payments. It also automatically pays off debts when the time is due.
Control Charges: Rocket Money monitors all the subscriptions that charge you and prevents any additional charges from occurring.
# Lightweight Investments in Rocket Money
Rocket Money might improve its handling of tracking and maintaining investment accounts. You can connect investment accounts to Rocket Money and view all transactions in each of those accounts, but that's about it.
Casual investors may be fine with it, but serious investors should consider Quicken.
Quicken can integrate some of the information from your investment accounts to help you track how much you pay in fees, for example.
It also displays graphs of your total investments, which can assist you in diversifying your portfolio.
Pros and Cons Of Rocket Money
The services offered by Rocket Money are great, no doubt! But don't get too giddy yet.
Here are some things to know about Rocket Money before you sign up for their services.
Pros
Subscriptions should be canceled. Rocket Money will search your transaction history for unnecessary subscriptions draining your funds. It's far faster than going through them by hand.
Bill bargaining. Rocket Money will also handle the time-consuming task of bill negotiation for you. Even after costs, this can save you a lot of money on your expenses each month/year.
Monitoring for outages. Outage monitoring is a one-of-a-kind tool that will credit and repay you for any cable or telecommunications outages in your area. It's a feature that few other apps have.
Clean and Intuitive interface
Offers free forever version
Monitors all your subscriptions
Enables savings
Cons
Rocket Money takes 40% of your savings: Rocket Money will charge you 40% of whatever you save using its services. So, if Rocket Money lowers your bill and saves you $900, it will cost $360.
Access to your personal and financial information: Rocket Money may modify your cable, phone, and internet package without your awareness to reduce costs.
It is not free: The basic services on Rocket Money are free, but you must pay for the premium version if you want to cancel your subscriptions via the app. They also collect 40% of the money saved through bill negotiation.
Ads within the app: If you have the free version, you must endure in-app advertisements until you upgrade to the ad-free premium subscription. It's not a big deal, but it will irritate certain people.
Poor consumer feedback: Rocket Money's BBB profile is littered with complaints, most concerning its negotiation services and costs. These poor reviews may cause a person to reconsider.
Rocket Money Fees and Pricing: Is It Worth Paying For Rocket Money Premium?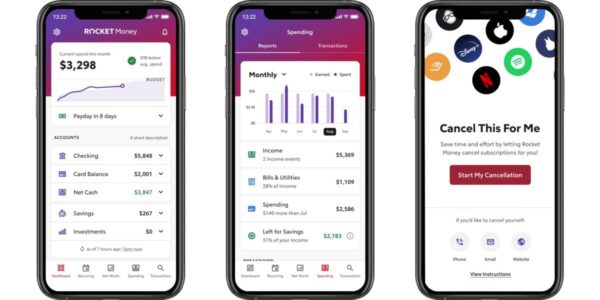 The Rocket Money app is free to download, and subscription monitoring is also free. However, you must pay for the premium service if you wish to cancel subscriptions straight from the app.
Rocket Money premium costs between $3 and $12 per month, or $36-$140 per year. Balance syncing, premium chat, cancellations, concierge, smart savings, and other features are available with the premium.
Bill negotiation is also costly.
Rocket Money will take 40% of the money you save by changing your bills.
They demand this fee in advance, so you must pay it once you have secured your funds for the year. Fortunately, they will only charge for successful bill negotiation.
So, if your bill is not discussed, you are not required to pay. Similarly, Rocket Money costs 40% of the credit you obtain from monitoring electrical outages.
You can use Rocket Money for free, but your selections will be limited. Once you've secured your pay advance, you can additionally tip Rocket Money. This is entirely optional, and refusing to tip will not affect your services.
Yes! Rocket Money provides a free forever plan as well as a Premium plan for people who desire improved and advanced features.
The premium option allows you to set your own price, but you must choose between $3 and $12 monthly.
If you choose between $3 and $4 monthly, billing must be done annually. However, if you opt to pay between $5 and $12 per month, you will be billed every month.
The features offered in the premium plan include:
Premium chat: This feature gives you access to support from the Truebill team. You can receive answers to all your inquiries through live chat.
Custom categories: This feature enables you to add, edit, delete, and customize your budgets and budgeting categories.
Smart savings: Smart saving is a feature offered in Truebill's paid plans, enabling you to save money in an FDIC-insured bank account.
This feature also enables you to withdraw anytime, determine the amount to be saved, and arrange for automatic transfer of savings to the FDIC account.
Unlimited budgets: This Truebill feature allows you to set up unlimited budgets for different things.
Cancellations Concierge: Since Truebill can scan and identify all your subscriptions and bills, it offers a feature that automatically cancels unwanted subscriptions.
You don't have to cancel the subscriptions yourself manually.
Syncing of balance: This feature allows you to see your account balance in real time.
Credit Report: With this feature, you can know your eligibility for a loan, your credit score, and the factors determining your credit score.
Is Rocket Money Premium Worth it?
Assume you rarely get overdraft fees, but you made a mistake, and now you do. If you notify Truebill, they will request a charge waiver on your behalf.
The typical overdraft fee is $35; thus, upgrading to a premium to avoid this fee in the event of a late payment could be advantageous.
Furthermore, contacting these companies to cancel a subscription can take an eternity. Truebill will handle the waiting and canceling for you to save you time.
All you have to do is inform them. If you're pressed for time, this function alone may make premium worthwhile.
Is Rocket Money Legit?
Rocket Money is a legitimate program in the sense that it assists you in keeping track of monthly subscriptions and invoices. If you pay for premium, its crew will go out of their way to negotiate better pricing for you if that's what you desire.
However, there are certain things about Rocket Money that we dislike. First, you must pay for this app to be truly valuable, as free budgeting apps provide far more customizing possibilities than Rocket Money's free edition.
And once you join up for premium, you must go through a series of hoops if you wish to unsubscribe and stop paying.
Simply follow Rocket Money's instructions on how to cancel a Rocket Money Premium subscription. If you cannot cancel for whatever reason, you may need to consult with an expert.
Quitting your membership does not affect pending bill negotiation requests or your Smart Savings account. You must go through two or three cancellation processes to completely remove yourself from the Premium side.
Furthermore, while Rocket Money has a 4.8-star rating on Trustpilot, I'm skeptical that these are genuine testimonies. Almost every review is marked as "invited," indicating that Rocket Money encouraged the person to leave a review.
This is a common procedure; however, the good evaluations are dramatically contrasted by scathing remarks on Rocket Money's YouTube channel and the Google and Apple app stores.
Users like Rocket Money display all of their monthly expenses in one location, making it easier to remember to pay on time and know which subscriptions to cancel.
However, many app store users claim that you must pay for successful bill discussions after paying a monthly premium cost.
We don't think Rocket Money is worth paying for right now, especially with app issues and horror stories of monthly bills increasing in price or being severely reduced to save money.
Is Rocket Money Safe To Use?
You have every right to be wary when a financial app requests access to your personal online financial details. It should raise a red flag immediately, and you should proceed cautiously.
Rocket Money knows potential users may be concerned about the service's security issues. One of its main website tabs, appropriately headed "Security," aims to set your mind at ease about "handing over the keys" to your accounts.
Here are some key points from the company's security disclosure:
Bank-level 256-bit encryption is in use for your data.
Rocket Money uses the Plaid service to connect with financial institutions.
Because of Plaid, you should not be asked to give banking credentials to Rocket Money.
Rocket Money says that it does not sell your data to third parties.
Rocket Money hosts its data on Amazon Web Services, which also stores sensitive data for the U.S. Department of Defense (among others).
So, is it safe? It does seem on par with current industry security standards. However, only you can determine whether these measures are enough to trust Rocket Money with your data.
Rocket Money Alternatives
Rocket Money vs. Mint
Mint is another budgeting program we recommend in our list of the top budgeting apps. Mint is the personal finance and budgeting app from Intuit.
This is your choice if you're more interested in creating and keeping to a budget than in monitoring your monthly spending.
Mint may appeal to you if you're looking for a free budgeting program that allows you to build unique budget categories. You'll need to upgrade to the Premium plan to create new categories with Rocket Money.
Mint has teamed with Billshark and also provides Bill Negotiation. If your bill negotiation is successful, you will be charged 40% of your savings for up to two years. There is also a one-time $9 fee if you choose a payment plan rather than paying in full.
With Rocket Money's Bill Negotiation tool, you can pay 30% to 60% of the amount saved over a year.
If you're looking for a free budgeting app, you'll probably prefer Rocket Money to Simplifi. Simplifi is a money tool that helps you stay on track with your spending, budgeting, and savings goals.
This includes monitoring all of your money in one location and receiving insights and alerts to assist you in meeting your objectives.
Rocket Money is a free plan that allows you to track your spending and set a budget. Simplifi only offers a 30-day free trial.
If you wish to continue using Simplifi after the first 30 days, you must pay a monthly charge. Your choice may also be influenced by the aspects you value the most in a budgeting app.
If you want a budgeting tool that provides a thorough perspective of your finances through charts and data, Simplifi may be a better alternative.
You'll receive monthly statistics on your spending, income, net income, savings, and shopping refunds.
If you want to cut your expenditure or use a program that helps you negotiate payments, you could prefer Rocket Money. Simplifi is more concerned about budgeting.
You Need A Budget (YNAB) is a wonderful alternative if you need serious budgeting assistance to avoid living paycheck to paycheck.
This budgeting tool requires a premium subscription ($14.99 monthly or $99 annually), but you can try it out for free for 34 days to see if it's right for you.
The YNAB budget uses a zero-based budgeting approach, assigning each dollar to a specified job. So you've decided to spend or save every dollar you earn.
The software guides you through the budgeting process and evaluates several monthly expenses that are frequently neglected when using basic budgeting applications such as Rocket Money or Mint.
Spending and net worth reports are also detailed. Various financial calculators are available to assist you in planning your future objectives.
Because you can link your financial accounts and add manual accounts, Empower Personal Dashboard is undoubtedly the finest free net worth tracker available today.
The program features simple expenditure tracking capabilities to help you categorize transactions and stay within your budget.
Creating savings objectives and reviewing the asset allocation and fund fees in your investment portfolio is also possible.
When comparing their accessible features, Trim is most likely the most similar finance software to Rocket Money. Trim offers bill negotiation, the ability to terminate undesired services, and the ability to cut some expenses.
Trim users are expected to save $620 on average. Trim, on the other hand, does not offer a mobile app.
Digit
Digit is a finance app that makes budgeting, saving, and investing less stressful. It accomplishes this by informing you in real-time how much money you have left to spend and automating certain of your financial transactions. This involves figuring out how much money you'll need for payments and putting money aside for savings.
Capital One Shopping protects your information in the same way as Rocket Money does, but Rocket Money is just three months old and has a lot of catching up to accomplish. You are also not required to do anything besides sign up for Capital One Shopping.
Spendee is one of the best budgeting apps that helps you track your finances. Spendee, on the other hand, provides a shared wallet option that allows couples, families, or even roommates to track their joint spending. The app also allows you to track your expenses in other currencies.
Good Read: Tally Review: Pay Off Debt Faster
Bottom Line
Rocket Money is an excellent financial tool for almost anyone. The software ultimately gives users a better grasp of where their money is going and how to save more of it, albeit the fees of its Premium features might eat into the savings you achieve. Nonetheless, if you're looking for savings possibilities that you might not be able to locate on your own, try signing up for Rocket Money.
It's also useful if you don't want to deal with bill negotiations yourself. Some costs are somewhat high, particularly those for bill negotiation, but the premium service subscription is not. Rocket Money is probably not for you if you are already on top of your expenses and expenditures. However, if you are too busy, it may be worthwhile. Even if you have to pay 40% for bill negotiation, a 60% discount is preferable to no savings. You can use the Trim Financial Manager in conjunction with Rocket Money to cut your bills and save money.
There are simply too many free options available, and paying for bill discussions on top of your monthly cost reduces any true savings. If funds are limited, using free budgeting tools and calling bill suppliers directly is a more cost-effective option.
Frequently Asked Questions.
Q: Is Rocket Money the same as Truebill?
Rocket Money is the same as Truebill; it just changed names. Truebill was purchased by Rocket Companies in December 2021 and renamed Rocket Money in August 2022. The features and functionality of Rocket Money are identical to those of Truebill, but existing Truebill members were prompted to convert their Truebill accounts to Rocket accounts.
Q: Is it safe to use Rocket Money?
Yes, Rocket Money is secure. Rocket Money leverages bank-level 256-bit encryption to store your data and uses Plaid's services to securely connect your Rocket account to over 15,000 U.S. financial institutions. All Rocket Money servers are hosted by Amazon Web Services (AWS), a service used by organizations such as the Department of Defense and NASA.
Q: Does Rocket Money charge a fee?
The basic elements of Rocket Money's mobile app are free to use. If you want to use Premium features, you can pay a monthly subscription ranging from $3 to $12. You'll pay between 30% and 60% of the money you save in the first year for bill negotiation services.
Q: Is it better to use Rocket Money or Mint?
Mint and Rocket Money both offer free cost monitoring software; however, Rocket Money also offers paid services such as Cancellation Concierge. While both applications can assist you in setting and meeting financial goals, Mint has far more sophisticated budgeting options.
Q: Can Rocket Money get overdraft fee refunds?
No. Rocket Money does not negotiate refunds from your banking institutions. Still, they do provide an in-app script and guidance to assist you in calling and attempting to negotiate those fees yourself.
Q: How does Rocket Money make money?
Rocket Money does not charge a cost to download and use the app. Still, it charges a monthly subscription for its premium services and gets a cut (at least 30% of the annual savings) of the amount it saves you when negotiating lower monthly bill rates.