Last updated Mar. 11, 2023 by Peter Jakes
Thanksgiving is a good time to exchange gifts with friends and family. But with the increasing price of things in the market, it can be difficult to save money for Thanksgiving.
Thanksgiving requires you to make budgets for food and decorations. If you want to save money, you can visit Walmart.
Walmart, one of the largest retail stores, offers free turkey to its customers. Here are ways to get free thanksgiving turkey and dinner at Walmart.
How to Get Free Thanksgiving Items At Walmart
To help families in need during the holiday season, Walmart has teamed up with Ibotta to provide free Thanksgiving meals to thousands of households across the United States. They are proud to be part of this initiative to help make Thanksgiving a special day for families who may be struggling.
If you like this offer, you can take advantage of it by visiting any Walmart store and picking up a list of items. These items include Campbell's Cream of Mushroom Soup, a two-liter bottle of Coke, Great Value Stuffing, and Great Value Cranberry Sauce.
To get a free thanksgiving item at Walmart, you must log into the Ibotta app. For example, you will get a free thanksgiving turkey or item if you purchase something from Walmart via the Ibotta app.
Ibotta, a Denver-based coupon application, offers its users free turkey and items during Thanksgiving. However, to be eligible for this freebie, you must make a purchase at Walmart via the Ibotta app.
To get a thanksgiving item via the Ibotta App, you will be required to create an account on the Ibotta app, and Registration is free. And if you sign up on Ibotta with a referral link, you will get a $10 cash or gift card reward.
After creating an account on Ibotta, link your Ibotta account to your Walmart pickup. Ibotta allows you to purchase from a wide range of retail stores, but it only offers thanksgiving freebies to users who purchase from Walmart.
If you purchase products like turkey, mashed potatoes, coca-cola, cranberry sauce, gravy, corn muffins, or green beans, you will get a 15% cash-back incentive. This offer is only available on Thanksgiving days.
By picking up these items, you can save money and enjoy a free Thanksgiving meal with your loved ones. After picking up the items, you can check out and scan their receipt using the Ibotta app to receive a refund sent directly to their account.
Some other items that qualify you for a 15% cash-back reward include the following: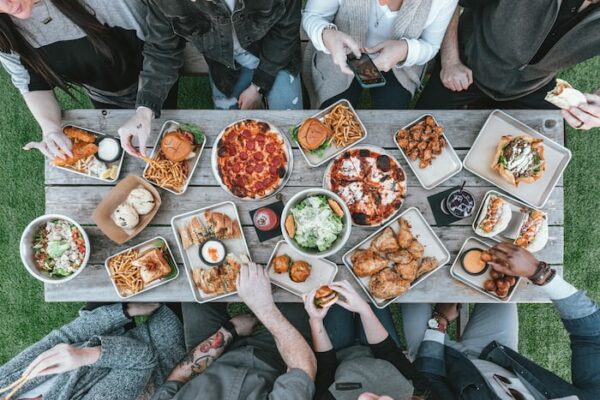 French Crispy Fried Onions: You will be eligible for $1.92 cash back.
Great Value Green Beans comes with a $1.34 cash back reward.
Coke: Eligible for $1.89 cash back
Campell's Condensed Cream of Mushroom Soup: $0.98 cash back
Butterball Turkey Breast Roast: Eligible for a $9.98 cash back reward.
Step-by-step On How To Redeem Free Thanksgiving Items On Walmart Via The Ibotta App
Step Two: Fill in the necessary information and link your credit or debit card information to Ibotta.
Step Three: Click on the Walmart logo on the home interface and navigate to the free thanksgiving menu at the top of the screen.
Step Four: Add all the available offers that show up as free. Add them to your purchase list at any Walmart store closest to you.
Step Five: Scan your receipt on the Ibotta app after purchase. Once the scanning process is completed, redeem your cash-back reward.
You can choose to withdraw your cash-back reward in cash or gift cards. Cash payment method on ibotta is made via Paypal. If you want to retrieve your reward as a gift card, you can select the type of gift card you want.
Frequently Asked Questions On Free Thanksgiving Turkey At Walmart
What organizations are giving away free turkeys?
The Morongo Band of Mission Indians in Cabazon, CA, gives out 10,000 turkeys. In addition, it provides approximately 150,000 Thanksgiving meals to families, seniors, and veterans in need across Southern California.
What supermarkets are giving away free turkey?
A few options are available if you're looking for a free turkey this Thanksgiving. ButcherBox offers a free turkey with your first order, while BJ's Wholesale Club, Weis Markets, Foodtown, and ShopRite reportedly give away free turkeys.
Additionally, the Ibotta Thanksgiving offer is back for consumers, which may also provide opportunities for a free turkey.
Where can I find the best deals on turkey?
When it comes to buying a fresh turkey, there are a few places where you can find the best deals. Costco, Trader Joe's, Sam's Club, and Whole Foods are some of the top places to look for the most affordable prices.
While you're out shopping, keep in mind that a good rule of thumb is to purchase about a pound of turkey per person.
How far in advance should you buy Thanksgiving food (turkey)?
When planning for Thanksgiving, it's important to start thinking ahead to ensure you have everything you need. If you want to avoid last-minute stress and ensure you have the best selection of ingredients.
So, I recommend you start buying your fresh ingredients around 4-5 days in advance. This will give you ample time to prepare, start thawing your turkey, and make delicious desserts.
Is turkey cheaper before or after Thanksgiving?
According to experts, the best deals for buying a turkey will likely be before Thanksgiving. So it's a good idea to start looking early to save some money.
With many stores already having a lot of inventory, there's no need to wait until Black Friday or Cyber Monday to start your shopping.
How much turkey should I buy for Thanksgiving?
When figuring out how much turkey to buy, the general rule is to plan for 1 1/2 pounds per guest. However, you should assume about 8 ounces per guest if you prefer to purchase boneless meat.
To determine the right size turkey for your gathering, simply tally up the number of turkey-eating guests and add a few pounds on for bones.
How much turkey do I need for 25 people?
If you're feeding a large crowd of 25 people or more, a good estimate is to plan for 1 1/4 pounds of turkey per guest. This means you would need a turkey weighing at least 20 pounds or more to ensure everyone is well-fed.
By keeping these tips in mind and planning ahead, you can ensure that you have a successful and delicious Thanksgiving feast.
What is the smallest turkey you can buy?
If you're looking for a smaller turkey for a more intimate Thanksgiving gathering, the smallest turkey you can typically find is around six pounds. This size turkey is usually a hen, weighing between eight and ten pounds.
It's worth noting that hens are usually female turkeys and are generally more flavorful and tender than toms, which are male turkeys.
What is the best brand of turkey to buy for Thanksgiving?
When choosing a brand for your Thanksgiving turkey, Butterball is a well-known and popular choice. It's favored for its affordability and accessibility and is widely available at most grocery stores.
However, other brands are also to consider, such as Honeysuckle, Jennie-O, Perdue, Pilgrim's Pride, and Applegate Farms. It's also important to consider factors like price, quality, and availability when choosing the best brand of turkey for your Thanksgiving feast.
How much is Thanksgiving dinner for a family?
Based on current estimates, the average cost of a traditional Thanksgiving dinner for a family of 10 will be around $64.05, which is roughly $6.50 per person. This reflects an increase of 20% if you look at it from 2022.
The dinner cost includes all the classic fixings, such as a 16-pound turkey, which costs around $28.96 or $1.81 per pound, stuffing, cranberry sauce, and pumpkin pie. The price hike is mostly attributed to the increased cost of food products.
How much food do I need for 20 people for Thanksgiving?
If you're planning on hosting a Thanksgiving meal for a large group of 20 people, it's essential to ensure that you have enough food to go around. Therefore, a good general guideline is pretty much needed to determine how much food you'll need.
The idea is to prepare 1-1/2 pounds of turkey per person and 1/2 pounds of side dishes per person. This will ensure that everyone at the table is well-fed and satisfied.
Is Walmart offering Thanksgiving dinners?
Walmart offers a special deal on their Thanksgiving meal, selling it at the same price as the previous year's meal. This is intended to alleviate the financial concerns of families who are planning their holiday feast.
The discounted prices are already being introduced, and customers can benefit from the savings for all their holiday meals until December.