Last updated Mar. 4, 2023 by Benedict Osas
Printable Christmas gift tags allow you to save money when making preparations for Christmas. You can print them from your computer, cut them, and attach them to packages containing your presents.
If you are in search of Christmas gift tags to use this coming Christmas period, here are free printable gift tags that can be customized. Here, I compiled 10 free printable gift tags that you can use for the holiday season.
10 Free Customizable Printable Gift Tags
#1. Free Chalkboard Christmas Gift Label and Tags
These Christmas gift tags are designed by Lia Griffith for World Label. They have chalkboard designs and are available in the shapes of tags, circles, and rectangles.
They also come in a variety of designs that include holly, pine cones, and snowflakes. These Christmas tags can be edited, customized, and printed out.
#2. Gift Tags with Gift Card Pockets
These gift tags come equipped with pockets that are perfect for holding gift cards. But if you prefer, you can also use the pockets to hold stickers, poems, handwritten notes, and other small items.
You could even attach them to a plant or succulent and pair them with a gift card to a garden center. Alternatively, you could tie them onto a bag of coffee or tea and include a cafe gift card.
To assemble the gift card template, simply print it out and fold along the dotted lines. Then, use glue or tape to hold everything together.
These gift tags are both pretty and functional, making them an excellent addition to any present.
#3. Woodland Christmas Gift Tags and Labels
Woodland creates lovable wooded Christmas gift tags and labels. These tags can be downloaded for free and can be used on all your Christmas presents.
A Woodland Christmas tag comes with illustrations of raccoons, owls, bears, squirrels, deer, and other animals. So, it can be fun editing and customizing them.
#4. Watercolor and Glitter Christmas Label
These holiday tags and label from Universe Label features watercolor and glitter-style gift tags. With these Christmas tags, you can give your gift an additional touch by customizing it.
#5. Christmas Gift Tags
These gift tags are designed by Blossoms Designs, and you can get them in red, white, black, or white and black combination. On the holiday tags, you will find sweet phrases like "love and joy", "Believe", "Holly Jolly", "Merry Merry", and "Holiday Cheer".
#6. Red Vintage Truck Christmas Gift Tags
These free printable Christmas gift tags are designed by Nina Hendrick and they come with the drawing of a Christmas tree on a truck. When downloading these printable tags, you will find 8 labels on each sheet.
This is done to make it easy for you to print and cut each tag.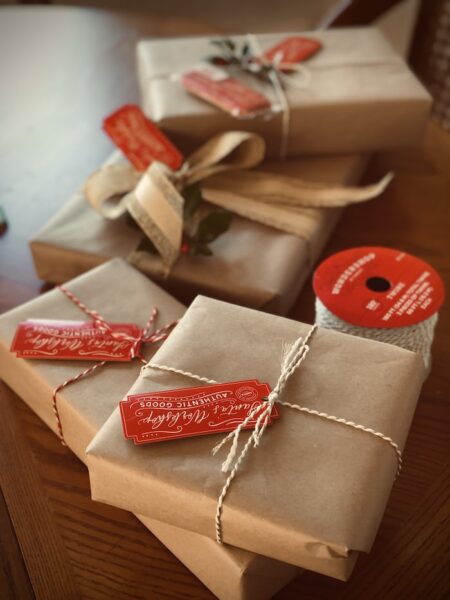 #7. Merry and Bright Printable Christmas Gift Tags
These Christmas tags are designed by "Simple As That" and comes in green, red, and gold colors. "Simple As That" offers these tags for free, and they can be printed out and cut apart.
#8. Happy Holiday Printable Gift Tags
These holiday gift tags come with happy designs and images that are capable of making anyone happy. So, if you intend to pass across a happy message to a loved one on Christmas, you can make use of these tags. They're lovely.
#9. 12 Days of Christmas Gift Tags
If you're looking for a fun and festive way to celebrate the 12 Days of Christmas, these gift tags are a great choice. Each tag features a unique image from the beloved song and is labeled with the corresponding day.
Whether you're giving gifts to friends, family, or coworkers, these tags are sure to add a special touch to your presents.
But what if you're struggling to come up with gift ideas for each of the 12 symbols? Don't worry, the bonus list of 12 Days of Christmas gift ideas is packed with creative and unique suggestions that are sure to impress.
From traditional gifts like gold jewelry to more playful options like a partridge-shaped cookie cutter, there's something for everyone on your list. 
#10. Printable Watercolor Holiday Wreath Gift Tags
Created and designed by The Postman's Knock, these printable Christmas gift tags come in red and green colors. And when you print out these gift tags, you can write down the name of the recipient of the gift on the gift tag.
Tips for Creating Free Unique Christmas Tags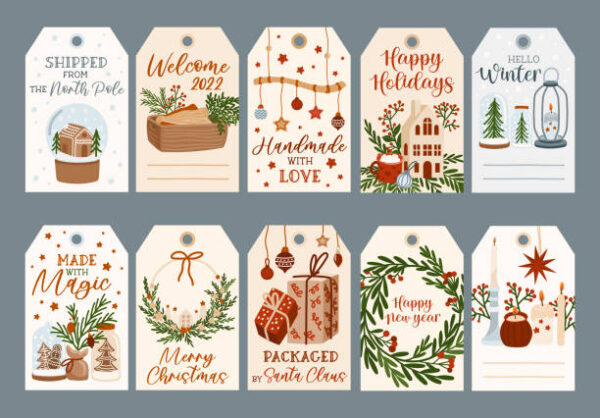 You can easily elevate your Christmas gift-wrapping experience by spicing up your gift tags. Rather than settling for mundane tags, invest a little effort and creativity to make your presents stand out.
To start, print your gift tags on sturdy cardstock to make them more durable. Then, punch a hole in one corner and fasten them to your presents with a beautiful ribbon or twine for a polished look.
If you want to avoid using tape, you can maybe try printing your tags on adhesive sticker paper. You also might want to consider enlarging your tags to use on larger presents or customize each tag for individual family members to avoid confusion.
For a polished finish, use a calligraphy pen to add their names to the tags. To add some sparkle and pizzazz, sprinkle a little glitter on your tags or use glitter pens to make them shine.
If you're gifting homemade baked goods or presents in a jar, attach the tags with a bold red bow to complete the festive look. You can also make the gift tags more personal by letting children color or decorate them, giving each tag a unique twist.
The possibilities are endless, and with a little bit of creativity, you can make your gift tags just as special as the presents themselves. 
Some Frequently Asked Questions On Free Printable Gift Tags For The Holidays
For gift tags, the best option is cardstock, particularly brown Kraft paper cardstock, which imparts a natural appearance that suits any occasion. Nonetheless, you can opt for any color of your preference or maintain an assortment of hues, allowing you to match the tag with the gift wrap you intend to use.
Crafting custom gift tags with Cricut is a breeze. You can begin by opening Design Space and locating the gift tag project.
Once you've sliced your design, be sure to remove any additional text that is created. And after that, Design Space will instruct you to load your materials in a specific order.
Once the cutting process is complete, push the unload button. And that's it. 
In order to create your very own Christmas tags, you can follow these five simple steps. First, create a new Canva account to begin designing your tags.
Second, choose from a wide selection of pre-designed templates, all of which are beautifully crafted. Third, upload your own photos or select from over a million stock images available.
Fourth, edit your images by adding stunning filters and editing text to create the perfect design. And lastly, save your masterpiece and share it with others. 
How do you make an editable gift tag?
Making a gift tag is a straightforward process especially with Canva. You can begin by opening the app and searching for "Gift Tag" to get started with the design process.
If you prefer not to start from scratch, you may browse gift tag templates for any theme, including holiday, birthday, anniversary, wedding gift tags, and more. Then, discover and utilize Canva's extensive array of features to customize your design to your liking.
Last but not least, finally save your gift tag and make it editable for future use.