Last updated Mar. 20, 2023 by Favour Chinaza
Are you an avid gamer? You can make money with testing games as different companies pay you to test games. Various third-party sites connect gamers to game companies in need of gaming software testers.
These sites pay you to test games and write reviews. If you are an avid gamer, here are game companies that pay you to test games.
What is Paid Product (Games, App, Website) Testing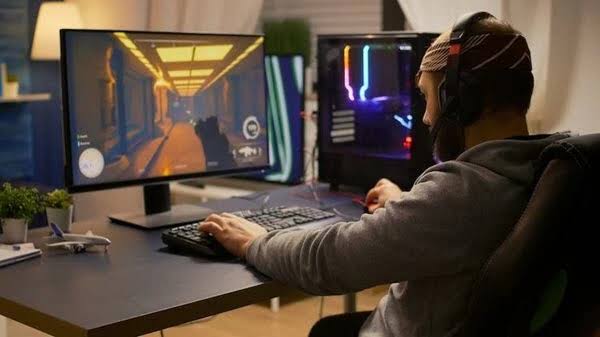 Product testing, also known as beta testing, refers to the testing or beta testing of a product before it is released to the general public.
Most developers or businesses conduct these types of tests to help identify and resolve issues, bugs, or glitches that may impact the usability of their products.
These bugs may have escaped previous product tests, but a beta test can help address them. Beta testing can earn you money too, and there are legit sites to get real paid beta testing opportunities.
Websites, computer apps, smartphone apps, and video games may contain bugs or glitches from time to time, but thorough testing can assist developers in fixing these before release.
The impact of testing or beta testing on a product's success or failure cannot be overstated. As a result, businesses make every effort to find and fix bugs in the websites, apps, and video games they create.
The overall benefits of such product or beta testing are better decision-making and product development.
That is why they are willing to pay. They allow people like you to perform such testing for them in exchange for payment for your time and feedback.
Good Read: 3 Fun Card Games for Two People
What Do You Need To Test Gaming Products?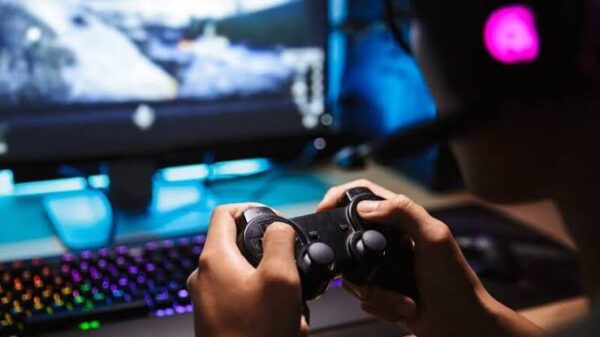 Some companies pay you to test websites, just like testing games. However, if you want to work and be paid as a product tester for any company, you must first understand the requirements.
Knowing the gaming tools/equipment these gaming companies need is also a good idea.
Some companies will require you to meet age requirements, while others will require you to have the necessary technical skills.
In this case, having a decent level of technical efficiency to be able to spot broken codes or certain functionalities in products is all that is required.
Aside from these requirements, some companies may require you to use the product and report on your experience simply.
Some product testing sites or companies may require you to have the following equipment:
A computer with a consistent Internet connection.
A smartphone that runs an operating system such as Android, iOS, or Windows.
A microphone and a headset are required.
You have a Webcam installed on your computer.
An email address
A PayPal account is required.
Companies That Pay You To Test Games
1. iGameLab (Best for Gamers of all Ages)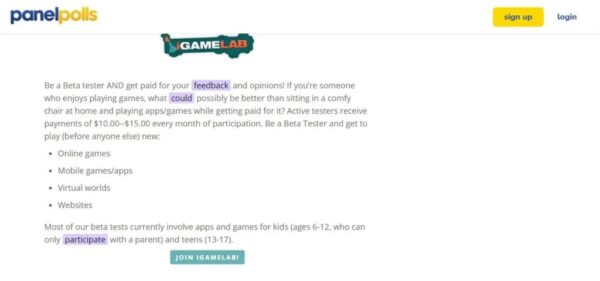 iGameLab is a gaming company owned by a market research firm called PanelPolls. They are one of the companies that pay you for Beta testing. You can become a paid beta tester upon completing your verification process.
This gaming platform gathers gamers from worldwide to the Globe Beta Test Networks. These gamers are paid for testing games.
To be eligible for this program, you must meet the following requirements:
Must be 18 years and above
Must agree to sign a confidentiality agreement
Must be attentive to details
Must be able to follow instructions
Although iGameLab is known to pay its gamers, there has been no information on how much they pay gamers for testing a game.
How Does iGame Lab Pay Testers?
Active game testers on this platform earn an average of $10 to $15 for each game they review.
Pros
Their track record is impressive, and they work with a wide range of clients.
You can sign up for free.
Anyone in a family, including children, can earn money and join at the same time.
The minimum payout amount is lower than on other survey sites.
Cons
The only way to convert your points into cash is with a check.
They work with an international brand only available in the United States.
You must participate in their in-person focus groups in New York or Los Angeles.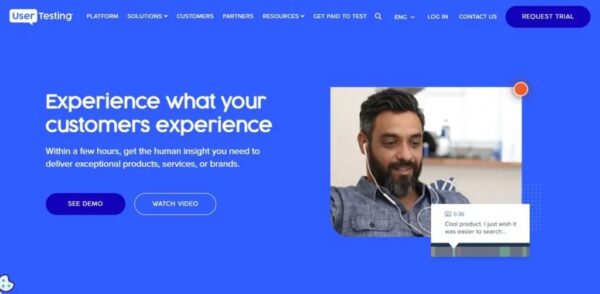 UserTesting is an online platform allowing businesses to test their websites, apps, prototypes, and other software in real-time.
The platform compensates you for evaluating websites, mobile apps, desktop software, web services, and other products.
UserTesting is a one-stop shop where you can make money by testing new products and digital services from companies. They provide honest feedback from real users about various companies' digital products on a global scale.
How Does UserTesting Lab Pay Testers?
The cost of each test is determined by its type and duration. For each test, the standard pay ranges from $3 to $60, and UserTesting is a legit platform.
A test is typically worth $10 on average. UserTesting also holds interviews with higher pay for testers. Payments are made through PayPal.
Pros
Clearly defined and easily understood test guidelines
They have a process that is systematic, transparent, and user-friendly
It is simple to sign up.
No documents or certificates are required for registration.
Take tests at a reasonable cost.
Cons
It isn't easy to qualify for the test.
This position necessitates proficiency in both English and technology.
If you live outside of the United States, your options are limited.
It takes quite some time for their mobile version to appear.
3. Betabound (Best For Beginners)
Betabound is a trustworthy game-testing website that will pay you even with little to no experience. The only requirement is that you are at least 18 years old.
One thing we like about Betabound is that they work with some of the biggest technological names. So it's a fantastic opportunity to test games and provide feedback for such large corporations.
In other words, you have an indirect say in product decisions before they are released. Signing up is also completely free. You can make $5 a day online with games testing like Betabound.
Betabound allows anyone without gaming experience to become a beta game tester without having any prior expertise.
You must be 18 years and above to join this site. BeteBound allows you to test applications and give feedback.
How Does Betabound Pay Testers?
The amount you are paid per test is determined by your ability to perform the game test and other factors, such as its complexity.
However, depending on the company, you will only receive your reward through gift cards, products, or other incentives.
Pros
You do not need any prior experience.
Anyone is welcome to participate.
Get emails about upcoming tests
Immediately after registering, begin applying for available tests.
Cons
Access-restricted projects
4. Bananatic (Best User Interface game lovers)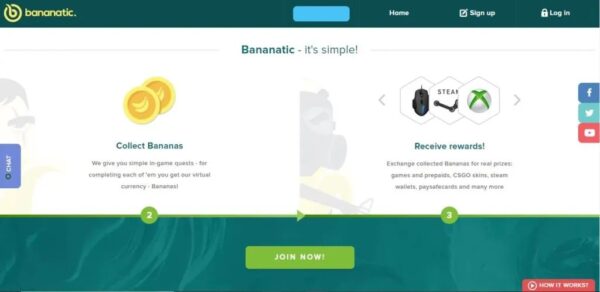 Bananatic is a viable option for getting paid to test games. Unfortunately, although something is always available, the rewards are typically insignificant. However, if you enjoy playing games, this site might be ideal for you.
Users can start earning money as soon as they sign up for the online games they want to play on the website. Popular games include World of Tanks and Star Trek Online, among others.
After that, players earn bananas (points) by completing quests. The quest could be as simple as achieving a specific score or winning a certain number of rounds.
To prove +the completion of a quest, the player must submit a screenshot. You will receive your bananas within 48 hours of submitting your screenshot.
You can earn bananas by testing apps, shopping, or viewing website advertisements.
How Does Bananatic Lab Pay Testers?
You will earn a certain amount based on your activity on Bananatic. For example, Bananatic users earn bananas (points) by playing games, which can be redeemed for free PayPal cash, Amazon gift cards, Steam games, and other prizes.
Pros
Earn rewards in novel ways.
There are numerous payment options available.
The registration procedure is simple and straightforward.
Provides a mobile app for managing your offers.
Cons
Lack of earning potential
The process is a bit lengthy
5. Rockstar (Best for Popular Video Games)
Rockstar Games is a popular gaming firm that pays talented gamers to test out new games. It is also one way to make money playing games.
Grand Theft Auto is one of the world's most popular video games, and Rockstar Games is responsible for its creation.
Rockstar Games is looking for beta testers for their games before they are released to the general public. They're even willing to pay you for it.
To be eligible, you must be at least 18 years old and have some prior experience in this field. You should also be available for an interview.
Rockstar Games interviews potential testers to learn more about their gaming experience and expertise.
Conversely, the company is more interested in your ability to spot errors than your ability to play well.
The job title "quality assurance (QA) tester" implies that your primary responsibility will be to play the game and look for any glitches or bugs.
If you find any, you will notify the team to address them before the game goes live.
6. Beta Family (Best for Fast Cash Payouts)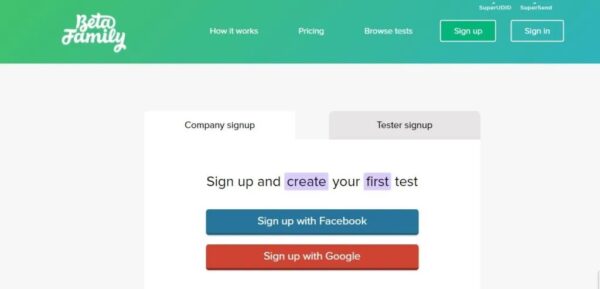 Beta Family lets testers find iOS and Android apps to test from the crowd. By having real people test their apps, developers can get an honest opinion of how the apps work for users.
Developers can use the site to check their apps for bugs and errors before they go live. As a beta tester, you will use the app and look for bugs, which you will then report.
At the end of the test, you need to report all the bugs you've found and what you think about the new app. To become a game tester on this site, you need an Android, iOS, or wearable device.
How Does Beta Family Pay Testers?
They pay $10 for any test that takes 45 minutes to an hour. Once your account balance reaches $50, you can ask for payment. After you ask for a payout, the money is put in your bank account within 30 days.
Pros
Take part in beta testing on Android and iOS devices.
Beta Family accepts cash as payment.
Cons
Getting into paid beta testing can be a daunting task for newcomers.
The company takes 30 days to process the request and send you the funds.
7. MyCrowd (Best for QA, UX, and Functional Testing)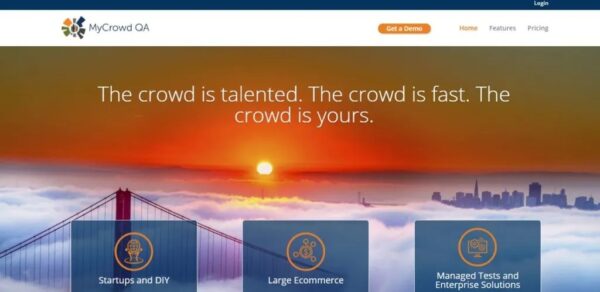 MyCrowd uses crowd-testing to help website and app owners find bugs in their products. The company currently has one of the most powerful crowd-testing platforms available.
In addition, the company can perform UX Testing, QA Testing, and Functional Testing on any website or app that requires testing.
It employs testers from all over the world who use various devices. This way, you can ensure the results are correct and identify any bugs in the website or app. The company accepts applicants over the age of 18.
How Does Beta Family Pay Testers?
Each test will take only 15 minutes to complete, and we will pay you $10. Earning between $100 and $200 per month from this company is also possible. Each week, payments are made via PayPal.
Pros
There is a PayPal payment option available.
The reward for each task is substantial.
Beginners will find it simple to use.
You do not have to reach a certain threshold to be paid.
Cons
Earning potential is limited.
The payment procedure is lengthy.
Work for pay necessitates a significant amount of effort.
Other Companies That Pay You To Test Games
Beta testing is a site that enables you to earn money by testing websites and games. It is a fun way for anyone to earn a few extra dollars while contributing to new product development.
It is not, however, intended to replace a career. Depending on your interests, demographics, and quality feedback history, you may receive more or fewer tests.
Each month, you may receive between 0 and 5 opportunities. The minimum age requirement is 18 years old. Furthermore, you must be fluent in English. Last, you'll need a computer or a Mac to run the test.
As a BetaTester, you are compensated for testing websites, software, and new applications (including games). You'll usually earn between $10 and $20 per test (or more). Furthermore, they make payments via PayPal 7 days after project completion.
Use TestIO to play games and earn money. They basically want you to find bugs and beta-test apps for them. To work for this company, you must also be technically proficient. You can sign up for free and begin earning rewards within minutes.
The maximum prize for each test is $50. In addition, this company will pay you $3 to $5 per bug you report. You will receive your payments on the 19th of the month you requested them. Payoneer and PayPal are two methods of payment.
Userfeel is a beta-testing company for which you can sign up if you are testing websites or mobile apps. This company compensates you for app usability testing. You share your thoughts on the apps you test.
Furthermore, you must be 18 or older to join Userfeel. To become a potential tester, you must pass a qualification test. You will need Userfeel's screen and voice recording software for this.
Each test will take only 15 minutes to complete, and we will pay you $10. Earning between $100 and $200 per month from this company is also possible. Each week, payments are made via PayPal.
Whatusersdo
Whatusersdo pays you to test games. These guys analyze user data for industries such as gaming, gambling, retail, ad tech, and others. They go to real websites and see what happens when they do specific things.
According to their website, they offer four tests per month. However, as you take more tests, your quality score will change based on your demographics.
In essence, they are paying $10 for a 20-minute test. When you finish the task, you will be paid through PayPal. The payment process for the previous month's tests occurs on the 25th of each month.
Blizzard is considered one of the best game designers in the world. They pay talented gamers to review their upcoming games.
How Does Game Testing Work?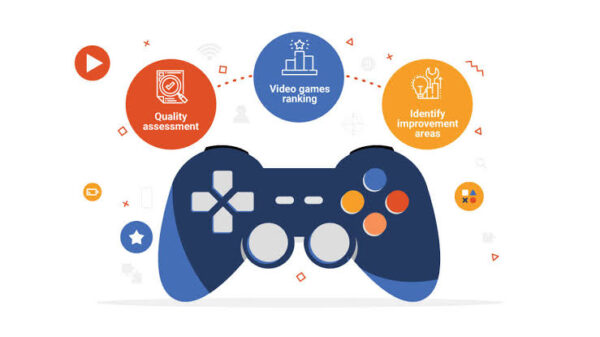 Apps must be user-friendly, and one of the best ways to determine this is to hire beta testers who can provide honest feedback before the product is released.
Most developers and businesses will usually go to a third-party website or source to hire beta testers who are regular people who use apps or play video games. The testers can sign up to use the product and provide feedback after registering and paying a fee.
As a tester, your role will vary depending on the project's needs, but you will be able to accept the project and all tasks first.
Remember that your review and feedback do not always need to be positive. However, it should be truthful to truly assist the developer in improving their product.
Good Read: 8 Ways to Watch NFL Games for Free (Without Cable)
Bottom Line
You can get paid in many ways to test video games. For example, you can work for a video game company, become a beta tester on different websites, or test games on your own time.
But it's important to remember that not every method is the same. Some may take more work, but the money you could make is usually worth it.
So, if you want to play new games and make money at the same time!! Then try any of the above websites.
Frequently Asked Questions
Q: What Do You Do As A Game Tester?
As a game tester, you are tasked with reporting technical issues and malfunctions you encounter when playing a game. A game tester plays a game that is under a development process. They do this to identify bugs in a game. A gamer tester will provide the game development team feedback when this bug is identified.
Q: How do I become a paid game tester?
Improve your gaming technique. Becoming a game tester is the most important aspect of becoming a deliberate and conscientious gamer.
Improve your technical knowledge and game-testing skills.
Participate in open beta testing.
Create a resume for a game tester.
Apply for game tester positions.
Q: Is game testing a full-time job?
The majority of game tester positions are contract or part-time. Some jobs also necessitate working from home. Full-time jobs, on the other hand, usually require more experience in the field. Look for a full-time position in game testing at a large, reputable game development company.
Q: Does game testing require coding?
The tester does not need to know how to code to perform Black box testing. Instead, the tester inputs data into the software and then checks the output.
Q: How much does it pay to test games?
The average annual salary for a GAME Tester in the United States is $60,370 as of March 6, 2023. Suppose you need a quick salary calculator that costs about $29.02 per hour. This equates to $1,160 per week or $5,030 per month.
Q: Can I get paid for testing games?
Testers can be paid per hour or on an annual basis. In either case, the pay rate can vary greatly depending on factors such as the game company you work for, the geographical location of the studio, and how many years of experience you have as a game tester or a game testing lead.
Q: Is game tester jobs legit?
A lot of game tester jobs are legit, but some are scams. Beware of game testing scams because they will simply try to take your money, and you will most likely not be able to recover it. So, if anyone ever asks you for money in exchange for a job as a tester, they are not legitimate because game testing is a regular job like any other.
Q: How To Become A Video Game Tester
To become a video game tester, you need to know all types of video games. It would be best if you also had years of experience playing games. To get a video game testing job, you must write a resume and present it to sites that pay you to test games.