Last updated Oct. 30, 2022 by Charles Zemub
Exposing your children to healthy financial habits at a very young age is one of the best things you can do as a parent. They will learn the importance of money and acquire basic money management skills, all at a tender age. So, you don't need to wait until your kid is about 15 before impacting this vital knowledge.
You can start with acquiring these best money books for kids – to give them a background in personal finance. Not only are these books impactful, but they also teach kids personal finances in a fun and simple way. Here are the 20 best money books for kids to learn personal finance.
1. How to Turn $100 into $1,000,000 – by Jeannine Glista, James McKenna, and Matt Fontaine (Ages 10-14).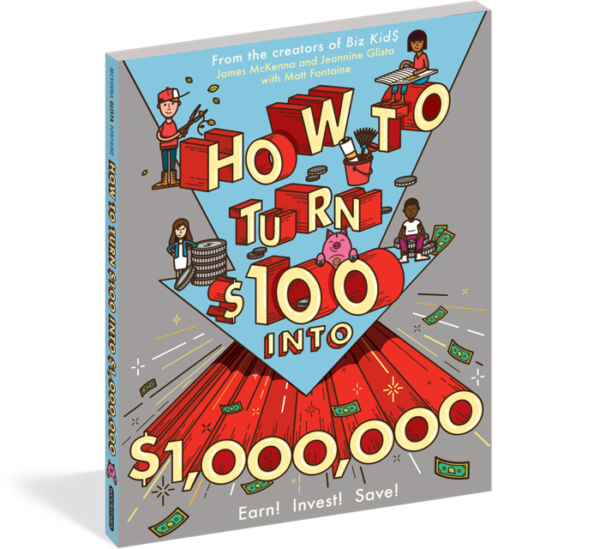 The book is centered around investing and saving money. It is ideal for kids who are looking to implement healthy financial habits that will turn them into millionaires. The book has pages filled with advice on money basics such as starting a business, getting a job, and saving up funds to archive long-term goals.
In addition, the 2016 publication features a two-page plan to become a millionaire, a one-page business plan template, and a personal budget tracker. One thing for sure is that kids will learn how to grow funds to reach their target after consuming this book.
2. The Everything Kids' Money Book – by Brette Sember (Ages 7-12).
You should get this book if you want your kids to learn healthy money practices. It teaches kids how bills and coins are made and the growing fintech industry. The book also contains pages with illustrations for easy understanding and comprehension.
The Everything Kids' Money Book was published in 2008 to teach kids how to earn and save money. In addition, there's knowledge of investment and earning interest for kids to learn. As the earlier mentioned book is created for easy understanding, so you don't need to hire a private tutor to explain it to your kids.
3. Make Your Kid a Money Genius – by Beth Kobliner (Ages 3-16)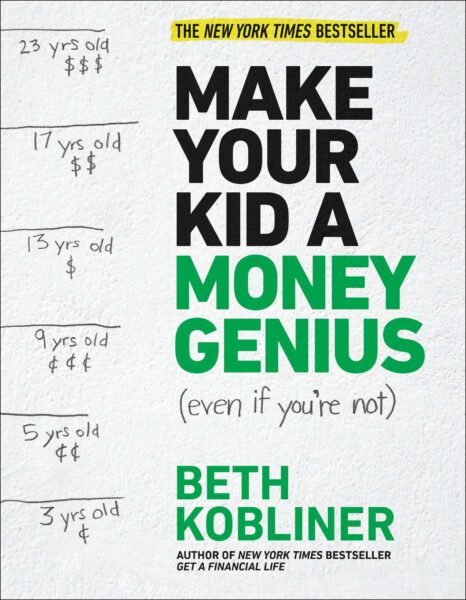 Filled with incitive knowledge of fundamental money habits, "Make Your Kid a Money Genius" is one of the best money-making books for kids you should get. The book is simple to read and easy to comprehend and can help you teach your kids more about personal finance.
Additionally, it covers everything from basics like the meaning of paycheck to more complex discussions like investing and money management. You can read this book to your kids or have them read it at their own pace. Ultimately, they'll know how to invest, save, and give back. It even features helpful financial advice for parents and teachers.
4. Bernstein Bears Trouble with Money – by Stan and Jane Bernstein (Ages 4-12).
"Bernstein Bears Trouble with Money" is a great personal finance book for kids looking to start a healthy financial life. It introduces them to money and shows the importance of having a good money management mindset. Similarly, kids who read this book will be open to various money-making opportunities.
The book is centered around the tale of bear kids who thought money grows on trees. However, the parents were able to show them how untrue their imagination is and teach them to make and manage money properly. Therefore, this book is excellent for children to start thinking more about the value of money and how to manage it!
5. How to Save, Invest and Grow money – by Dylin Redling and Allison Tom (Ages 8-12)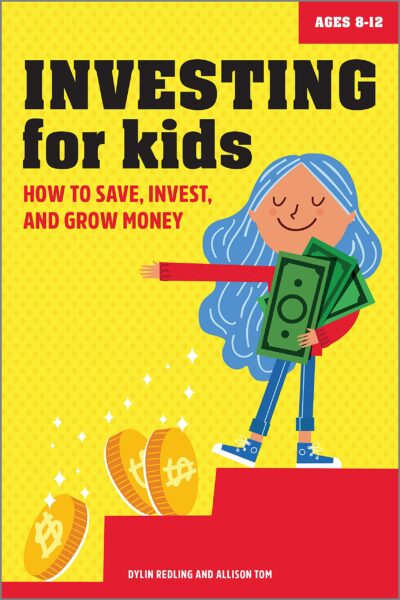 If you intend to raise money-savvy kids, this book will help you in your quest. It gives kids the idea of how money works, such as how to make money, grow money, and how create an effective saving plan. All of which help young minds look forward to a financially stable future.
"How to Save, Invest and Grow Money" is one of the best financial books for beginners to learn how to build their finances. In addition, it covers essential and engaging discussions on investing and making money to build wealth. There are also interactive activities for readers to enjoy while learning.
6. Grandpa's Fortune Fables: Fun Stories to Teach Kids About Money – by Will Rainey (Ages 6-14)
The book contains short stories about money with lots of lessons to be learned. So while your kids are having fun reading these stories, they learn about the value of money and how to save as well. It features a 13-year-old girl called Gail who shares adventures with her Grandpa on a faraway island.
As mentioned earlier, each chapter teaches a money lesson to help kids learn the importance of managing money. Additionally, the financial concept in each story is made in an easy-to-digest format with financial actions for your kids to take. All these warrant this book a place in one of the best money books for kids to learn personal finance.
7. What is Money?: Personal Finance for Kids – by Kelly Lee (Ages 3-7)
This is a book written to introduce your kids to the concept of money. Not to worry, the explanation given isn't as complicated as the title sounds. On the contrary, the book is simplified even for toddlers to understand.
In addition, it contains short stories about money, illustrations, colorful pages, drawings, and simple language. Everything age-appropriate for your kid is included in the book. At the end of each chapter, there's a series of questions with simple explanations and examples. Therefore, this is one of the best children's books about money.
8. Money Ninja – by Mary Nhin (Ages 3-11)
The Money Ninja book is made to grab the attention of kids to learn about finances at a young age. Inside, every page contains essential money skills through stories featuring colorful illustrations with fascinating characters. You can read them to your kids or have them study in their free time.
The book is captivating and interesting, leaving your kids wanting to read it continuously. In addition, it is a great way to introduce them to the concept of making money, saving, investing, and giving. All of which promote a healthy financial mindset in kids.
9. A Kid's Activity Book on Money and Finance – by Allan Kunigis (Ages 3-9)
For your kids to get equipped with money management skills, they need to engage in practical activities; this is why "A Kid's Activity Book on Money and Finance" was created. The book will nurture your child's knowledge about finances, decision-making, and other related skills.
In addition, your kid can learn about money by engaging in practical activities like crossword puzzles, quizzes, rhymes, word searches, and other games. The activities are to introduce them to the principles of money. Consequently, it challenges them to find solutions to money problems while laying the foundation of financial literacy.
10. Investing for Teens – by Alex Higgs (Ages 13-18)
The book, Investing for Teens is made for young adults as a step-by-step guide on building a solid foundation on finances for their future. It covers various topics to help them grow and manage their money while setting themselves up for financial independence.
So instead of them living a life of assumption without expert advice on finances, they'll read to learn. With this, they'll begin to live exceptionally from other kids and learn the value of every dollar as they grow to become adults. So, help your teen acquire the right skills and advice with one of the best money books for kids.
11. More Money, Please – by Scott Gamm (Ages 14-19)
More Money, Please is a comprehensive, easy-to-understand book on introduction to money management. It is a personal finance crash course ideal for college students, high-schoolers, and recent grads. Likewise, the book teaches lessons on money management for young minds.
Readers will be exposed to topics on budgeting, investment, paying for college without getting into an unrealistic debt, and saving for retirement early. Scott Gamm also discusses the need for having a credit card, how to use technology to boost income generation, and how to leverage smartphones to pay bills on time.
12. Finance 101 for Kids – by Walter Andal (Ages 6-12)
To acquire knowledge about personal finance, your kids need to start from scratch. Thus, the book, Finance 101 for Kids gives your child the basic knowledge of money up to effective money management skills like saving, budgeting, planning, and investing.
It's one of the most entertaining and informative money books for kids to help them understand how money works. Consumption of this book will enable them to build a solid foundation on how to handle money. In addition, the book teaches about how to make money and the importance of giving back to the community.
13. Kyng & Kyren's Generational Wealth Building Activity Book – by Kyren Gibson (Ages 9-17)
The book is centered around Kyren and how he archived financial freedom. When Karen became a father, he decided to change his financial life. He wanted to leave a legacy for his dear son, Kyng. Hence, he began his journey of learning how to develop and build generational wealth.
Consequently, he wrote the book on Kyng & Kyren's Generational Wealth Building Activity Book. It is to help educate his community on issues around fundamental blocks of financial literacy. And he makes learning as engaging, fun, and motivating as possible. As a result, the book is of value to the young generation and to those who aspire to build wealth.
14. A Smart Girl's Guide – by Nancy Holyoke and Brigette Barrager (Ages 8-12)
Introducing books for your kids to learn personal finance, such as A Smart Girl's Guide, is a smart step to getting them financially inclined. Books like these challenge their intellectual capability and give them an interest in money management. It is also a great way to grab their attention and have them seek more knowledge about wealth and the secrets of wealthy people.
In this read, the authors teach girls, in particular, about money management in a simple and fun way. Also available in the book are tips, quizzes, and helpful quotes from other girls to delight and inspire your middle schooler.
15. Heads Up Money – by Marcus Weeks (Ages 12-16)
The Heads Up Money book covers even more complicated economic and financial topics such as supply and demand, market trends, and investing. In addition, it answers questions like, "what will happen if the bank simply prints more money?" and other related questions to increase your child's knowledge about money.
Even though the discussions are pretty complex, it is presented in a fun, dynamic, and easy-to-follow format made for kids in grades 5-12. In addition, it exposes them to solving simple maths and arithmetic problems like standard deviation, opportunity costs, and the rest. However, children under the age of eight may find this book hard to comprehend.
16. Apple Farmer Annie – by Monica Wellington (Ages 4-12)
Entrepreneurship is one of the mainstream money-making industries, so your kids should learn about the sector. "Apple Farmer Annie" is a book that will teach your child the process involved in farming and converting it into an end product − dipping their fingers in entrepreneurship.
Annie is a character of an orchard farmer, who takes your child through picking apples, producing sweet apple cider, and various baked goods, making applesauce and then selling them at the farmer's market. Ideally, this will show them the opportunities involved in farming and entrepreneurship.
17. Paying for College – by Kalman Chany (Ages 12-17)
As college education has proven to be one of the most daunting expenses for many teens, the book Paying for College is published to teach teens how to save for college. The author, Kalman Chany, is an expert in the field and teaches the essential sources of financial aid, such as scholarships and grants. There are also discussions on federal and private student loans to help your child make the best decision on college loans.
Readers will also find helpful tips on maximizing aid and negotiating a good package when a college offers one. The book also includes sample financial aid forms and useful worksheets. The book comes in series, and the 2023 edition of Paying for College will be out on September 20, 2022.
18. I Will Teach You To Be Rich – by Ramit Sethi (Ages 13-19)
Released in 2019, this book is recommended for teens. It's great for kids to learn personal finance as well. An interesting fact about this book is the author's sense of writing about finance in a fun and exciting way. There are also talks on the importance of budgeting, money management, and planning.
The book also covers topics on credit cards, investing, banking, and other financial aspect. Although this book is for teens, it is also useful for young adults and those who aspire to build wealth.
19. Lemonade in Winter – by Emily Jenkins & G. Brian Karas (Ages 3-7)
"Lemonade in Winter" is a picture book suitable for preschool children. It tells the story of two entrepreneurs to be working to overcome challenges in their first business endeavors. It depicts a nice and detailed illustration of retail aspects such as advertising, presentation, buying supplies, expenses, and profit.
The main characters calculate money and try different methods to improve their sales. Therefore, parents and kids can invent creative discussions and maths activities based on the plot. Additionally, the book shows both sides of different coins while explaining their worth. It is also notably organized, well-written, and illustrated.
20. Bunny Money – by Rosemary Wells (Ages 3-5)
Although dedicated to young readers, the book teaches valuable lessons about wants and needs, spending and saving, and the value of money. Besides, it will enable them to understand basic maths. Lessons are taught in a clever and funny story with adorable illustrations that will change the mindset of children.
Reading about bunny's money-making and spending decisions will also introduce children to short-term and long-term financial goals and the concept of affordability. This book is an excellent way to introduce your kids to the world of finance.
People Also Ask
What is The Best Age to Teach Financial Literacy?
Ages 3 to 5 are the best age to start teaching children about personal finance. It's never too early to start teaching your child these topics. You can begin by teaching them simple financial terms on numbers and value before moving to more complex aspects like budgeting, saving, and investing.
You should expose them to tools that teach finances, such as financial books, apps, and articles. Also, use the language they can comprehend and any other available means they understand to teach them about money. Teaching your kids early enough will prepare them for the future, help them know the value of money, and enable them to live with financial freedom as well.
How Do I Teach My 9-Year-Old the Value of Money?
You can teach your kid the value of money by instilling the habit of saving. Start by giving them a piggy bank or savings jar to deposit coins or cash. Then continue to encourage them to save often and grow their funds. There are books on personal finance that you can get them to read and learn more about savings.
You can also teach them how to make money on their own, so they will know how hard it is to earn. An allowance can cut it. However, you should consider making your kids do certain chores to earn an allowance. In addition to wanting his kids to understand the value of money, you can open an investment account to expose them to means of growing their income.
How Do You Teach a Teenager Financial Responsibility?
Learning to save money will go a long way in helping your teen to be financially responsible. You should incorporate into them the habits of saving for college, retirement, and emergencies. Teach them to develop a realistic budget and show the importance of being frugal. In addition, teach them to prioritize needs over wants.
Help your teen to create a budget and discuss how much they can save. Ask them to think about what they'll have to give up to meet their savings goals and why it's worth it. Show them that impulse spending is unnecessary and saving is essential.
How Can I Teach My 5-Year-Old to Save money?
Helping kids understand what savings goal entails is a great way to teach them to save money. If they know what and why they are saving, it'll keep them motivated to save. For example, if they want to buy a $50 video game and get a $10 allowance every week, help them figure out the duration it'll take to reach that goal based on their savings rate.
Show them that saving to get what they need is essential. And once your kid understands that they won't get what they need without saving, they'll come to understand the value of saving.
Frequently Asked Questions
How do I Teach My Child About Money Management?
There are books such as "Bunny Money" (by Rosemary Wells), "Heads Up Money" (by Marcus Weeks), and "The Everything Kids' Money Book" (by Brette Sember) that can teach your child all there's about money management. A practical way to teach your kid about money management is to curb impulse spending. For example, encourage them to wait at least a day before buying any expensive item.
What Age Should a Child Count Money?
Age 3 to 4 is an ideal age to teach your child to count money. Start small by having them sort and count coins before moving to other higher amounts when they're familiar with counting. They can begin learning money's actual value from age seven and above.
How Do I Teach My Child About Financial Matters?
You can let your kid help with the grocery shopping, walking and showing them your decisions to shop at certain stores, seek sales and coupons, and select certain brands by the pricing and your budget. Let them understand the need to create a budget and stick to it.