Last updated Jan. 20, 2023 by Peter Jakes
On average, a movie ticket will cost you $8.97! If you go to the movies rather often, the total expense you make will quickly add up. This problem can be solved with a MoviePass Membership.
With this service, you can have access to countless cinema movies without having to pay much.
This article will cover all you need to know about MoviePass, including its mode of operation, how legit it is, and the theatres that accept MoviePass Membership.
What is the MoviePass?
MoviePass is a service that enables you to access theatre movies at a discounted rate. Members of this service pay a monthly subscription fee of $9.95 – With this subscription, you can access countless cinema movies.
This platform, which is home to over 2 million users, is similar to Netflix. But rather than allow you to stream movies on your phone, it gives you access to movie theaters.
MoviePass was established in 2011 and has continued to solidify its presence.
How To Use MoviePass?

Here's how to get started with MoviePass:
Step 1: Sign up
step 2: Activate your card.
Step 3: Get your Tickets
Sign up
Visit the official MoviePass site and sign up to create an account. To sign up on MoviePass, your mobile device must have an operating system that is iOS 10.2 or higher or Galaxy 5.0 or higher.
To be eligible, you need to be above the age of 18. You need to also provide personal information about yourself like date of birth, name, email address, and more.
MoviePass requires that you fill in your shipping details, this makes it easy for your membership card to be mailed to you. It takes 7 to 10 days for the membership card to arrive in a location.
Activate Your Card
Upon receiving your MoviePass card, you'll have to activate it with the MoviePass app.
The MoviePass app requires access to your camera. You'll also have to enter the last 4 digits of your bank card into the MoviePass app.
Once the card is activated, you'll be notified by the app. If you have problems activating the card, visit the support section in the app.
Get your Tickets
Once you have subscribed to a monthly plan, the next step is to purchase movie tickets.
Here's a step-by-step guide on how to purchase movie tickets on MoviePass:
Step 1: Open the MoviePass app, and search for movies that are of interest to you. The search bar will show you movies that can be accessed via MoviePass and the cinema to watch it
Once you select a movie, click on the "Check In" box that appears.
Step 2: After checking in with your account, visit a cinema close to you and show your MoviePass membership card to the ticket agent.
After the ticket agent swipes your card, a ticket will be issued to you.
After clicking on "Check-in", you have 30 minutes to show and swipe your MoviePass card at the Cinema. If you want to cancel your movie, click on the "check-out" button at the bottom of the page.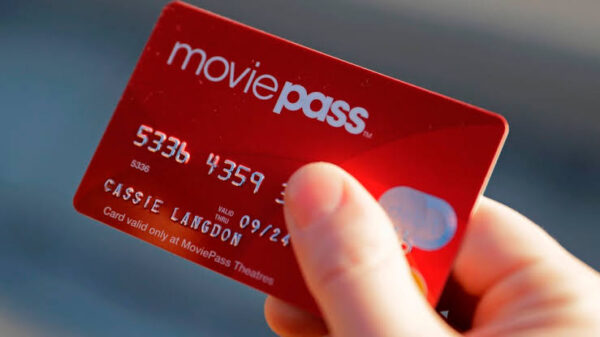 E-Ticketing
E-ticketing is also available on MoviePass. This gives you the opportunity to book your seats before you even arrive at the theatre.
This ticketing system makes your ticket available before you arrive at the cinema. However, not all cinemas adopt this system.
Here's how to get E-tickets:
Step 1: Open the app and choose any cinema that accepts E-tickets around you.
Step 2: After this, a film list will now be displayed to you. Select the performance time that most appeals to you and proceed to verify your check-in.
Step 3: You will get a redeemable code after you have confirmed your "check-in" status. In order to get your reservation from the kiosk or the box office, you will need to produce this code.
Is MoviePass Legit?

Yes! Since its inception in 2011, MoviePass has been covered by major news publications such as Forbes, CNN, & Business Insider. MoviePass is legit and does not carry out fraudulent activities.
In early 2018, MoviePass, launched a discount offer that allows customers to watch unlimited movies for as low as $9.95 a month. However, this was not meant to be, as they reportedly recorded a whopping $40 million loss in the first quarter of 2018. As a result, this led to the shutting down of the theatre company.
Notwithstanding, after about two years of inactive operation, MoviePass is finally back! Moreover, they returned with an even a better model, creating the MoviePass website where you can sign up for a waitlist. However, users are still curious to know if MoviePass is a legit way to watch one movie every day.
Therefore, in this MoviePass review, we'll discuss all there's to know about MoviePass' new policy and ways of operation, its pros and cons, and movie ticket pricing. This will help us conclude whether the theater company is legit.
What Does MoviePass Offer?
MoviePass is a subscription service that allows movie-viewers to watch one movie per day for a pretty low monthly fee. The movie cost is just $9.95 monthly, and you can see a new movie every day. It's like Netflix, except it is for movie theaters rather than streaming.
MoviePass allows moviegoers to pay a flat monthly fee (about $9.95) to be able to see a certain number of movies in theaters per month. They even have an app that functions in all major theater chains in the US that accept major credit cards. This is relatively different than the regular theater-specific subscription services that allow you to only see movies at their locations.
MoviePass has upgraded its feature from allowing subscribers to see one movie per day to a credit-based system. Subscribers can now get an allotment of monthly credits (based on the pricing tier they sign up for), which they use to see movies.
Normally, the number of credits required to see a movie depends on the time and day of the week you watch it. For example, seeing a movie on opening night is likely to cost more credits than seeing it on a Wednesday evening. So, credits can be not just for getting movie tickets; any unused credits will roll over to the next month.
As time goes on, several other new offers are expected, such as being able to tag along with a friend. However, MoviePass is only available in nine locations in the US, including Atlanta, Chicago, Dallas, Indianapolis, Houston, Oklahoma City, Kansas City, and Tampa Bay. Hopefully, the company may expand to other countries as they bid to become even more popular.
How Does MoviePass Works?
MoviePass will give you a set number of credits depending on your chosen price point. You can use this set number of credits to spend on different movie showings. However, seeing a prime-time screening may cost you more credits than seeing a screening of the same movie on a regular day.
For example, blockbusters like Black Panther: Wakanda Forever costs more credits than "less in-demand" indies. It's unclear the number of movies, on average, a subscriber is allowed to see in a given month.
Furthermore, MoviePass still works across all the major movie theater chains in the states and several smaller ones. To make payments even easier, MoviePass partners with MasterCard, where users can get a debit card. Subscribers can order movie tickets via the app or their debit card at the theater.
MoviePass Review: Pricing
MoviePass has introduced three pricing tiers: $10, $20, and $30 monthly. The amount of credits that you receive monthly is based on the pricing tier that you registered for. At this time, the number of credits available per pricing tier is not available.
You can choose between plans costing $10, $20, or $30 per month. And for context, the average movie ticket price was $9.16 in 2019, although this figure hasn't been updated since the pandemic.
A few years ago, MoviePass made it more affordable for people to see the latest flicks. You could become a subscriber and see one movie per day for just $10 per month – which was about the same cost as a movie ticket.
While the idea was great in theory and offered moviegoers a way to save money, it wasn't able to withstand the financial clampdown. Consequently, MoviePass shut down in early September 2019 because it wasn't a profitable business plan.
Unlike most membership-based services that many users pay for and forget about, MoviePass became popular, and members used it often. After all, seeing a two-hour movie several times a week is more fun than visiting the gym for a workout, right? Hence, the usage became overwhelming that it affected MoviePass financially that they couldn't continue.
Is MoviePass Still Available?
Former founder and CEO of MoviePass, Stacy Spikes, was able to bring MoviePass out of bankruptcy and tried to bring the company back to life. However, it'll resume with some major changes, like membership won't offer unlimited movie tickets. Also, the relaunched MoviePass service will operate on tradable credits that can roll over month to month.
Spikes is the proprietor of a gaming company, PreShow, and hopes to introduce some of its features to MoviePass. The preShow is an app that allows users to unlock in-game money for free by watching ads. The platform also features checks to ensure users are actively watching the ads.
Likewise, when MoviePass relaunches, the platform will allow users to buy, trade, and sell movie-watching credits. And members will be able to earn credits for watching ads. More so, matinee shows will cost fewer credits, while popular showtimes and in-demand movies will cost more.
While MoviePass no longer offers unlimited movie ticket subscriptions, the company promises to bring a fun and interesting way for consumers to buy and earn tickets to see the latest movies.
Spikes has since relaunched the new MoviePass to beta users in the summer of 2022. And now, the service is available to the public. But they're a few changes, as discussed above.
MoviePass Review: Is It A Legit Way To Watch One Movie Every Day?
MoviePass was launched in 2010 and has been in active service since 2011. And then, four years later, it partnered with AMC Theatre, one of the biggest theater chains in the US. It introduced a premium subscription plan model costing up to $45 a month.
However, it wasn't until the past couple of years that the company gained traction. Notwithstanding, the brand recovered and now boasts more than 2 million active subscribers.
MoviePass is a legit way to watch your favorite movies, although it isn't clear how many movies users are allowed to watch monthly. MoviePass accepts 91% of theaters across the country. Users can type in their zip code in the app to find the nearest location.
MoviePass Review: Pros and Cons.
Although MoviePass is a great movie platform, it still has its flaws, just as it has its advantages. Virtually all movie platforms share similar characters in terms of strengths and drawbacks, although they slightly differ in comparison. Here are some of the common advantages and disadvantages of MoviePass:
Pros
Easy to join: Just subscribe, wait for your card to arrive (1-2 weeks), and then register on the mobile app.
It's $50 per month is a great deal for movie lovers.
The service is available every day of the year.
You can see 2D movies per day. This is an incredible way to save money.
Available at most theaters in the US, even indies.
Cons
You cannot enjoy movies in 3D or IMAX, only if purchased from a separate MoviePass subscription.
The MoviePass app is only accessible in theatres, which can be inconvenient.
No premium theaters like the Landmark or ArcLight.
Frequently Asked Questions Related To Is MoviePass
Why Did MoviePass Shutdown?
MoviePass shut down after membership increased to over three million subscribers in June 2018. After that, however, the service began to suffer from financial crises due to the discount offer they granted customers to watch unlimited movies for as low as $9.95 a month. This ultimately led to the untimely shutdown of the service in September 2019.
Is The New MoviePass Worth It?
If you're the type that enjoys watching movies at the theater two to four times per month, then MoviePass could be well worth it — and especially if you're willing to forgo movie premieres to maximize your MoviePass credits.
How much is MoviePass?
MoviePass had a tiered pricing structure of $10, $20, or $30. However, the amount you'll pay depends on your location. Subscribers can also receive a certain amount of credits monthly which they can use to watch the movies they are interested in.
How Does MoviePass Work?
MoviePass is a subscription service for those who like watching movies in the theater. Subscribers can sign up for one of three tiers (for $10, $20, or $30 monthly), each of which gives them a certain number of credits they can place toward movie tickets at participating MoviePass theaters across the country.
Conclusion
The cheap service offered by MoviePass makes it financially advisable to the cinema on a regular basis.