Last updated Mar. 5, 2023 by Peter Jakes
If you want to practice your stock market trading skills or learn more about the markets in general, many simulators can help.
Some are built by professional investment firms with real-time data and realistic trading conditions, while others are straightforward games for kids or beginners.
We have identified the nine best online Stock Market Simulators and will review them below.
1. Investopedia Stock Simulator
Investopedia's Stock Simulator is a free online trading simulator where you can practice investing with virtual money. It offers more than 1,000 stocks and ETFs to choose from.
You can also set the simulator to simulate a real-world market to test your strategies in real time without risking your money.

-This simulates over 80 markets and has over 4 million registered users. It offers a realistic experience with no risk involved, so even beginners can get a feel for how they would perform if they traded stocks in real life.
The system uses quotes from brokerages like E*TRADE or TD Ameritrade, so there's no need for guesswork when deciding when or how much to buy/sell shares at any given time.
Based on historical data provided by these companies, you'll know exactly what price range each company's stock trades within, so there will never be any surprises during simulation sessions.
The Investopedia Stock Simulator offers several features to help beginners learn how an investment works and experiences investors fine-tune their skills:
A charting feature that includes over 50 technical indicators
An expert advisor (EA) that automatically trades for you based on the settings chosen by you
The ability to simulate both long-term (10 years) and short-term investments
2. VirtualStockExchange
VirtualStockExchange is a free online stock market simulator. It has two games: the "Game of Stocks" and the "Investment Game." In the Game of Stocks, players can create a portfolio and learn to trade while trying to beat other traders.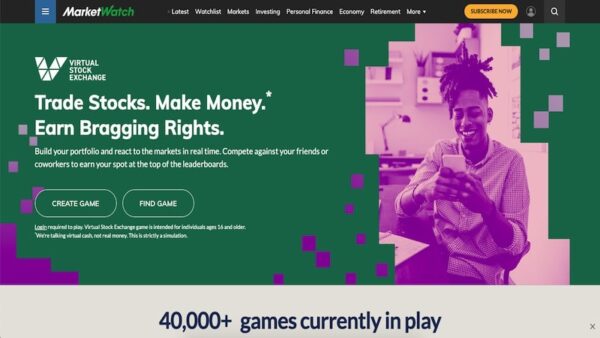 Players can buy, sell and track stocks in virtual portfolios using the interface VirtualStockExchange's website provides.
In addition to practicing trading stocks independently, players can compete against other traders in simulated competitions where they vie for the best performance metrics like return on investment (ROI) or highest profit margin per transaction.
You choose one of three portfolios based on your risk tolerance: aggressive (high risk), moderate (medium risk), or conservative (low risk). Then, you get virtual cash and start buying shares of companies like Apple Inc., Tesla Motors Inc., Netflix Inc., Amazon.com Inc., Starbucks Corp., Facebook Inc., and more.
VirtualStockExchange offers several features that make it ideal for those interested in learning more about investing or practicing investing skills before they put real money into stocks:
A risk-free environment where you won't lose any money if something goes wrong
An easy-to-use interface that allows you to start trading with just one click of your mouse button
Accessible 24/7 via any device so that you can sell anytime from anywhere
3. HowTheMarketWorks.com
HowTheMarketWorks.com is a 100% free virtual stock market simulation that allows students to practice investing before using real money. It's easy to set up an account and start learning. If you're new to the site, check out this guide.

You'll begin by choosing your portfolio, which consists of five stocks representing different industries (such as technology, healthcare, and consumer goods) in the United States or an international index such as the MSCI World Index (which includes more than 2,000 companies).
For example, if you select "Healthcare" for one of your stocks and "Technology" as another one of your stocks, then every time there's a change in healthcare prices or technology prices—or any other industry—you'll see what would happen if you were invested in those industries at that moment.
4. WallStreet Survivor
WallStreet Survivor is a simulation of the stock market that lets you buy and sell shares of stocks. You can choose from over 100 companies in multiple industries. Each company has unique characteristics which affect its performance in the market.
When you begin playing, you will have $100,000 in virtual cash to invest in the stocks of companies that interest you most.
The goal is to make money by investing wisely in companies likely to increase in value over time while avoiding losing all your investment capital through poor decisions.
The game includes several features that help you make informed decisions about which stocks to purchase:
Market News – Read up on current events affecting each stock's performance.
Stock Reports – Get detailed information about each stock, including market capitalization and historical performance data (including charts).
Stock Recommendations – Use the stock recommendation service to determine whether or not we think a particular stock might be worth buying or selling at its current price level.
5. The Motley Fool CAPS
Motley Fool CAPS is a stock market simulation game where you do not compete against other players but compete against the computer. You can play for free or for real money and have the option to set your own goals.
The game rewards winners with virtual cash to spend and gives everyone else access to valuable research tools to learn about specific stocks and companies.
The Motley Fool CAPS is a unique stock-rating and discussion community. CAPS is an investment tool that any investor can use to track stocks, get opinions from other investors, and share ideas with the larger
Fool community. It provides a way to participate in the many discussions on our boards every day. CAPS is free and easy to use, and you don't need any financial experience to start.
6. Fidelity's Virtual Trading Experience
Fidelity's Virtual Trading Experience lets investors get close and personal with the stock market. This online simulator will enable you to practice your trading skills in a risk-free environment.
Fidelity's Virtual Trading Experience is available to anyone with a Fidelity brokerage account.
You can access it through the Fidelity website or download it as an app for your smartphone or tablet.
Once logged in, you can choose from more than 20 different stocks and ETFs. The simulator will then simulate real-time market conditions based on current market conditions.
-This is an excellent tool to practice investing without risking your money. However, if you're looking for a realistic simulation of trading in real life, Fidelity's Virtual Trading Experience may not be enough for you.
7. NYSE Games
NYSE Games is a stock market simulator that allows you to play against other players worldwide.
It provides real-time data, so you can see how your investments perform.
The game is designed to be easy for beginners, but there are also advanced rules for experienced players.
NYSE Games aims to own as many shares of your chosen company as possible by buying low and selling high (or vice versa).
You start with an initial amount of money and have to invest it wisely to increase your profits without losing too much money.
As you earn more money, you'll be able to buy more prominent companies and make even more money.
8. WSJ Markets
If you're interested in learning about the stock market, WSJ Markets is a great place to start. It offers a wide range of information and tools ideal for beginners.
In addition, the site has an extensive library of articles and videos on stock market basics and more advanced topics like options trading and exchange-traded funds (ETFs).
You can also use WSJ Markets to practice trading stocks using real-time quotes and news stories from sources such as MarketWatch or Reuters Breakingviews.
9. TheSimulator
TheSimulator is another free virtual trading account that lets you trade stocks, futures, forex, and options.
This site also offers simulated trading for beginners who want to learn about trading basics without risking real money.
It offers worldwide access to over 50,000 stocks and ETFs (exchange-traded funds). You can buy and sell stocks using actual market prices with no commissions or charges. You'll also find quotes for currencies, commodities, and futures contracts.
The simulator allows you to set up portfolios of stocks and track their performance over time. By looking at the chart for each store or ETF in your portfolio, you can see how your portfolio would have performed in any given month or year.
Best trading simulator
TradingSim: This is one of the most popular trading simulators available today. It offers live trading accounts with real-time data from all major exchanges worldwide so that users can practice their strategies under natural conditions without risking any real money.
The platform also includes over 30 technical indicators. It allows users to backtest their strategies over historical data to know what kind of returns they can expect before implementing them.
The main drawback of this platform is that it requires an annual subscription fee of $99 per month.
Stock market simulator for students
The stock market is a complex system that can be difficult to understand. Stock Market Simulator is an excellent way for students to learn about the stock market and make decisions about buying and selling stocks.
Students play as the CEO of a company and are responsible for making decisions on how to run their business. They must also buy and sell stocks based on current trends to make money.
Frequently Asked Questions
Is there a free trading simulator?
Yes, there are free trading simulators. The main difference between a simulator and a real account is that the simulator does not carry any risk.
The most common free trading simulators are Paper trading, Simulated trading accounts, Investopedia's financial games, and Stock Market simulators.
How good is the Investopedia simulator?
The Investopedia Simulator is a free interactive tool that allows you to invest in actual stocks and learn about the world of investing.
In practice mode, when you buy or sell shares of a company, it will automatically adjust your holdings based on the current price at the time of the trade.
There are only two types of securities available: stocks and bonds.
How can I practice stocks without using real money?
There are many ways to practice stocks without using real money. Here are the most popular ones:
1) Practice with a mock portfolio. The downside is that finding someone willing to help you may be challenging, especially if they don't know much about investing.
2) Use an online simulator. One example is Investopedia's Virtual Stock Market Game which allows users to build and trade virtual stock portfolios.
3) Use paper trading software or apps like Robinhood's "paper trading mode."
Is the Investopedia simulator free?
Yes, it is free to use. The Investopedia Stock Simulator is an excellent resource for investors just getting started in the market or those who want to test out new investment strategies.
It's also an excellent tool for experienced investors who want to study their skills and brush up on their knowledge of different industries and companies.
Which trading app is best in India?
It's a bit tricky to find the best trading app in India. The reason is that most apps are unavailable to Indian users. The good news is that you can use an international app with an international bank account or credit card.
We have selected the top 10 best trading apps for Indians and listed them below:
1. Robinhood Trading App – Free stock trades
2. eToro Social Trading Platform – Copy other traders' buys and sells
3. OptionsHouse – Trade options with a full-featured platform
Summary
There are many different stock market simulators, and we hope you've found our list of the best ones helpful.
Whether you want to practice trading stocks and bonds or learn more about markets, these sites can help get you started.