Last updated Feb. 19, 2023 by Peter Jakes
Garage sale season is in full swing. It's a fun season that enables you to sell out unwanted home items.
It's an activity that enables you to sell your used home items for good cash. However, most of these items which are put up for sale aren't always sold.
If you have no use for them, here are five things to do with your garage sale leftovers. These smart options will earn you cool cash.
Option 1: Sell online
When most people conduct a garage sale, they intend to get rid of items for meager cash.
A garage sale is meant to sell all the items you no longer need. But it can be frustrating if you cannot get rid of some of them for money. Well, the good news is that you can still make money from leftover garage sales.
So, you don't need to get all worried about what you'll do with items you no longer need that refuse to sell. In this post, we'll discuss the five smart choices you can make that will make you more money with garage sale leftovers. Then, you can choose from one of the below ideas and see if it solves your garage sale or yard sale problems.
Sell Them On eBay
eBay is an online marketplace place where you can sell old or unwanted items cluttering your home, garage, or attic. Since eBay was founded in 1995, it has maintained its status as one of the most popular e-commerce platforms in the world. So, it is one of the best places where you can sell your garage sale leftovers.
eBay is more like an auction-based marketplace where you can sell used items and collectables, although it is also a place to sell brand-new items as well. The beauty of the site is the variety of options that awaits sellers: it allows you to list items at auction-style or fixed prices or use your product photography, add your descriptions and can sell practically anything.
How To Join The eBay Marketplace
On eBay, you can register for a personal or business account. To join the platform visit the eBay website, and in the top left of the menu, click "register" to create an account. The defaults to register a personal account, which is ideal for selling small amounts of items like the remainder of your garage items, for example.
However, if you have to sell large quantities to sell regularly, you can opt for a business account. The next step is to choose a user ID that will be displayed to every user viewing your listings or interacting with you. So it's good to go with a professional user ID name that reflects the items you intend to sell.
Furthermore, you'll need to set an automatic payment method. You can do this immediately after creating your user ID. You can choose between a checking account, PayPal, or a credit or debit card. eBay uses this payment method to charge you for fees relating to your seller activity, like buyer reimbursements.
How To Sell Items on eBay
Now that you've successfully created a seller account on eBay, you can list your first item. Log in to your account, and at the top right-hand corner, click "Sell" to get started. Then choose between the fixed-price or an auction method.
With fixed-price items, you can set a fee for which products under this category will be displayed for a maximum of 30 days. On the other hand, the auction method allows several individuals to place bids on the same item, like an auction for a certain period, usually 3 to 10 days.
However, items that appeal to a specific market but don't have a fixed retail price can also be auctioned, such as designer clothing or antique goods. By simply clicking the "Sell" button at the top right of the eBay page, you'll be able to create a new listing. And for eBay to fill your listing immediately, you will have to input a product ID or title. Then you can set the price of the item(s) and wait for buyers.
Sell Them on Craigslist
Another smart option to make money from garage sale leftovers is selling them on Craigslist! Craigslist is an online community where you can find, trade, or sell items and more. Posting items for sale on Craigslist is quite easy, and you can promote it in just minutes. Moreover, you don't need to create a Craigslist account to start selling your items.
How To Sell On Craigslist
As mentioned earlier, selling items on Craigslist is very easy. But to get started, visit the Craigslist website and confirm your location. Then click "create a posting" on the left side of the page. The company will ask you to choose the type of posting, which you'll probably choose "for sale by owner."
Then you can select a category of the item you intend to sell. Remember to choose the category that best suits the item you want to sell. You can now go on to fill out the form page, where you describe your for-sale items.
Selling items online is easier if you post good-quality, current photos. So take some pictures and add them to your listing using the "Add images" button. After you've uploaded and arranged the photos, click "done with images."
And within a short period, you'll get a confirmation email from Craigslist asking you to confirm your posting; click the link to confirm. After that, your item ad will appear on Craigslist within 15 minutes. And when a buyer shows interest, Craigslist will notify you, and you can proceed with your leftover garage sale.
Sell Them to Thrift Stores
One of the easiest ways to do away with leftover garage sales is by selling them to a thrift store. Yes, the thrift store isn't just a place for buying items and reselling. You can as well sell secondhand items to them, and they'll pay you.
However, before anything, it's best to do some research (both online and offline) and make a list of thrift stores in your area that will purchase used items. Then, contact the stores and inquire about their policies, rates, and the particular items they currently need. Many places may sort through your items during an appointment and give you immediate cash for the items they're interested in.
Another idea is to take your garage sale leftovers to a local consignment store. They'll choose which of your items to sell, and if they get purchased, the store will then reimburse you your percentage of the sale price. Generally, stores may charge you between 25% and 60% commission.
Sell Them on Social Media
If you want to avoid going through the stress of signing up for online marketplaces, you can consider selling your garage sale leftovers on your social media accounts. This is especially a great idea if you have lots of followers.
It's almost identical to selling on a general e-commerce website, except that you'll sell to a more limited group of people. However, creativity and salesmanship skills are also essential in succeeding with this idea. Social media is a place for awesome pictures and posts; if you combine them well, you might finally get rid of those unwanted items.
Many people sell secondhand items on social media platforms like Instagram by simply using compelling hashtags. And your followers will make their bids in the comments section below the posts.
You can also sell your items on Facebook by joining different groups. To find groups related to your products, just search keywords in the search bar at the top of the page. Each Facebook group has an administrator and rules of the group, so make sure you study them before posting your item for sale in the group.
Hold Another Yard Sale
There's a possibility that your previous garage sale didn't sell some of the items due to the way you presented them. So the best thing to do at this point is to check for the mistakes you made last time and work on them. After all, it isn't a bad idea to try again.
You may have probably presented the items in a way it only reveals the bad parts. How about displaying more of the good part this time? Although there are secondhand items, buyers can still get something from them. Show them this, and you'll be able to get rid of them this time.
However, if the items are damaged and seem unsalable, try repairing and putting them up for sale again. Otherwise, you can consider reducing the prices of the items. People may be interested in buying them at a more affordable rate.
Option 2: Donate to Charity
Leftover garage sales items can be donated to charity. Donating to charity makes you eligible to get tax reductions.
Here are some garage leftover items to donate to charity:
Clothes and accessories
Furniture and appliances
Books, CDs, DVDs, or video games
Linens, pots, pans, and cleaning supplies
Used electronics like cell phones, laptops, and tablets.
Unwanted household items like old pillows, blankets, and sheets
Toys
.
Option 3: Take It To Recycle Redemption Centers
If you are left with electronic devices that aren't of use to you, you can take them to an electronic recycling redemption center.
This center collects used electronic items for recycling purposes. Most electronics can be recycled, hence most redemption centers are willing to pay for your used electronics.
Check with your local recycling center to know if they accept electronics.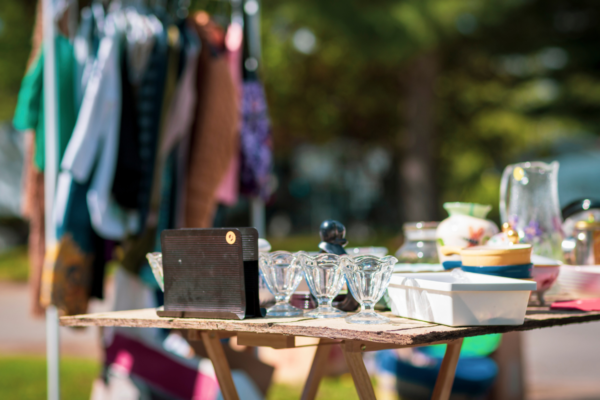 Option 4: Turn It Into An Art
It's becoming trendy to turn old household items into an art pieces. Hence, if you have some leftover items from your garage sale, you can turn them into art.
You can also donate it to art stores in need of items that can be crafted into a masterpiece.
Option 5: Sell to a Thrift Store
If you have a lot of leftover items after a garage sale, you can take them to a thrift store.
Thrift stores are known for buying items at cheap rates. So if you have no use for an item, you can sell it for a very cheap price in any thrift store close to you.
This is a viable way to make cash from items that are of no use to you.
Before selling an item to a thrift store, here are some things to do:
Make sure that the item is in good condition.
Place a realistic price that is suitable for the item.
Package it in a good manner before going to a thrift store.
Frequently Asked Questions.
How Do You Attract People To A Garage Sale?
The best way to attract people to your garage sale is to display plenty of items. Buyers will typically ignore a sale with only a few items. But if you don't have enough to fill your yard, you can ask your neighbours to join in. Otherwise, you can try a multi-family sale to attract more people.
What Do I Do If Items Refuse To Sale At Garage Sale?
You can consider repackaging the items and attractively displaying them. Another idea is to inform people about your garage sale and schedule it for the weekend when probably most of them are at home. If these ideas do not work, then consider selling your items to e-commerce platforms like eBay and Craigslist.
What Day Is Best For Garage Sale?
Weekends (Friday, Saturday, and Sunday( mornings are generally the best time to make your garage sale. You can also consider scheduling the sales on the first weekend of the month; this is great because a lot of people get paychecks end of the month, which means they'll have the cash to spend.
Bottom Line
There's hope for every item that isn't sold off during a garage sale. And as seen above, there are several ways you can make cash with leftover garage sale items.