Crowdtap is a legit platform that offers free items in exchange for your honest review on a product.
To join Crowdtap, you don't have to pay a commitment fee. Registration on Crowdtap is free however, you'll have to answer a few questions and express your opinion before becoming a verified member.
What is Crowdtap?
Crowdtap is a platform that links companies in need of customer insights with people who are ready to give out honest feedback.
This site offers free products, samples, and gift cards to its members. It has been noted by Forbes as one of America's promising websites.
How do I use Crowdtap?
Here's a step-by-step guide on how to use Crowdtap
Get Registered
To get access to the free product sample offered by Crowdtap, you have to create an account on Crowdtap's official website. You can create an account with your email address or your Facebook account details.
Even if you sign up with an email address, Crowdtap requires Facebook authentication. After the sign-up process, fill out your profile in order to be considered for opportunities by Crowdtap.
You also need to provide your mailing address in order to receive products shipped to you.
Complete a Task
Once your registration process is completed and verified, you can begin to earn points after completing a task assigned to you.
You will be asked to review a product sent to you or answer survey questions.
Some of the tasks which will be assigned to you include:
Partaking in Polls: To partake in Polls, you will have to research a product in order to have answers to the poll questions.
Taking Photos: Most companies will demand that you take photos of their products and share it on your social media page. Once this is completed, you will earn points.
Create Videos: Most tasks will require you to create a video of yourself where you talk about the products given to you as a sample.
Join Discussions: Crowdtap users will be directed to a forum where they all take about their experience when using a sample product. The data collected from the discussion will be used in decision-making.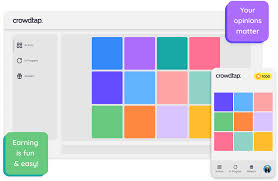 More About Crowdtap
Crowdtap gives its users control over the product they conduct a review on. On your Crowdtap dashboard, there is a "Brand" menu on the left side.
When you click on it, a list of brands will be displayed. You can choose which brand product you would like to review.
To join a brand's community, click on the brand's name. A green "Join" Button will appear.
When you join a brand community, you'll get updates on what tasks are available for that brand.
Benefits of Crowdtap
Joining the Crowdtap community makes you eligible for free items. You can also earn points that can be converted to gift cards.
When selecting a user for a product sample, Crowdtap considers factors like user demographics, poll responses, and application responses. In addition, Crowdtap is only available to residents of the United States.
To be eligible for a product sample, your profile needs to be complete, you must update your shipping address, must give a reasonable response to questions asked in Polls. You must also be able to take high-resolution photos.
How much can I make on Crowdtap
The amount you earn on the Crowdtap platform depends on the number of missions you complete, your accomplishments, and more.