When you're starting your own business, you have to make sacrifices. For example, you might have to work late or give up time with friends and family.
The one thing you don't want to sacrifice is your privacy.
We've compiled this list of ten ways to help you get a free business phone number without sacrificing personal information.
Get a free business phone number with Google Voice
Open a Google Voice account and add your cell number to it. This can be done through the web or the Google Voice app on your smartphone.
Use the Google Voice app to make calls from your business number, using Wi-Fi or data (if you have a data plan that allows you to use cellular data) as needed while at home or out of town.
You can also receive calls on your phone when you're away from home if you want customers and clients to reach you at all hours of day or night."
Get a free business phone number with Text Now.
Text Now is a free app that lets you text, call, and video chat on your mobile phone. It's available for iOS and Android devices. You can also use it as a business phone number if you want to be more professional than your cell phone.
Text Now is excellent for small businesses because it offers unlimited texts, low-cost calls (they start at $0.0055 per minute), and free international calling in more than 60 countries.
The service also includes caller ID, voicemail transcription, and spam protection tools to help keep your communications organized and running smoothly daily.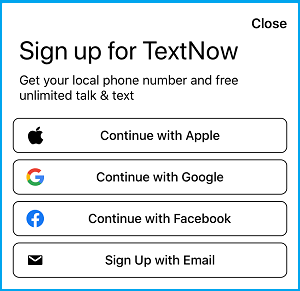 Get a free business phone number with GrooVe IP Lite
GrooVe IP Lite is a free phone number app that offers a free business phone number, available for Android and iOS.
This option is desirable because it allows you to send and receive calls, texts, and voicemails from your computer. With GrooVe IP Lite, you can create multiple numbers on the same device or have them all on different devices—it's entirely up to you.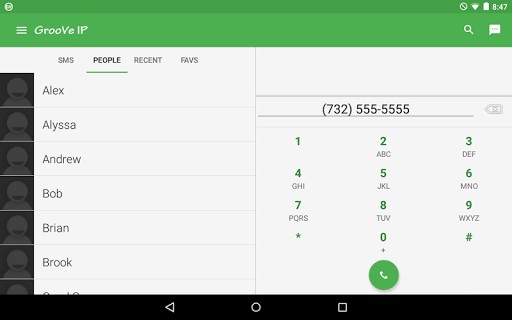 Get a free business phone number with Nextplus Go.
Nextplus Go is a free business phone number app that allows you to make calls and texts to the US and Canada, no matter where you are. It can be downloaded on Android and iOS devices, so it's available on most smartphones.
Nextplus Go allows you to choose a local number from over 225 countries, including all of Europe, Asia Pacific, and South America.
You can also get a local Canadian or American number if you want someone else calling your business line to think that they're phoning from another country.
No contracts or commitments are necessary – download the app and start using it immediately.
Get a free business phone number with Line2 Business
Line2 Business is a Google Voice alternative that offers free phone numbers and a free mobile app. It has both free and paid plans for businesses and other organizations. Line2 Business works on iOS, Android, and desktops (Windows PCs).
You can use their service with your existing phone number or get one of their numbers; either way will work fine in most cases.
If you're interested in trying out Line2 Business for yourself, there's no need to worry about paying anything upfront—they offer a 30-day trial period where they don't charge any fees.
Get a free business phone number through a HOAX call
Call a number and see if you get a free business phone number. This is the most obvious option but also the riskiest. You have to call a random phone number and hope it's legit and not a scam.
If you find yourself talking to someone, be careful not to give out any personal information that could be used against you later on.
Call an auto dialer service or IVR (Interactive Voice Response). The advantage here is that these services are built specifically for businesses who need multiple phone numbers without paying for them individually—but there's something weird about using one of these things as your main line at work.
Call other people's businesses to get their business phones forwarded over onto yours when they go into voice mail mode…or hang up once they answer.
This can also be seen as rude, so I don't recommend doing this unless necessary where nothing else works (or if it's just too funny not to).
Get a vanity call forwarding service from Grasshopper
Grasshopper is an all-in-one business phone system that provides free inbound and outbound calls, voicemail, faxes, and conference calls.
You can also use the service to forward your business calls to any phone number you choose—including your mobile device or home landline—without paying for additional hardware or services.
And since it's set up through the cloud, no software downloads are required; sign up online and get started immediately! Best of all? The first year is completely free.
Get a toll-free vanity call forwarding service from Grasshopper
If you're looking for a phone number that people will recognize, Grasshopper offers a toll-free vanity call forwarding service. It's easy to set up you can choose from over 150 available numbers.
Suppose you don't like the idea of paying for a vanity call forwarding service. In that case, other options are still affordable and will give your business a professional touch without breaking the bank.
For example, Call on offers toll-free vanity call forwarding service (and local numbers, too!) at $0.99 per month per number or less, depending on volume discounts.
Phone Number Wizard charges based on the number of minutes used each month and includes features like voicemail greetings and custom ring back tones.
Both companies charge an activation fee but do not charge any additional fees until after three months of usage.
Get a toll-free number through Callonit.
You can also get a toll-free number for $4.99 monthly and unlimited minutes and texts. For $5.99 per month, you'll get all of the above plus more features such as voicemail transcription, call recording, and analytics.
For $9.99 per month, you'll get all that plus more features such as caller ID blocking and 50 minutes of international calling to select countries (the list varies depending on your plan).
Finally, if you're willing to pay $19.99 per month for a toll-free number from Callonit, they will give it to you with no hidden feed.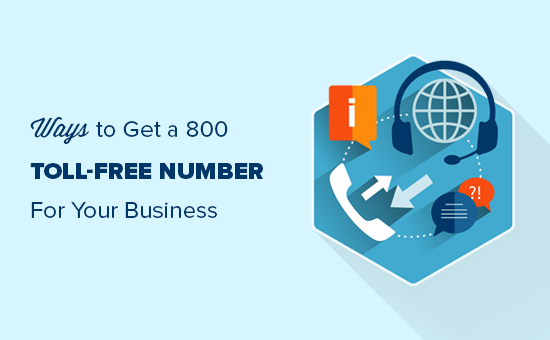 Keep your cell phone private Google Voice account that uses your existing cell number as the outgoing line.
If you want to keep your number but still have an office-style business phone number and voicemail service, you can use Google Voice.
This free service allows you to use any cell phone as your outbound line. In addition, all calls from Google Voice are free, including from landlines and other mobile phones.
This service can receive voicemails on your computer or smartphone for free, like a virtual PBX (private branch exchange) system.
The virtual phone number for business
A virtual phone number for your business is an excellent tool to help you better manage your calls.
You can use it to forward calls to different numbers, customize the greeting, and even transfer the number to another carrier if you decide to move.
free 800 number google
A free number is a great way to have a professional tone when starting a business. Google Voice is one of the best options for anyone who wants to try out the service without concern for cost.
The Google Voice website doesn't require any sign-up or registration, and it will give you a local area code with their phone number.
You can choose from an area code in any state, and it will be a number that rings on your phone and email.
That way, you can forward your calls to any local or toll-free number, whether your home phone line or a separate mobile phone.
The best part is that Google Voice has free features like voicemail transcripts and call recording that is very useful when starting.
Since the service uses your computer or smartphone, there's no extra equipment or hardware to buy. You need access to the internet, and you'll be ready to go.
PPA
How can I get a free US business number?
If you're starting your own business, you'll soon realize that a lot of the paperwork is involved in getting official recognition for your company.
A US business number (or 'EIN'), like the one you can get from the IRS, is essential if you have employees or take any government contract.
If you're filing taxes, it's required by law to have this number. The good news is that getting your EIN is accessible online.
You can also get an additional card with a toll-free number just in case people want to call and ask questions about your company. Again, it's straightforward to get this number. All you need to do is go here and fill out the form.
FAQ
How much does it cost to get a Google Voice number?
If you're a sole proprietor, you may have wondered how to get a free US business number. Here's the answer.
In the United States, all businesses that have employees or make more than $1,000 per year must register with the government and get a Federal Tax Identification Number (TIN).
This is called an Employer Identification Number (EIN) or Federal Taxpayer ID Number. You can use your EIN on tax forms and when dealing with the IRS.
How do I get a free WhatsApp number?
If you're like me, you've recently joined the hundreds of millions of people who've fallen in love with WhatsApp, the free cross-platform mobile messaging app that lets you send text messages to anyone with a smartphone.
But there's one big drawback: WhatsApp doesn't offer an option to create a phone number tied to your account.
That means unless you already have an existing phone number that you can use with the app, you must purchase a new SIM card with a unique phone number and give it to everyone who wants to reach you on WhatsApp.
Fortunately, there's another way: using a WhatsApp proxy service with which you can get a free WhatsApp number from anywhere in the world.
Before I get into what these services are and how they work, though, here's some background information about WhatsApp numbers that might help clarify things for you.
Does Google Voice hide your actual number?
No. Google Voice is not a "hidden number,"; but it does let you present a different number to different people (or to the same person depending on the situation).
For example, I have my friends' Google Voice numbers listed on my phone as 555-555-5555; when they call it, it goes straight to their voicemail and shows up as that number in their caller ID history.
But for those who will call me from a landline or outside the U.S., I've set my Google Voice number to be +1 (my area code) – 555-555-5555.
This trick doesn't help much with calls coming from inside the U.S. because they'll still show up as "unknown" or whatever your carrier's default is, even though it's your Google Voice number.
Can I use TextNow's number to open WhatsApp?
The answer is no. As we know, WhatsApp is one of the most popular instant messaging services. Facebook acquired it in 2014 for $19 billion.
WhatsApp is used by over a billion people around the world. But guess what? Although WhatsApp and Text Now are both apps run by the same company, they are different services that use other phone numbers and can't be used interchangeably.
So how do I get a WhatsApp number? If you want to get a WhatsApp number, you can purchase one. There you can also find a dedicated FAQ section with everything else you need to know about the service.
How do I get a burner phone number?
Burner phone numbers are a must for anyone who wants to preserve their privacy and security.
If you don't want your current phone number to show up on caller ID when you make a call, or you need to get in touch with someone and don't want them to have your actual number, or if you're looking to buy or sell something on Craigslist or an online marketplace and want to do so privately, then a burner number is the way to go.
You can even get one without providing any personal information at all! Here's how:
First, you need to register for an account with Google Voice. You can choose a new number or use an existing one, but it needs to be a local number within the area code that you're calling and texting.
You can also use up to ten different numbers if they're all local and registered under your account.
Once you've set up your Google Voice account, click on "Call Phones" from the left-side menu bar, then click on "Buy Minutes."
You'll be prompted to enter your credit card information. At this stage, there's no need for personal details like your name or birthday. Just enter any fake info that will get past the system.
Summary
Google Voice, TextNow, GrooVe IP Lite, Nextplus Go, Line2 Busine, ss, and HOAX call
If you don't want to pay for voice, you can use VoIP over your Wi-Fi connection and make calls using an app on your smartphone. For example, Grasshopper charges $12 monthly for 100 minutes of nationwide calling (and international rates vary).
This isn't quite as good as some of the other options above because it doesn't give you unlimited incoming calls, but if it's just for yourself or one employee and not very busy, then this might be worth looking into.
If you're looking for a way to expand your business or just need an extra line for personal use, some excellent services out there will help. We hope this post has given you some ideas about how to get started with these options.