Last updated Mar. 7, 2023 by Jessica Green
It's only possible to get your car interior messy. And since it's a lifestyle that can't be escaped, finding a free car vacuuming service becomes necessary.
Here are ten gas stations and car washes that offer free vacuuming services:
Free Car Vacuum Near Me: 8 Gas Stations & Car Wash with Free Vacuum
Visit CarWashSeeker
CarWashSeeker is a site that enables you to find car-washing businesses near you with free vacuuming services.
To make use of the platform, enter your zip code on the search bar that appears when you log in. Then, the website will analyze your location and display a place close to you that offers free vacuuming services.
CarWashSeeker is not affiliated with any of the places it recommends. It only provides data that helps people locate car wash services closest to them.
Make Use of Google Maps
Using Google Maps is an effective way to find gas stations near you with free vacuuming services.
Simply open Google maps on your phone and type in the phrase "gas stations with free vacuums near me." Google maps will provide you with a list of gas stations that provide this service as well as their contact information.
You can also contact the listed businesses and enquire if they provide free vacuuming services.
Search Yelp
Make use of Yelp to find free vacuuming services in your area. To get results on Yelp, enter your location into the Yelp search box – which is located at the top of the page.
Yelp is a directory platform that enables its users to find local businesses of their choice. It has a web page and an app version available on Android and iOS devices.
Once you enter "Free Vacuuming Services" on the search bar, various car wash businesses with free vacuuming services will be displayed to you. You can control the information you need by sorting it out by price range, locations, and unique services.
Since Yelp allows its users to leave ratings and reviews, you can sort through the places to visit with the reviews.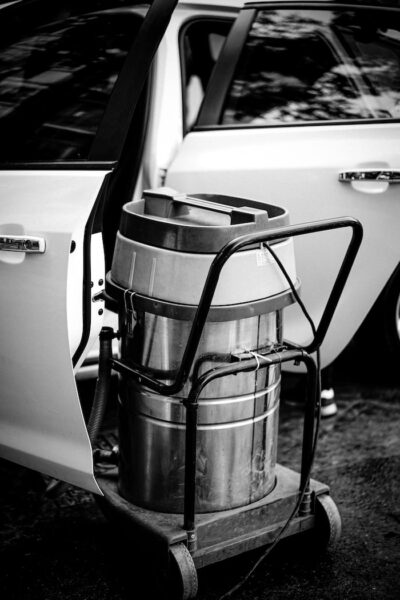 Quack Quack Car Wash
Quack Quack is a business that provides car washing services in the United States.
It has over 140 car-washing facilities in Arizona, California, Colorado, Texas, and Utah.
This business provides free vacuuming services to its customers in all locations.
If you live in Arizona, California, Texas, or any of the states where this company is in operation, you can make use of Google Maps or Yelp to locate the branch closest to you.
Flash Car Wash
This car wash station has branches spread across states like Connecticut, Rhode Island, and Florida.
Alongside its car washing service, Flash also offers a free vacuuming service in all its locations except Hyannis.
If you reside in Connecticut, Rhoda Island, and Florida, visit Flash Car Wash for free car vacuuming.
Note that FlashCarWash's free vacuuming services are only available to customers who pay for its car washing services. If you patronize any of its car services, your car will be vacuumed.
Small and Independently Owned Gas Stations
One secret way to get your car vacuumed for free is to visit a small but independently owned gas station. These stations are likely to provide complimentary vacuuming services to their customers.
They do this to retain their customers. So if there is a small gas station near you, you can contact them to ask if they provide additional services like free vacuuming.
Most small gas stations will demand that you purchase from them before they offer you their complimentary services.
Tommy's Express Car Wash
Tommy's Express Car Wash is a business with branches in over 20 states in the United States. These states include California, Colorado, Iowa, Florida, Idaho, Georgia, Michigan, Ohio, Texas, Oklahoma, Tennessee, Kansas, Missouri, Nevada, and more.
Tommy's Car Wash is known for offering free vacuuming service in all its branches. So if you patronize its car washing services, you will receive free car vacuuming as a reward.
Tommy Express Car Wash also provides other services, including wheel cleaning and tire gloss, car body wax, mat washing, tire shining, and more.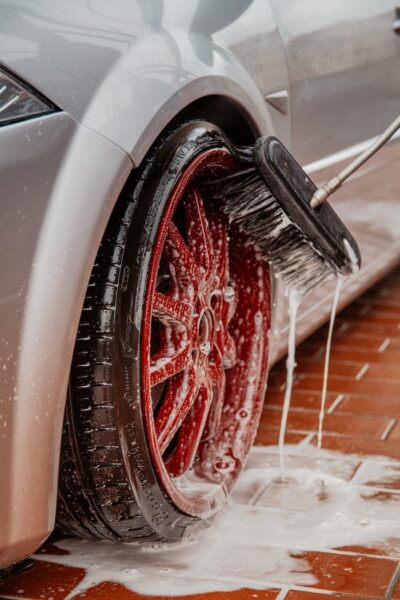 Tidal Wave Auto Spa
Tidal Wave Auto Spa offers complimentary vacuuming and car washing services.
Tidal Wave Auto Spa has locations in the following cities
Alabama
Florida
Georgia
Iowa
Kansas
Mississippi
Missouri
Nebraska
North Carolina
North Carolina
North Dakota
South Carolina
South Dakota
Texas
Virginia
To find a branch closest to you, visit Tidal Wave Auto Spa's official website and enter your City or Zip code into the search bar. For car washing services, Tidal Waves accepts gift cards as payments.
Read Also: 12 Best Apps to Find Cheap Gas Near Me
How To Vacuum A Car (Step-by-step Guide)
If you can't access the vacuuming services offered by most gas stations and car washes, you can do it yourself with this guide:
Open all your car doors: This helps with ventilation and allows the escape of musty odors.
Take Out The Trash: Clearing out the trash before vacuuming enables a faster process.
Remove The Floor Mats: Do this to prevent dust and other particles from lying on the mats.
Begin The Vacuuming Process: When vacuuming, touch areas like the floorboard, upholstery, dashboard, displays, and trunk. For areas too tight for a vacuum, make use of compressed air – which can be found in your local supermarket and auto repair stores.
Conclusion
Most car-washing businesses offer free vacuuming services to their customers. Hence, contact your favorite car wash and request free vacuuming of your car.
Frequently Asked Questions
Do most gas stations have vacuums?
No! Not all gas stations provide vacuums. However, you can find read-to-use vacuums in most large gas stations.
Do you vacuum before or after car wash?
It is advisable to vacuum your car before washing the exterior. Most dust leaves the interior and pastes on the exterior during the car vacuuming process. Hence, vacuuming your car interior before washing the surface is important.