Last updated Aug. 31, 2022 by Jessica Green
To stay unique and stand out, most restaurants go as far as offering to give your kids free food when you dine with them.
If taking your kids out for dinner is expensive, here are five restaurants where kids can eat for free. Most of these restaurants offer free food for kids on certain days like Tuesdays, and they only give food to kids below 12.
Atlanta Bread
The Atlanta Bread is a restaurant franchise located in Georgia. It offers lots of soups variety, sandwiches, and other types of light meals
On Tuesdays from 4 PM until its closing period, this restaurant allows children to give free lunch to kids whose guardians have made a purchase.
Eat 'n Park
This restaurant offers children less than ten years old a 50% off discount on soup, salad bar, breakfast, and fruit buffet.
Children under the age of five are eligible for a free soup, salad bar, and fruit buffet.
When you order a meal, one of your children will be eligible for a free meal.
This restaurant also offers a complimentary smiley sugar cookie at dessert to kids below ten years.
Macaroni Grill
The Macaroni Grill is an American restaurant brand that focuses mostly on Italian cuisine.
On Mondays and Tuesdays, children under the age of 12 are eligible for complimentary meals.
Steak n' Shake
Steak n' Shake is a nationwide brand is well-known for serving burgers, shakes, and other foods.
On Saturdays, children can get one free kid's combination when their parent or guardian makes a meal purchase that exceeds $9.
Red Robin
Red Robin is a nationwide restaurant that focuses on the sales of hamburgers.
On the first Wednesday of a month, children can dine for free when their legal guardian makes a purchase.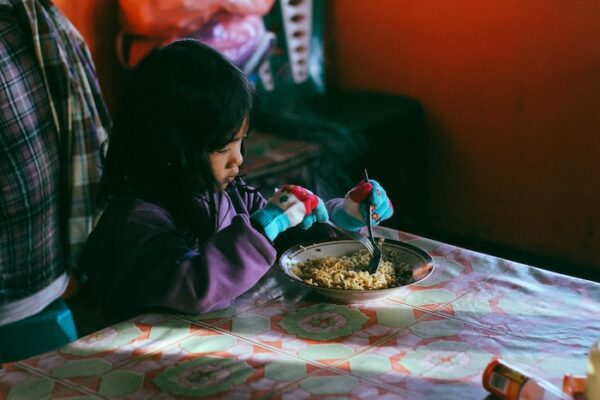 Frequently Asked Questions
What restaurants allow kids to eat for free
The following restaurants provide kids with free meals on a daily basis O'Charleys Restaurants or Bar, Perkins Restaurants and Bakery, Moe's Southwest Grill, Firehouse Subs, IHOP, Bruster's Ice Cream, Firehouse Subs, Chili's, Denny's, and IHOP.
Where can kids eat free?
Kids can eat for free in the following restaurant Quaker Steak Lube, The Arriba Mexican Grill, the Blue Mesa Southwest Grill, Planet Sub, Romano's Macaroni Grill, Ruby Tuesday, Moe's Southwest Grill, Ikea, Genghis Grill, Denny's, Cody's Original Roadhouse, Hut, IHOP, UNO Pizzeria and Grill, and Lone Star Steakhouse.
What are the best free restaurants for children?
The best free restaurant for children is IHOP. It has more than 1800 locations around the world and it operates on a 24/7 system.
Where can kids eat free chilis?
Members of the "My Chili's rewards program" are eligible to get emails and texts that offer a complimentary lunch to children under the age of 12.