Some of the links in this article are "affiliate links", a link with a special tracking code. This means if you click on an affiliate link and purchase the item, we will receive an affiliate commission.
The price of the item is the same whether it is an affiliate link or not. Regardless, we only recommend products or services we believe will add value to our readers.
By using the affiliate links, you are helping support our Website, and we genuinely appreciate your support.
Last updated Jan. 13, 2023 by Charles Zemub and Peter Jakes
There is a good chance that throughout the course of your life, you have encountered situations or challenges that might be considered to be an emergency. Unanticipated incidents are those that take you off guard and often have repercussions for your finances. It doesn't take much for anything to qualify as an emergency a broken furnace, for example, or a health problem that completely throws your life upside down.
Even if we can't know when the next emergency will occur, we may still be ready for it. The best strategy to prepare for the possible adverse effects that crises may have on one's finances is to start and maintain an emergency savings account. Where would you recommend you save your savings for unexpected expenses, though? There are additional possibilities to think about, despite the fact that you may easily start a new account at the bank in your neighborhood or online.
Where Should I Keep My Emergency Fund?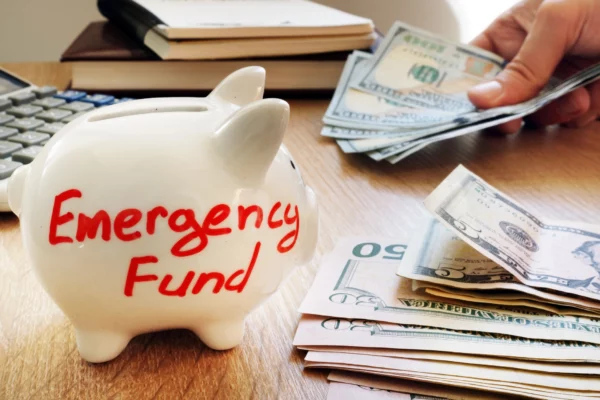 Maintaining a separate emergency fund from your other bank accounts is recommended. You want easy access to your emergency money in case you need it, but you don't want it to be so handy that you're tempted to use it needlessly. With this account, you should adopt a "set it and forget it" attitude.
The greatest places to store emergency money are listed below.
1. Tier Savings Account
It makes a lot of sense to open a high-yield savings account to create an emergency fund. Online banks are where you may find almost all high-yield accounts. However, you are unable to withdraw money from a physical bank facility. For money transfers into and out of your high-yield savings account, you'll need to utilize a different bank account. Due to this, obtaining money in case of an emergency can take longer.
Having said that, a high-yield savings account still enables you to earn a larger interest rate than a standard savings account while still being relatively accessible. Depending on your account's size and other variables, the top high-yield accounts provide an annual yield (APY) of 2.00% and higher.
Many online banks provide high-yield savings accounts. When opening an online savings account, it's crucial to consider the rates as well as any costs, additional benefits provided, and withdrawal policies.
2. Cash Market Account
High-yield savings accounts and money market accounts have many similarities. While they both have an APY greater than standard bank accounts, they vary in other respects. Money market accounts might be more practical in a hurry since they sometimes include a debit card and check-writing capabilities.
Another distinction that can influence your choice of where to put your money is that money market accounts often have higher minimum opening deposits. Based on account balances, several banks provide tier-based interest rates.
Most regional banks, as well as internet banks, allow you to create a money market account. Online, you could discover greater prices. Because they don't have the same overhead expenses that conventional banks have, online banks may offer greater rates. Whichever option you use, be sure you know how to quickly access your money if required.
Federal law restricts the number of withdrawals or transfers you may make from a money market account to six per month, just as it does for savings accounts. Even if this Regulation D rule was changed in 2020, your bank or credit union will likely charge you if you exceed this limit. However, this shouldn't be a problem if your money market account is only being utilized in an emergency.
3. Certificate of Deposit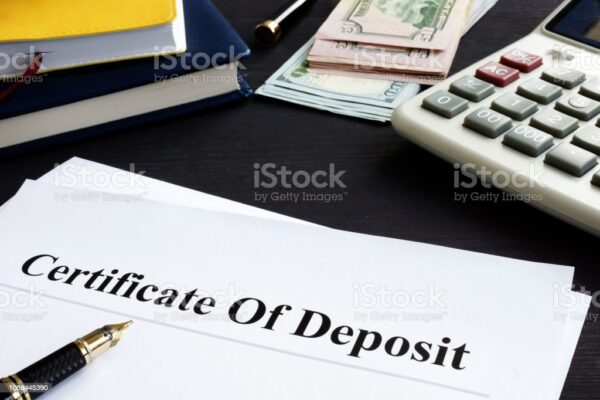 Investing in certificates of deposit (CDs) is an additional option for your emergency fund. They are distinct from the other choices on our list since you must maintain your funds in the account for a certain amount of time in order to get a guaranteed rate of return.
The "term" of a CD might range from one month to five years or more. You can get back your original investment plus any interest after it's over. The interest rate on CDs is often greater than that of other bank accounts.
Although receiving a higher APY is fantastic, locking away your emergency savings in a CD entails some risk. What if you have a crisis before your CD is completely developed? You are still permitted to make CD withdrawals during this period, although you will often be subject to an early withdrawal fee. Some banks impose a flat fee, while others could levy a percentage of the CD interest.
Where to keep an emergency fund
It's possible that the ideal location to put your emergency cash is in a savings account that offers a high rate of return. You will not only have access to your money when you have this kind of bank account, but you will also get interested in the money you put in. Look for accounts that have a reasonable interest rate in addition to no monthly fees or minimum balance restrictions while searching for the high-yield savings account that will work best for your emergency fund.
If you are a new client at a certain bank that offers "welcome bonuses," and you satisfy the conditions and restrictions of the program, you may be eligible for an upfront benefit.
Emergency fund vs savings
The money that you put away in a separate account for use in a variety of situations is known as savings. Saving may be done in preparation for a specific goal, such as a trip or a new automobile, or it can be done just for the sake of saving. On the other hand, emergency funds are monies that, as the name indicates, are put aside specifically for use in the event of an emergency. It is money that is set aside and ready to be used in the event that a situation arises.
Where to stash your emergency fund
As soon as you have a goal in mind, the next step is to look for a savings account that offers a rate of interest compared to other market accounts. The ideal way to keep your money set aside for unexpected expenses is in a savings account. It makes getting cash when you need it not just possible but also quite convenient. And since it offers a greater interest rate than other savings accounts, a high-yield savings account will assist you in increasing your savings balance.
How to build an emergency fund
Target one or two weeks' worth of living costs rather than three months' worth at first. Start with a minimal initial investment. That way, you won't have to worry about your finances being tight, giving you an excuse to stop saving. Simply putting money where you won't have to see it or think about it is the best approach to keep it safe and secure.
The vast majority of companies now use direct deposit, and some will even let you choose several accounts for deposits. If you've managed to get into the habit of saving money, don't allow that complacency to lead to a return to old spending habits. By giving up, say, buying new shoes every month, to start a new monthly shopping habit a few months later, you're not really saving anything.
Frequently asked Questions
1. Which is the best place to save your emergency fund?
Consider these four distinct accounts that provide simple access and perks when determining where to put your emergency cash. Accounts with a high yield. Sunny days are ideal for putting money down for a rainy day. Accounts for money market.
2. Which is the safest place to keep your money why?
Savings accounts are a secure way to save your money since all consumer deposits are insured by the Federal Deposit Insurance Corporation (FDIC) for bank accounts and the National Credit Union Administration (NCUA) for credit union accounts.
3. What is the safest place to hold money?
Savings accounts are a secure way to save your money since all consumer deposits are insured by the Federal Deposit Insurance Corporation (FDIC) for bank accounts and the National Credit Union Administration (NCUA) for credit union accounts.
4. How do I get an emergency fund?
Instead of setting one enormous savings goal, choose many more manageable ones. Put yourself in a position to succeed right from the beginning.
5. Which emergency fund is best?
accounts for saving money online If you are not comfortable subjecting your money to a significant amount of danger, one of the most secure things you can do is save your money in the conventional manner of putting it in a savings account.
6. What is considered an emergency fund?
A cash reserve, especially for unforeseen costs or financial crises, is an emergency fund. Car repairs, house repairs, medical expenses, or lost wages are a few typical examples.
7. What is a good amount to have in an emergency fund?
The amount you should set aside for emergencies depends depend on your lifestyle, monthly spending, income, and dependents. However, as a general guideline, you should save enough money to cover your expenses for three to six months.
8. Is 20k too much for an emergency fund?
The amount you should set aside for emergencies depends depend on your lifestyle, monthly spending, income, and dependents. However, as a general guideline, you should save enough money to cover your expenses for three to six months.
Summary
Avoid putting your money for a rainy day into high-risk assets like the stock market so that you may maintain the safety of your emergency fund. Choose low-risk options that nonetheless provide a guaranteed return so that you won't have to worry about putting your hard-earned money in danger. If you have some additional money set aside for times of crisis, it will be easier for you to deal with unanticipated costs and maintain your overall financial well-being.