Last updated Apr. 18, 2023 by Peter Jakes
As the name implies, the net worth tracker tracks, monitors, and evaluates your net worth. This will help you to make informed decisions regarding your finances, stay organized and avoid future financial problems.
Besides, it helps you to track your financial goals, monitor your progress, and ensure you're on the right path to fulfilling your financial goal.
The whole process of net worth tracking is made easier thanks to net worth tracker apps. These apps are made user-friendly and include features to help track your finances, including your assets and liabilities.
This post will discuss the top 3 net worth trackers, their features, and how to use them to track your net worth.
Why Track Your Net Worth?
A net worth tracker is a tool that helps you to keep track of and be conscious of your assets, liabilities, and net worth. It can be a helpful tool for families and individuals as it can provide authentic insights into financial health and progress over time.
One of the main advantages of tracking your net worth is that it can help you in setting and achieve your financial goals.
In addition, by tracking your net worth, you can be aware of your progress toward your goals and adjust your saving and spending habits if needed.
Another benefit of tracking your wealth is that it helps monitor your financial risk. Tracking your assets and liabilities lets you know how much risk you are taking on and thereby make changes to your portfolio if necessary.
Furthermore, a wealth tracker can help you make better financial decisions. Monitoring your net worth over time can help you identify patterns in your spending, budgeting, and saving habits and hence make changes to improve your financial health.
Overall, tracking your net worth can be a helpful tool for setting and achieving financial goals, monitoring financial risk, and making better financial decisions. In the end, you may attain financial freedom to a certain level.
How To Track Your Net Worth
You'll have to consider two factors in tracking your net worth:
What should be included in your net worth statement?
What tools should you use?
Let's take a look at both of these.
For monitoring and evaluating your finances, it's unnecessary to include every asset you own. You can instead include all financial accounts (e.g., savings, checking, investments, retirement accounts), businesses, and real estate.
Also, you shouldn't include personal properties such as vehicles or furniture. Although many include the value of their vehicles, you shouldn't include them and other related assets as they depreciate over time. However, you can include all debts on the statement.
Most assets are easy to place value. Two potential exceptions are businesses and real estate. But you have to be very conservative on the valuation. However, factoring in the costs of selling real estate and potential tax liabilities can be reasonably accurate.
As for tools, you can find several free and low-cost options. The first and most popular is a spreadsheet. A simple Google Sheets spreadsheet is an excellent way to track your net worth. Several other automated tools can help you track your net worth.
Some of the more popular options include Personal Capital and Mint. These trackers help track your net worth and provide incredible tools for evaluating investments and managing your budget. Additionally, Personal Capital enables you to connect directly to Zillow and track the value of the real estate.
Net Worth Trackers: Top 3
Mint: Best For Setting Financial Goals And Budgeting
Mint is a budgeting app that lets you connect all your financial accounts in a single digital space so you can attain a high-level overview of your financial health. In addition, the app also allows you to track your spending and savings and set and track budget goals.
You can sync up your bank accounts, retirement and investment accounts, money management accounts, credit cards, and other related financial accounts through Mint. You can also track all your monthly bills using Mint and get reminders so you can pay your bills on time.
After connecting your financial accounts, the app tracks your transactions and places them into budget categories to help simplify tracking. You can keep the default categories available on Mint or create custom categories to fit your needs.
For added customization, Mint also allows you to add tags and reorganize transactions as necessary to boost track of your spending.
If you're like most users, you don't have to place transactions into one specific category. With Mint, you can separate a single transaction into multiple categories.
Generally, Mint is created for individual users, as there's no option for joint Mint accounts. Nonetheless, two people having joint financial accounts can each create their Mint account and then sync the same accounts to get the same information. The Mint app is available on Apple Store and Google Store.
Features
Mint is a free app for everyone to use. Besides, the app has no premium versions available for an added cost. Signing up for a free account grants you access to all of its features and benefits.
Mint makes its revenue through strategic partnerships with other companies, which is why it features ads and offers for other products.
Users may find the product offers to be intrusive, and there's no option to remove the ads.
Mint grants account holders unrestricted access to credit scores and monitoring tools. With this, you can easily view your TransUnion VantageScore as often as you want, thanks to their partnership with TransUnion. Checking your credit score using Mint won't negatively affect your credit.
Furthermore, your score is attached with a snapshot of your credit report and insights into how the scores are calculated and steps to take to boost your score. Similarly, Mint offers free credit monitoring via TransUnion. So you can sign up to receive real-time alerts each time TransUnion gets new information from creditors.
Mint: Pros & Cons
Pros
The app is free.
Allows you to link all your financial accounts in one place.
Grants permission to set up notifications and alerts.
Access to free credit scores.
Cons
Users tend to experience connectivity issues with financial accounts
Does not allow joint accounts
The app contains ads.
2. Empower: Best For Monitoring Your Spendings
Empower is a personal finance application created to help users save more and spend less. In the process of signing up, you'll be required to link one or more bank accounts so that Empower can keep track of your spending.
Also, it allows you to create a budget and set weekly saving goals. As the app studies your spending habits, its AutoSave feature saves money for you.
Additionally, if you need a quick loan, Empower can give you a cash advance of up to $250. There's no interest, no credit check required, and no late fees. When you request an Empower Advance, it'll review your primary checking account to confirm if you meet the minimum requirements.
Ideally, Empower is right for people looking for an all-purpose app that has automatic savings and budgeting tools, banking services, and great cash-back offers. So it can help just about anyone looking to improve their financial situation.
Besides, Empower is particularly useful if you find saving money or taking charge of your spending challenging.
Since it has an $8 monthly fee, the app is best for those interested in its features and aims to make the most of them.
Furthermore, the Empower app offers a Visa debit card. There are extra benefits Empower cardholders enjoy, such as:
Earn up to 10% cash-back with special deals.
Get paid up to 48 hours faster than most banks once you set up your direct deposit to the app.
Receive cash advances from the app up to 48 hours earlier than most banks.
Get free ATM withdrawals from. They're over 35,000 locations across the United States.
Features
Empower makes it easy for users to monitor their spending in one place. In addition, you can connect all your credit cards and bank accounts to the app available on iOS and Google Play Stores.
Once you've linked an account, Empower will let you view the balance and recent transactions.
Furthermore, the app also allows you to customize your budget and even set limits on different spending categories.
Moreover, it'll alert you when you get close to a spending limit. Let's say you plan to spend not more than $50 per week on food. Empower will track your grocery purchases, and when you get close to $50, it'll let you know.
Saving money can be quite difficult, especially when on a tight budget. Notwithstanding, Empower can be much of a helping app here with its AutoSave feature.
All you need to do is set a weekly saving target. And Empower will study your expenses and income to know how much you can afford to save. Once it figures that out, it'll transfer money from your spending account to your AutoSave Account.
To get quick cash, Empower gives cash advances of up to $250, with same-day delivery, but only if you own an Empower checking account.
There are no hidden fees, no interest, and no credit checks. However, you must meet certain requirements to qualify for their cash advance.
Empower: Pros & Cons
Pros
Monitors Your Spending
Offers debit card
Offers impressive automatic savings features like AutoSave.
Users can get up to 10% cash-back
Users can get up to $250 cash advance
Cons
Charges monthly fee ($8)
Has a relatively low APY
Charges a fee for foreign transactions.
3. Betterment: Best For Customizable Portfolios
Betterment is a fiduciary platform that uses AI-based technology to produce investment and financial recommendations to help users earn more on those investments.
Additionally, it offers strategies to help customers save for retirement, education, and major purchases. The company's technology also offers general investment and trust strategies and recommendations.
Betterment portfolios are purpose-built to help users earn more and achieve their goals according to their individual needs.
So when you sign up, you can indicate the amount you want to save and by when. Then, the app will use its AI technology to provide recommendations based on your goals.
For example, customers planning for a long-term retirement might get a 90/10 stock/bond ratio recommendation from Betterment.
And for customers who want to save for a bathroom renovation, the ratio might be 50/50. More so, Betterment offers personalized digital investment advice.
Betterment is a robo-advisor better fit for passive investors looking for a low-cost option to place their investments on cruise control. It also offers great cash management features and a high APY.
Furthermore, Betterment has made investing easy for beginners. With the app, you don't need to research the investments to purchase for your portfolio. The service automatically does this for you. But more advanced investors may want to leverage Betterment's tax-conscious advice and other impressive features, as well.
Features
Betterment app's design and feature-rich capabilities allow you to easily manage all of your day-to-day needs on the go. Most of its real customers testify to its high ratings on both the iOS and Google Play app stores. In essence, it's one of the best investment apps from a robo-advisor.
Furthermore, As of February 2023, Betterment provides a cash account with a variable APY of 4.00%. Also, it offers a valuable no-fee checking account. With all these, these cash management accounts allow investors to keep all of their finances in one place.
Betterment is relatively one of the few robo-advisors that doesn't require a minimum balance to provide customers with automatic tax-loss harvesting.
In summary, when one of your underlying investment funds happens to decline in value, Betterment may decide to sell it at a loss and then reinvest in a similar fund to lock in the potential tax savings caused by the investment losses.
Besides, Betterment, unlike many of its competitors, doesn't require a minimum account balance; the more reason why it's a good stock broker for beginners. However, users need to deposit a minimum of $10 to start investing. On the other hand, many competitors offer minimums of $500 or more.
This robo-advisor is about the endgame, walking you through the steps essential to meet your end goal. From your first deposit, savings, and time horizon, Betterment will advise you on how to achieve your objective.
Betterment: Pros & Cons
Pros
Requires $0 account minimum, $10 investment to start.
Portfolios can be adjusted to accommodate your changing goals and risk tolerance.
Easy to set up multiple goals and track progress.
It has three distinct SRI portfolios.
Tax-loss harvesting is available for all customers.
Cons
It has no margin or borrowing.
It has no REIT exposure in its Core portfolios.
Customers don't get weekend live customer service.
Users must create an account before viewing specific portfolios.
Its premium plan is $100,000.
Personal Capital
Personal Capital is a free money management software that monitors your net worth. It keeps track of your income and expenses.
This app connects to all your financial accounts to enable you to stay on top of your financial life.
Personal Capital comes with a retirement planner and tools for analyzing your investments.
In addition, Personal Capital is incredibly automated and works with Zillow to update your home's value in real-time.
YNAB (You Need A Budget)
YNAB monitors your network and also helps with your budgeting needs.
This software is beneficial to individuals living pay cheque to pay cheque.
With the use of the zero-based budgeting concept, YNAB enables you to achieve your financial goals.
You Need A Budget (YNAB) also provides online courses, podcasts, practical guidelines, and more to enable you to track your net worth.
Tiller Money
Tiller Money is an app that adopts the use of a spreadsheet, numerous templates, and resources to help you keep track of your net worth and other financial assets.
The spreadsheet on Tiller Money can be downloaded to make Google Sheets.
Tiller Money can automatically populate a spreadsheet using your transactions.
What is a Net Worth Calculator
A Net Worth Calculator is any software that calculates your net worth.
Net worth can be calculated by subtracting liabilities from assets. In other words, you can determine your net worth by subtracting everything all your debts from your real possessions.
A Net Worth is your overall fortune. It is determined by deducting the sum of all your debts from the sum of all your assets.
Medical expenses, mortgage payments, credit card debts, student loans, and auto loans can negatively impact your net worth.
With an increased debt, your net worth will decrease.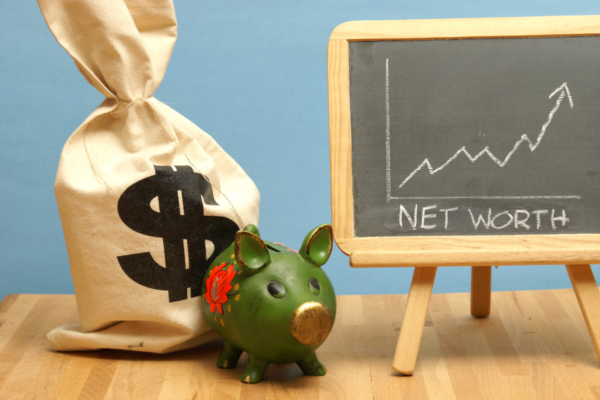 Frequently Asked Questions Related To 3 Net Worth Trackers
What Is A Net Worth Tracker?
A net worth tracker is an app that enables you to connect accounts automatically to pull in data. They can connect credit cards, bank accounts, investment and retirement accounts, and in some cases, the value of your home. These calculators then update your net worth regularly while keeping track of changes over time.
Why Is Tracking Your Net Worth Important?
Tracking your net worth is important because it helps you identify areas where you overspend, manage your finances and make healthy financial choices. In addition, it keeps you informed on your spending and budgeting habits so that you can make effective changes if need be.
What Is The Best Net Worth Tracker?
Empower, PocketSmith, Betterment, and Mint are some of the best net worth trackers available. These apps come with impressive features that track your net worth, manage your finances, and recommend ways to grow your funds.
How Do I Measure My Net Worth?
Start by adding what you own: money, investment accounts, retirement accounts, real estate, cars, and anything else you could sell for money. Then subtract what you owe: student loans, credit card debt, auto loans, mortgages, and anything else you owe money on.
Does Mint Keep Track Of Net Worth?
Mint is an app that allows you to track other accounts that have an impact on your net worth, like investments and loans; gives a succinct review of your upcoming bills; and lets you review your credit score regularly for free.
Is There An App That Tracks Your Net Worth?
Empower is an app that makes tracking your net worth easy and keeps a historical record of how it evolved. In addition, it allows you to focus easily on the bigger picture while enabling you to keep track of your progress toward your financial, investment, or retirement goals.
What Is Net Worth By Age?
The average net worth by age is $76,300. For those under age 35 is $436,200, while for ages 35-44 is $833,200, and for ages 45-54 is $1,175,900. Similarly, for those ages 55-64 is $1,133,700, ages 65-74 is $977,600.
What is the best net worth tracker?
The best net worth tracker is Personal Capital, YNAB, Spreadsheet, Good Budget, Empower, Wally, Mint.com, Acorns, and PocketGuard.
The fastest way to calculate your net worth is by subtracting all your debts from your assets. If your debts are higher than your assets, you have a low net worth.
Is there an app for net worth?
There are several apps to track your net worth. A new app called Kubera is designed to monitor your net worth.
This app can connect to all kinds of financial accounts. This app can be connected to automobiles with VIN. With Zillow, it estimates the worth of a real estate.
It can also connect to domains, banking cards, credit cards, and investment accounts.
Does Mint track net worth?
Mint is a financial management app that provides solutions to track your net worth. It is a mobile app that enables you to stay on top of your budgeting game.
What is the Net Worth of a Person?
A personal Net worth accurately reflects the financial situation of a person. It is the leftover amount after paying off taxes and debts.