Last updated Jul. 1, 2023 by Benedict Osas
The monetary reward budgeting approach is well-known for helping people gain better control over their money. It's reliable because you take out the appropriate amount of cash for each line item on your budget and deposit it in the proper envelope.
But how do you get the best of the cash envelopes? This article will outline the 11 Best Cash Envelope System Wallets (Affordable & Stylish).
Cash Envelope System Wallets
Listen up. Until your next payday, you need to stop spending money excessively. But that's tough, considering all the goodies around. So, how do you achieve that? Cash envelope wallets are a clever way to manage your money.
How? Keep track of how much you spend in different areas each month by using cash instead of credit cards. You allocate specific amounts of money for different categories and put them in envelopes.
If there is still money left in the envelopes by the end of the month, it means you spent less than what you had planned. It's like tricking your brain's pain detectors, giving away money without getting any back.
Though they can be tricky to carry around, they are all big and unattractive. But hey, don't worry. There's a cool solution. I researched for you and found eleven awesome and affordable wallets that will make your money game strong. Trust me; they're exactly what you need. No more money woes, just cool wallets, and better savings. Let's do this.
Read also: Ways To Get Free Clothes Online.
#1. Bella Taylor Navy Cash System Wallet
The versatile dark blue microfiber wallet comes in a range of solid colors and stylish designs. With six card compartments, two ID slots, and a convenient checkbook holder on the front, it offers ample storage for your essentials.
The zipped main pocket ensures that your cash and coins stay secure inside. Additionally, this wallet includes eight customizable envelope slots, eliminating the need for paper envelopes.
The Bella Taylor wallet is designed with all the essential features, saving you the hassle of constantly zipping and unzipping the bag to access your cards. It's a practical and stylish choice for anyone seeking a reliable and efficient wallet.
#2. Savvycents Wallet
The Savvycents wallet comes in various colors, from neutral tones to golden hues to checkered and floral patterns. Similar to Bella Taylor's wallet, it features five envelope slots with customizable tabs.
However, what sets the Savvycents wallet apart is its zip-around closure that encloses the entire wallet. Unlike Bella Taylor's design, the Savvycents wallet does not offer an easy-to-open lock mechanism to access the cards.
However, this isn't an issue if you primarily use cash, as both wallets' zippers need to be opened to reach the cash compartment. Opting for the Savvycents Wallet ensures convenient and swift access to your cards.
#3. Eurlove Wallet
The Eurlove wallet, while not explicitly marketed for it, is an excellent complement to any cash envelope system. With ample space to accommodate a passport and phone, it conveniently allows for the storage of paper currency envelopes in its pocket.
Featuring a removable wristlet and a full zipper enclosure, it presents an appealing choice for those seeking a wallet in various colors. Available shades include pink, black, grey, and navy blue.
Moreover, it boasts a significantly lower price point than its counterparts, making it a highly affordable option.
#4. Tide-resistant Tyvek Money Envelope Wallet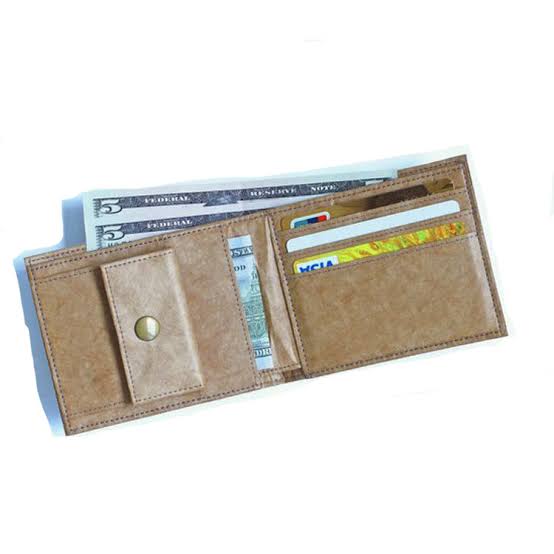 This brown wallet incorporates water and stain-resistant Oleflex fabric, ensuring durability and easy cleaning. It offers an accordion-style design with five slots for cash envelopes, a front slot with card slots, and a rear space featuring a zipper coin bag.
The Tyvek wallet's snap flap enables quick and easy access, while the removable wristlet adds convenience. Its lightweight and trim design further enhances its appeal, promising both style and functionality.
With added durability and cleaning convenience, this wallet is a practical and fashionable choice for everyday use.
#5. Beyzi RFID Blocking Wallet
The Beyzi RFID Blocking Wallet is very efficient for travel budgeting. It boasts ample space to accommodate your passport, checkbook, and even an iPhone 8, all neatly fitting into one wallet.
While it may be too large for everyday use unless you carry a large handbag, its zip-around closure ensures added security. You'll discover 17 card slots and two accordion-style slots, perfect for organizing cash envelopes.
Not only does this wallet provide extended functionality, but it also prioritizes your privacy with RFID-protected card slots, shielding your information from prying eyes. Additionally, the Beyzi wallet offers a variety of muted colors alongside the vibrant yellow option, catering to personal style preferences.
It unquestionably reigns as the "best cash budget wallet for travel" due to its ideal size for carrying cash envelopes during your vacation.
Search: 11 Great Ways to Save Money Without a Bank Account
#6. Lavemi Travel Wallet With RFID Blocking Technology
The Lavemi travel wallet is an excellent choice for travelers due to its compact design. Although it is thinner and slightly more expensive than the Bveyzi travel wallet, it offers a range of stylish options such as pebbled, silky, suede, and metallic finishes.
With Lavemi, you can easily find a color that suits your preference. This wallet is equipped with RFID-protected card slots to keep your cards secure. It also features two folding bill holes that can accommodate a budgeting envelope.
Moreover, the wallet is spacious enough to hold your phone, and you can use the wristlet as a clutch bag, eliminating the need for a separate purse.
#7. Hilinker Envelope Clutch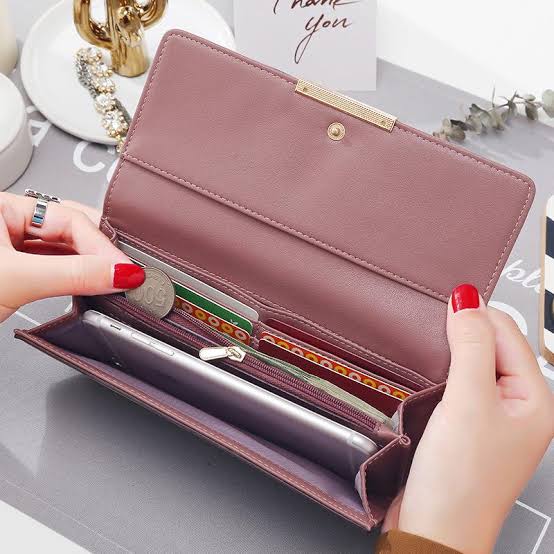 Hilinker Envelope Clutch is the winner of the Best Semi Budgeting Wallet award. PU leather is used to create this stylish wristlet clutch. The vegan-friendly leather substitute is just as durable as the real, but it's made from a different material.
When snapped open at the front, this envelope button opens to provide lots of space for cards, pencils, and cash envelopes. Including a zipped coin pouch, the Hilinker Envelope Clutch ensures the safety of your coins.
The wristlet can be easily removed if you prefer a more minimalist style. Choose from various neutrals such as black, beige, and brown, or opt for brighter hues like pink and red. This wallet is affordable compared to some of its counterparts.
#8. Itslife RFID-blocking Waxed Wallet Clutch
The Itslife wallet is a beloved choice for those seeking an oversized wallet/clutch that can accommodate budgeting envelopes. What sets this wallet apart is its distinctive design: it doesn't feature a zipper encircling its entire circumference.
Instead, it offers 21 card slots that are RFID-protected once you detach the front clasp. For added convenience, a second envelope tab clip is included.
While two other travel wallets can hold an iPhone 8 Plus, this one is slightly smaller. If this wallet entices you, you'll be delighted to discover that it comes in 32 color options, including waxed, pebbled, and natural leather.
Find out: 10 Sites Where You Can Buy Things On Sale Every Day Of The Year
#9. Soligt All-In-One Cash Envelopes Wallet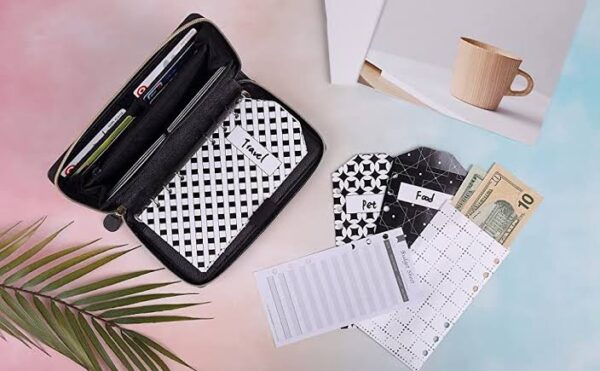 Winner: Best Planner Style Budgeting System Wallet. It's a budgeting wallet and a planner all rolled up into one. Soligt wallet is one of the most sought-after styles and is regularly sold out.
However, it may be in stock while you're browsing, so if it is, take advantage of the opportunity before it is gone for good. It's composed of black leather and zips all the way shut.
A zippered coin bag and card slots are included. The constructed notebook rings distinguish this budgetary wallet from the others. Twelve cash envelopes can be held in place by these rings.
Envelopes come with 12 budget papers where you may record your spending. In addition, you may get new budget sheets and several types of envelopes.
#10. Savvy Spender Wallet Envelopes
How straightforward this envelope method is. It is worth liking. Envelopes fit in a single spacious pocket on the foldover clutch. A zippered coin bag is in the center of the wallet, containing up to 12 cards. The envelopes that come with this Savvy Spender wallet are a big plus.
Envelopes with magnetic fastening are simple to clean and come in five packs. Zipper-free envelopes reduce the amount of space they take up. The hue of each envelope varies.
The drawbacks include the lack of labeling. Using them and knowing which color represents which category will take some time to become used to. This cash envelope might be avoided by sewing a label on the exterior of each bag or inserting a bit of paper into each one.
#11. Rnairni All-in-One Cash Envelopes Handbag Wallet
The Rnairni All-in-One Cash Envelopes Handbag Wallet offers utility and exudes elegance in its captivating Tiffany blue hue.
Equipped with 12 envelopes, 12 budget sheets, 1 marker pen, 14 labels, and a range of other impressive features, this wallet stands out as a remarkable product. It conveniently includes a pen holder and a dedicated card or ID space.
Moreover, this wallet caters to diverse tastes in various colors, including red, orange, pink, blue, and black. Experience the perfect blend of aesthetics and practicality with the Rnairni All-in-One Cash Envelopes Handbag Wallet.
Search: 10 Best Places to Cash a Personal Check Near You (Even Without a Bank Account)
Why does the Cash Envelope System Work so Well?
The cash envelope system is highly effective due to several reasons. Firstly, using cash instead of cards prompts individuals to spend less.
Studies have consistently shown that consumers tend to be more cautious with their spending when physically parting with cash rather than simply swiping a card. The tangible act of handing over money makes people more aware of the actual value of their purchases.
Furthermore, this budgeting method facilitates easier tracking of expenses. By visually seeing the amount of cash remaining in each envelope designated for specific categories, individuals can readily gauge their spending habits. This transparency allows for better financial awareness and enables adjustments to be made if necessary.
Additionally, the cash envelope system cultivates discipline. When relying on credit or debit cards, overspending becomes effortless and tempting. It is all too easy to exceed predetermined budgets without immediate consequences.
However, with the cash envelope system, overspending becomes more difficult. If one has allocated only $125 for groceries in a particular week, they are confined to spending within that limit.
This necessitates careful planning and forces individuals to consider their expenses more thoughtfully. Consequently, the system encourages greater discipline compared to relying solely on cards for transactions. Utilizing this method can have a substantial positive impact on one's overall financial well-being.
Frequently Asked Questions On Best Cash Envelope System Wallets (That Are Affordable & Stylish)
How do I start a cash envelope system?
Starting a cash envelope system is simple. Here's what you need to do:
When you receive your money, take it out from your bank or an ATM.
Divide the cash into different envelopes based on your budget categories.
Write the designated dollar amount on each envelope.
Now you have cash allocated for each category.
Whenever you need to spend money, take it from the appropriate envelope.
Keep track of the remaining cash in each envelope to stay on top of your budget.
Which budget app uses an envelope system?
Mvelopes is a budget app that uses the envelope system. It allows you to apply the cash envelope method digitally. You can sync your bank accounts to the app, making tracking your income and spending convenient in one place. Although Mvelopes is not free, its monthly plans are reasonably priced.
How to do cash envelopes digitally?
If you want to use the cash envelope system digitally, follow these steps:
Categorize your spending (e.g., groceries, dining out, entertainment).
Decide on a specific amount of money for each category.
Set aside that amount digitally instead of using physical envelopes.
For example, if you spend $50 on groceries weekly, allocate $100 for two weeks or $200 for the month.
This method makes you more aware of how and where you spend your money, promoting mindful financial habits.
How many cash envelopes should I have?
Determining the number of cash envelopes you should have depends on your financial situation. While some people may only require a couple of cash envelopes, it is more common to have more.
Having at most five envelopes might mean you overlook certain expense categories in your budget. Starting with five cash envelopes is a recommended approach for beginners.
However, the ideal number of envelopes ultimately depends on your individual budgeting needs and the variety of expenses you want to track and control.
How do you start a cash envelope budget?
You'll probably need a lot more multiple envelopes to initiate a cash envelope budget, each representing a specific budget category. Assign a designated amount of cash to each envelope based on your anticipated monthly expenses in that category.
As you spend from a particular envelope, refrain from using any additional money in that category until the new budget period begins. By visually seeing the cash depleted in the envelopes, you can understand your spending limits and make informed financial decisions.
Are cash envelopes a good idea?
Cash envelopes can be a beneficial tool for budgeting due to the psychological impact of using physical cash instead of plastic cards. When you physically withdraw money from your wallet instead of swiping a card, you tend to exhibit more self-restraint in your spending.
This psychology forms the basis of the envelope system, wherein you allocate cash to specific categories, promoting a heightened awareness of your expenses. By stuffing money into envelopes for budgeting purposes, you are more likely to spend less and exercise greater control over your finances.