Last updated Mar. 2, 2023 by Peter Jakes
If you're a bride on a budget, there's no denying that the wedding dress is one of the most expensive parts of your big day. But did you know that services are available to help brides-to-be look beautiful without breaking the bank?
Here are seven places where you can rent or borrow a wedding dress.
Rent a Runway
Rent a Runway is a great option if you're looking for a designer dress. With a vast selection of designers and styles, there are plenty of options—even if it is your first time renting.
Like other rental services, you can rent a dress for as little as $25. But with Rent the Runway, you can rent your dream dress for as long as you want (up to 30 days). And even better? They offer free shipping both ways.
Little Borrowed Dress
Renting a wedding dress is a great way to save money. You can get a brand-new designer gown for as little as $100 (and you'll be able to return it if it doesn't fit or you don't like it).
You don't have to worry about finding a place to store your old dress either—send it back when you're done.
If your wedding is right around the corner, you can rent a gown for as little as $100. Of course, you can return it if it doesn't fit or you don't like it. You can also rent a dress for any occasion, from proms and formalities to parties.
Borrowing Magnolia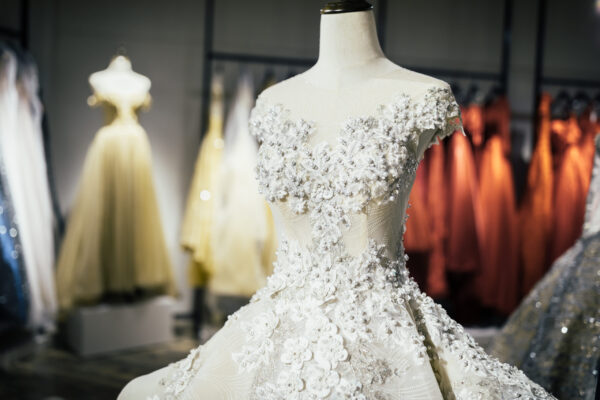 They have a great selection of wedding dresses.
You can find gowns in your size.
They have a good selection of styles: traditional to modern, lace to beaded, and everything in between.
You can find colorful wedding gowns for your ceremony or the reception.
Their accessories include veils, shoes, jewelry, bags, and more.
Vow to Be Chic
Vow to Be Chic is a wedding dress rental service that has a large selection of designer dresses. They also have many accessories, such as veils, shoes, and jewellery. They have been in business for over 20 years and offer the best customer service possible.
PreOwnedWeddingDresses.com
You can search PreOwnedWeddingDresses.com by designer, color, and size. You'll be able to see pictures of each dress and read reviews from previous buyers. To buy a dress, you need to register on the site as a member with your credit card information.\
Once you've selected the perfect gown, you will pay with either PayPal or Stripe—a secure payment service that accepts all major credit cards. The next step is returning the dress after your wedding!
If there is damage or something wrong with how it fits, contact Customer Service within five days of receiving it, and they'll advise whether they can repair it for free or send out another one at no extra cost (they have millions of dresses in stock).
Lending Luxury
Lending luxury is a luxury rental service that allows you to rent designer wedding dresses for your big day. They have a beautiful selection of designer wedding dresses, and their prices are reasonable for the quality of their clothes.
They have everything from simple and elegant gowns to more dramatic styles, so Lending Luxury has it no matter what dress you want! They also have dresses in every size and color you could think of—and they can customize some dresses.
The Stork Bag
The Stork Bag is a great place to find a wedding dress, especially if you want something unique. They offer a wide selection of designer wedding dresses, with sizes ranging from 0-28 and styles that range from traditional to modern.
You can shop by color and price as well. If you have any questions or need help finding the perfect dress, their team of experts is available via phone or email 24/7. They even offer free shipping.
Wedding dress rental online
You can rent a wedding dress online in the United States, the United Kingdom, Australia, New Zealand, and Canada. Wedding dress rentals are also available in India.
Online dress rentals are a great option if you don't want to spend much money on your wedding dress. Also, renting will let you wear something beautiful without breaking the bank if you're having a destination wedding and don't want to buy something expensive just for one day.
Or maybe you're having a low-key affair with family and friends and don't need an extravagant gown.
Rent a wedding dress for a photoshoot.
Renting a wedding dress is a great, affordable option for your bridal shower, quinceanera, or another special occasion. You can rent a wedding dress for a photo shoot or even when you need to dress up for your wedding.
There are many reasons why renting a wedding gown makes sense, and we have all the details you need to make it happen.
FAQ
Can you rent a wedding dress in the US?
Renting a wedding dress is not legal in the US. However, it is legal in some US states.
The question of whether renting a wedding dress is illegal or not depends on your jurisdiction. Some states have laws against renting any apparel (including dresses), while other countries don't even have this law on their books.
What does the bride pay for?
The bride is responsible for the cost of her wedding dress. Of course, she might also choose to pay for her bridesmaids' dresses, but if she does, this will come out of gift money given to her.
If your friend or relative has a budget for their wedding, you can help them stay within it by purchasing the most expensive item: their wedding gown.
What is the best month to buy a wedding dress?
The best time to buy a wedding dress is spring, summer, fall, or winter.
If you're shopping for your wedding gown in the winter months, you'll have plenty of options to choose from—but there are also plenty of other things to consider when planning a big day.
Who pays for the groom's cake?
The groom's cake is smaller than the bride's; traditionally, it is a fruit cake. The groom often gets to cut this smaller cake at his bachelor party.
In more modern times, grooms choose to have themed cakes that reflect their personalities or interests. Some examples of themed grooms' cakes include:
Pirates of the Caribbean – If you're into pirates and want to make your wedding a little bit nautical, this is the way to go.
Fireman – If your future husband happens to be a fireman (or any other type of manly man), then why not get him an impressive fireman-themed groom's cake? This will let him know how much you appreciate him for being such an awesome guy.
What does the bride pay for?
The wedding dress is a significant expense, but it's not the only one you'll have to make. The couple also pays for the following:
Bridal party dresses
The bridal shower
The bachelorette party, if there is one
The cost of all these depends on the family and the type of celebration they want. But one thing's for sure: You'll need money for gifts!
Gifts can be anything from small trinkets (like a key chain or bracelet) to complete sets of items useful in everyday life (such as bedding).
If you're looking for gift inspiration for your bride-to-be or bridesmaids, check out our great options below.
Which color dress is best for a wedding?
Choosing the right wedding dress color can be tricky. The best choices are white, ivory, and champagne, although they're not always possible because of your skin tone or hair color.
You can also wear a beige shade if you don't want to wear white on your wedding day. However, avoiding dark shades like black or brown is important since they'll make you look older than you are—not exactly what you want when celebrating your love!
Bright colors such as orange or yellow should also be avoided; they don't reflect well in photos and won't look good after the big day.
Summary
Some services can help you look beautiful on your wedding day without breaking the bank.
If you've decided to rent, there are plenty of ways to ensure you're not just getting a dress for one day. You can rent a dress and then wear it again at another event, whether that's another wedding or a fancy dinner party.
Some people even like to rent their dresses because they feel they can be worn more than once without damaging them or compromising the integrity of their style.
Renting also allows you to look beautiful on your wedding day without breaking the bank—and let's face it: A lot of women would have trouble affording something like this on their own
If buying isn't an option for whatever reason (or if your husband-to-be is against buying new things that he refuses), renting makes sense financially and emotionally.
You won't have buyer's remorse after wearing something as unique as your wedding gown; instead, you'll get some extra use out of something pretty while saving money on something more practical (like a house down payment).
Wedding dresses are a big deal, and there are many things to consider before buying one. However, renting might be your best bet if you're in the market for something unique and personal for your big day.
This article covers seven places to rent wedding dresses so you don't have to stress about what style will fit your vision best.