"I draw like other people bite their nails." Pablo Picasso.
Art is a powerful form of self-expression; delicate and profound, so having the right tools and resources will help you stay on top of your game this year. Digital drawing software comes with benefits like 3D models, the creation of raster and vector images, special effects, and a plethora of other wonderful tools. Searching on the internet, you can find a lot of drawing apps with distinct USP.
Some are good with graphic illustration and some do better with vector drawings. Some of the apps are free and some are paid versions only. Some of the paid versions are better suited for image manipulation, 3d modeling, hand drawing, or mimicking, however, a lot of the best free options we reviewed do this as well as the paid version, hence you are safe with using the best free version.
To better understand this we will explain the types of drawing software, and they include;
Vector art software: This allows the manipulation of computer images strategic commands
Image editing software: Drawing applications under this category are used in photo editing and manipulation.
3-D editing software: A 3D application enables the design and development of 3-dimensional images and animations.
So regardless of your art niche, there is a design tool for you. Some best drawing apps are suited for each device. For example, the best drawing apps for iPad are Procreate 4.3, affinity designer, Art studio Pro, Adobe Fresco, Free studio paint, Affinity photo for iPad, Comic draw, Autodesk sketchbook, Pixelmator, etc.
The best drawing apps for android are Adobe photoshop sketch, Sketchbook, simple draw, MediBand paint, ArtFlow, Dotpict, Ibis Paint, Infinite Painter, Adobe Illustrator draw, etc.
The best drawing app for iPhone is Adobe Photoshop Sketch, Clip Studio Paint, Adobe Capture CC, Adobe Illustrator draw, Sketch Club App. Tayasui Sketches App, Procreate Pocket, Paper by FiftyThree, Icolorama S, Asketch Drawing App, etc.
The best drawing app for windows are Corel Painter, Krita, Adobe Illustrator, Rebelle 4, Clip Studio Paint Pro, MediBang Paint Pro, etc
Contained in this article, are a few top-notch drawing software for all platforms based on their ease-of-use, features, drawing capabilities, pricing, carefully handpicked and in no particular order.
Krita
Perfect for students and beginner artists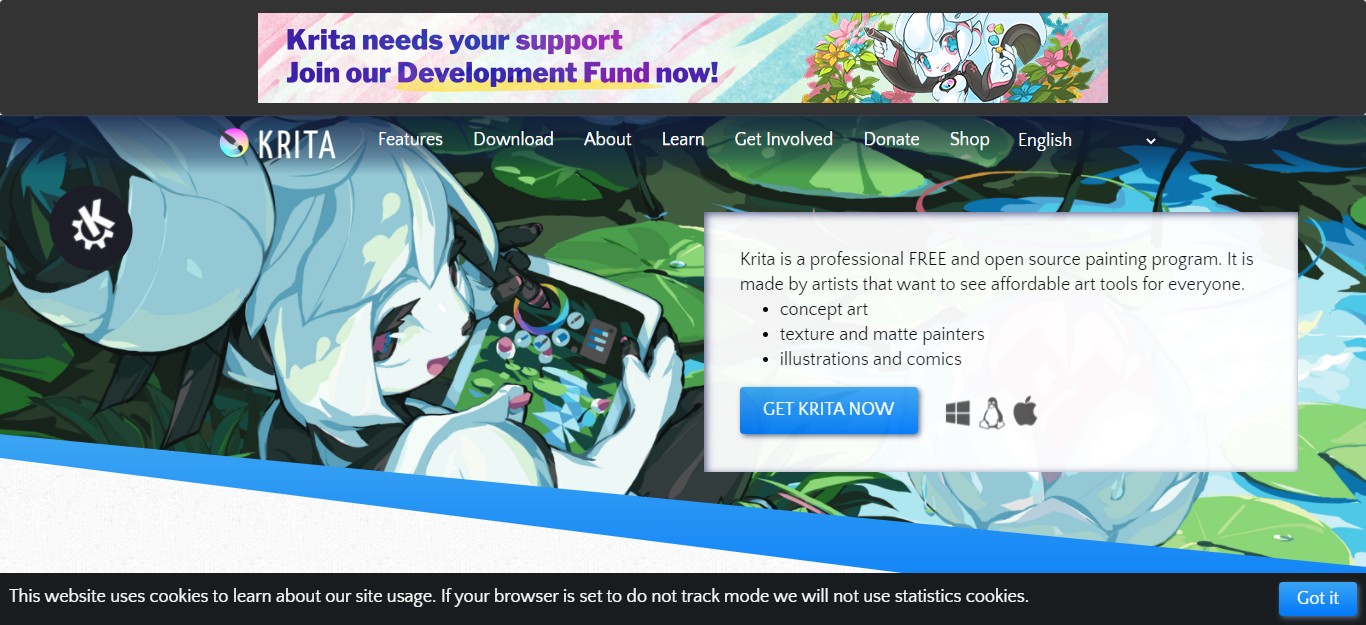 Source: krita.org
Slowly winning the hearts of visual artists and designers alike, Krita is a professional
design software that sets itself apart from others. It utilizes its tool options and presets to deliver powerful artworks and projects. It is perfect for those new to painting and it is optimized for less powerful personal computers. It has a very good and interactive interface with dynamic tools, however, there is an absence of tools for image retouching.
It is a free and open-source application, integrated with easy-to-use tools that make paintings and drawings more realistic and comics come to life. It is beginner-friendly and comes with software documentation that is easy to comprehend. The open-source feature allows the integration of user-generated app modifications.
<center></center>
Krita supports the use of Wacom tablets and other supported tablets that enables precision in drawings and illustrations. Because creativity on the go is a crucial part of everyday activity, Krita also comes with mobile and tablet versions downloadable from the mobile app stores.
Krita comes with free templates for the creation of quick and beginner-friendly projects. It is also lightweight and runs on Windows, macOS, Linux, Android, and Chrome OS.
Key features:
File recovery – It automatically saves as a compressed data file format, which ensures the recovery of data in the case of a corrupt or broken file on save. All you need to do is open and extract the content of the damaged file with an archive manager.
Image separation – It has a unique image manipulation feature that allows an image to be separated into its different components.
Brush preset creation – Krita understands that the artist in you is ever-evolving, so they included the ability to create something different from the regular app's preset.
As a user of the app, you can create and modify new brush presets according to your work style and flow.
AI assistant – There is a special assistant system that makes the manipulation and modifications of shapes easy.
The type of AI assistant can be selected from the tool options panel.
Animation – Its frame-by-frame raster animation makes animating image layers doable. Images can be imported into the workspace and converted to animation.
It also comes with audio options to make each animated cycle interactive.
Customizable plugins – Krita allows you to not only edit but create custom plugins that can optimize workflow.
These plugins can only be made from Python scripts.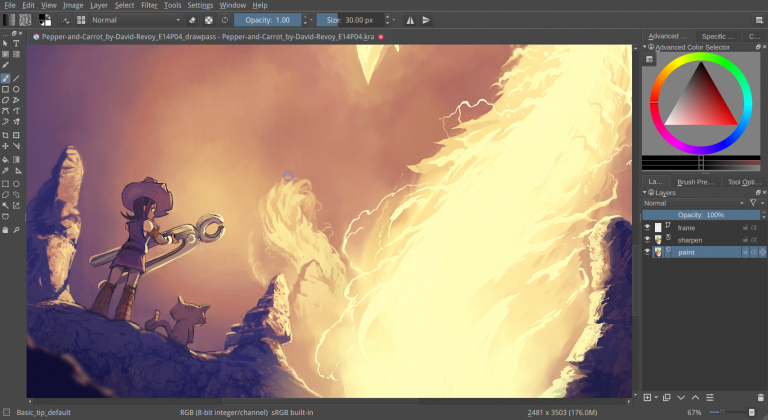 Pricing:
It is free and open-source.
Are you still wondering why it got an award for the Best free painting software in 2019? Find out now.
2 MediBang Paint
Perfect for amateur and professional comic bookmakers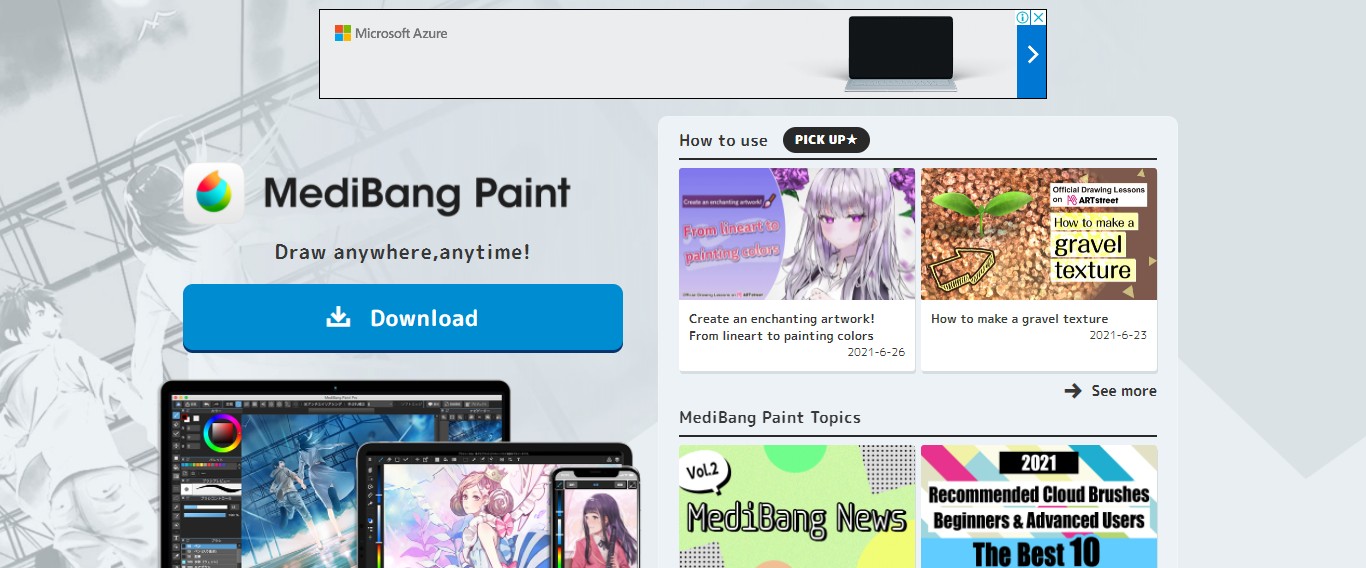 source: medibangpaint.com
MediBang Paint is a lightweight tool targeted at comic bookmakers and manga artists. It is a professional digital painting software that comes with app integrations that enable the production of high-quality art pieces.
MediBang performs its core function without putting a dent in your device's RAM functionalities. It has more than 700 free materials and professional designs that can be used to speed up the artist's workflow. The user interface is simple to use and comes with a minimalistic design. It allows you to create comic designs from existing images and graphics. MediBang is compatible with major image formats like JPG, PNG, GIF, and BMP. It runs on Windows, macOS, Linux, Android, and Chrome OS.
Key features
Pre-made templates – The software comes preinstalled with free templates for both manga and comics work.
Cloud storage – Files and workspace can be saved and accessed anytime and anywhere in the world, through the software's unique storage platform.
Teamwork and collaborations – MediBang Paint allows users to work in teams, form groups, and collaborate with other teams on different projects seamlessly.
Files can be saved in different formats and viewed on different devices.
Sharing of tools and resources is also possible through the software's unique storage platform.
brushes – Brush presets frequently used by manga artists like the G Pen, Mareping Pen, Ink Brush come preinstalled.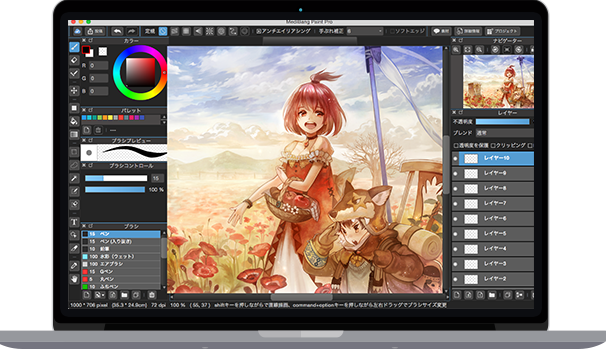 Pricing
There are no annual or monthly fee subscriptions as it is free to use. Start using it now
Adobe Illustrator
Perfect for professional graphic artists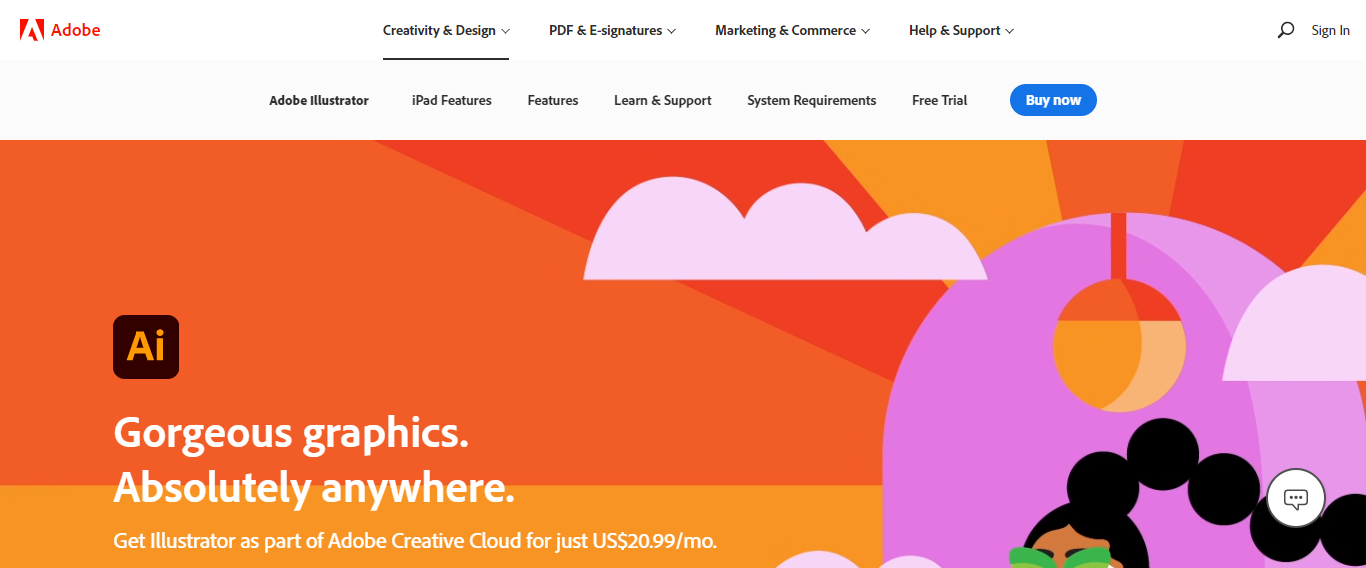 Source: adobe.com
Adobe Illustrator is one of the most sought out drawing software in the industry. It allows you to create high-fidelity graphical illustrations from scratch.
Packed with tons of plugins, tools, and resources, it is a fully loaded standalone application that can handle various art projects with varying degrees of technicalities. When used together with the Adobe Creative Cloud, it speeds up the deployment of graphical projects after development.
A brief look into the history of Adobe Illustrator shows that its development began in 1985. Access to Adobe Stock library for free resource packs and designs. Adobe Illustrator comes with a 7-day free trial to help users get comfortable with the software's interface and presets.
It offers educational discounts to students and also 100GB of cloud storage and free access to Adobe fonts, which is made possible when you subscribe to or renew a payment plan. Since Illustrator is vector-based, the quality of your created artworks remains the same when scaled up to a large size.
Files are synced across all linked devices, so you can create or edit new work on the go. It comes pre-installed with an advanced user interface which isn't suitable for beginner graphic artists.
Key features
AI assistance – It has an in-built assistant called Adobe sensei. It helps in the precise manipulation of shapes and objects, so you don't have to worry about crooked pieces in your projects.
Other app integrations – With Adobe Illustrator, third-party applications can be linked seamlessly. You can also log into your portfolio accounts, save and edit projects.
3D images – When 2D images get boring, Adobe Illustrator has just the thing to spice things up. 3D images can be created with the in-built.
Professional drawing hardware – Its powerful image trace feature keeps your work precise and error-free, leaving you with more time to create more stunning vector graphics.
Hand Lettering and calligraphy – This comes with robust tools that enable the customization of text templates, which makes the message in each project unique.
Pricing
US$20.99 per month though it has a 7-day free trial which you can check out here.
CorelDraw
Perfect for intermediate and professional graphic artists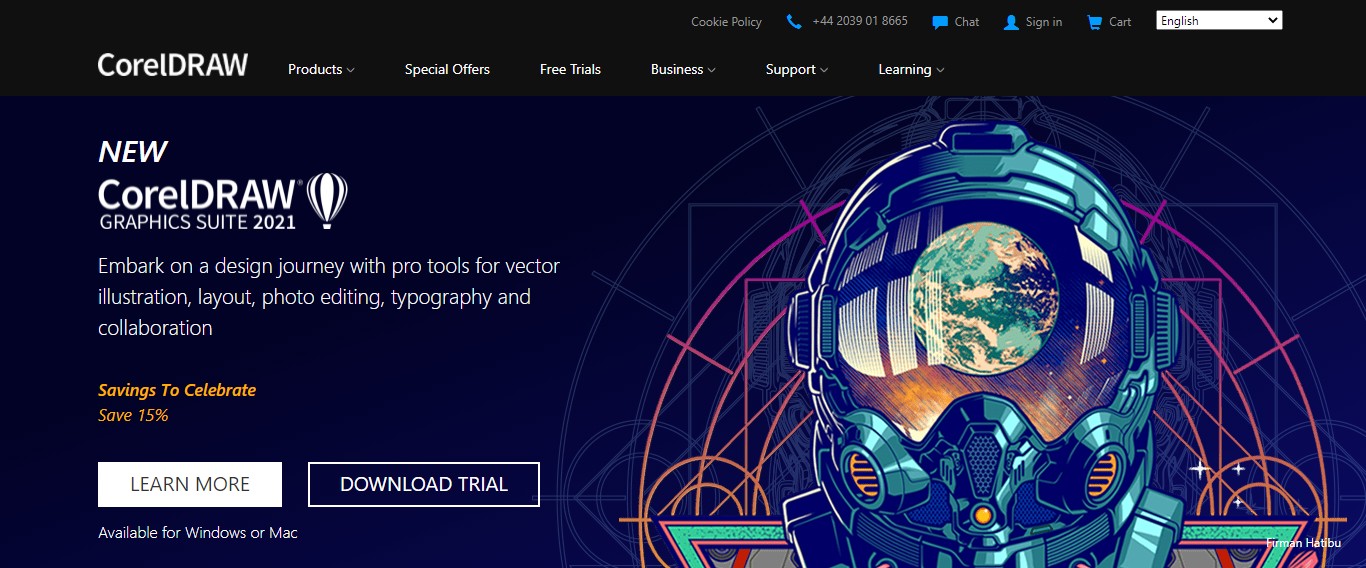 It offers impeccable vector designs to graphics artists, regardless of their skill level. It has the tools required to create high-definition designs.
Its customizable feature allows a wide range of design development, from simple photo edits and icons to product mockups. So what do you want to design?
CorelDraw comes in different packages, carefully engineered to help unleash the artist in you regardless of your design journey. They include;
– CorelDraw Essentials: This is just about right for beginner artists and those who love to dabble into the world of design from time to time.
– CorelDraw Standard: This was crafted to meet the needs of intermediate-level designers and businesses.
– CorelDraw Graphics Suite: It is an all-in-one package that comes with the complete tools and resources required by professional graphics artists.
You get a 15-day free trial with a 30-day money-back guarantee on purchased packages.
Its updated perspective tool allows objects, illustrations, and scenes to be drawn in perspective. It cuts down the usual time required to be spent on perspective art projects.
Corel Draw has High-Efficiency Image File(HEIF) support for iPhone images and objects. It also has real-time feedback and live commenting on shared projects and live syncing of files across all linked devices. Corel Draw comes with 7,000 digital images, and templates can be accessed by users in its cloud storage. Artists also have a chance to have their artwork featured on CorelDraw's official website and campaigns.
It is compatible with a lot of industry-required file-formats including DWG, TIFF, HEIF, and EPS.
Key features
Export docker – The all-new export docker feature allows you to create a list of objects and workspace projects to export with the click of a button. It is a cool feature because it is flexible and saves time.
Bitmap photo effects – You can create, adjust and experiment with well-known bitmap effects such as colorize and sepia.
Object management – The object docker can be used to change their stacking order, fill objects, manipulate and format objects contained within different workspaces.
Pricing
The Essentials package is good for occasional graphics users and creative consumers. It is billed at US$155.00 as a one-time app purchase. It comes with handy hints docker that teaches you and makes it easier to learn. It has
Vector Illustration
Page Layout for turning basic lines and shapes into works of art and creating curves with versatile shaping and drawing tools.
Photo editing and typography
Easy bitmap to vector tracing
Color, fills, and transparencies
Object management with handy objects docker
The standard package is good for graphics enthusiasts and home and micro businesses. It is billed at US$419.00 as a one-time app purchase. It has
All-in-one design and layout because of its significant capabilities for graphic design and layout in a single application.
Flawless photo editing through enhancing any image with the powerful layer-based photo editing features
Easy to use as it has intuitive tools, tips, and tutorials at your fingertips regardless of your level of skill and area of expertise.
Tools that promote creativity
Vector illustration
Page Layout
Photo Editing
Powerful bitmap to vector tracing
The Graphics Suite package for Windows aNd Mac is billed at US$399.00 per year or a one-time purchase of US$785.00 with a 30-day Money back guarantee. It is made for large businesses and professionals. It includes the following applications:
CorelDRAW – for vector illustration and page layout
Capture™- Screen capture tool
CorelDRAW.app – Online vector illustration and graphic design via a web browser
Corel Photo-Paint- for image editing and pixel-based design program
AfterShot™ 3 HDR – Raw photo editor
Corel Font Manager – Font exploration and management tool
CorelDRAW.app for iPad – Vector illustration and graphic design iPad app
PowerTrace – AI-powered bitmap-to-vector tracing (included as part of the CorelDRAW application)
.
The 2021 Graphics suite has everything in the standard and essential package including;
All-in-one design and layout
Alternative licensing models
Real-time collaboration
Subscription savings
Native OS experience
Obligation-free trial
Easy to learn & use
Extensive file compatibility
Next-Generation Collaboration
Flexible design space
Non Destructive Editing
Design for Web and Print
Extensive file compatibility
Graphics Design Gallery
Made especially for Windows OS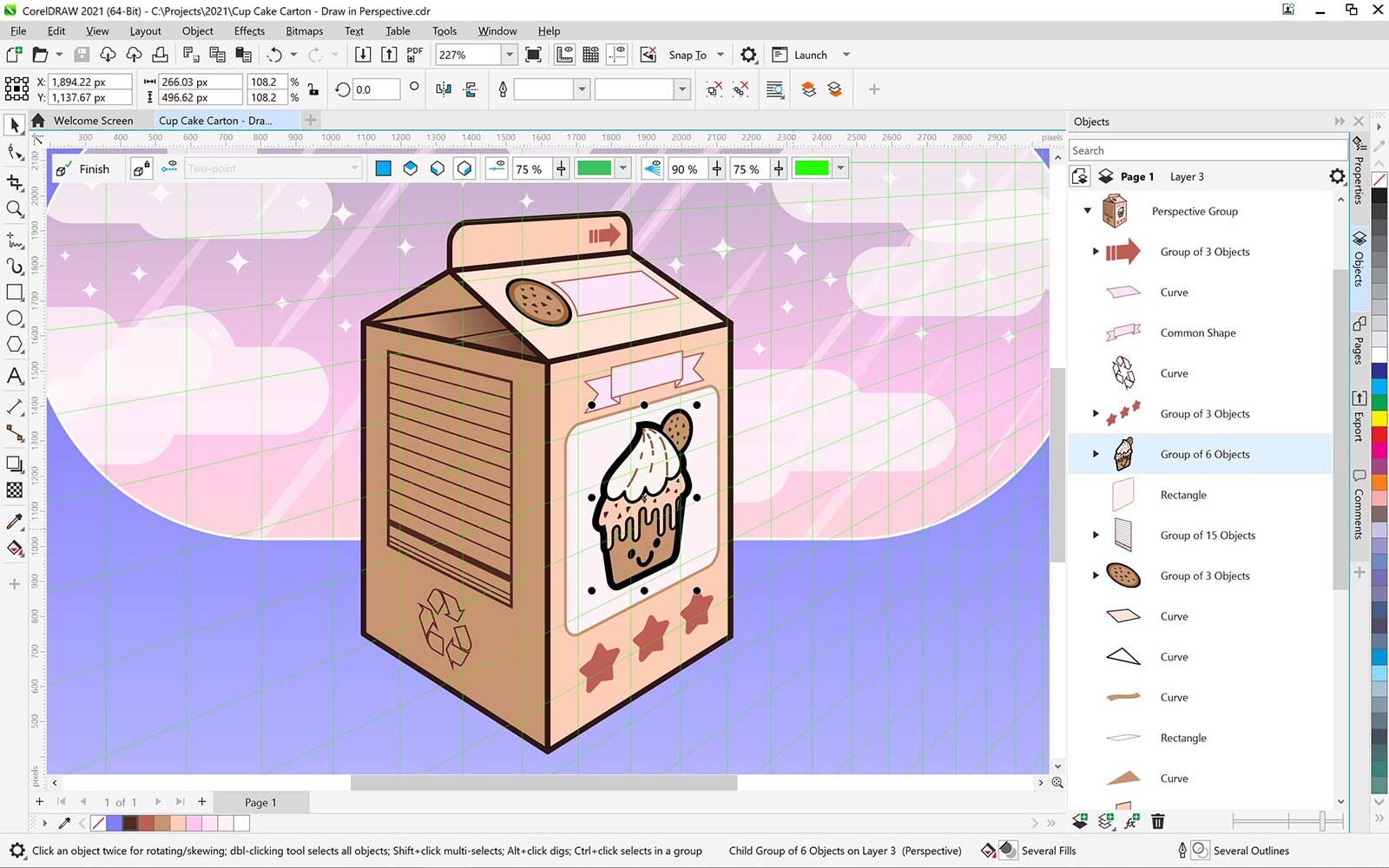 You can start the free trial here
Affinity Designer
Perfect for all graphics design skill level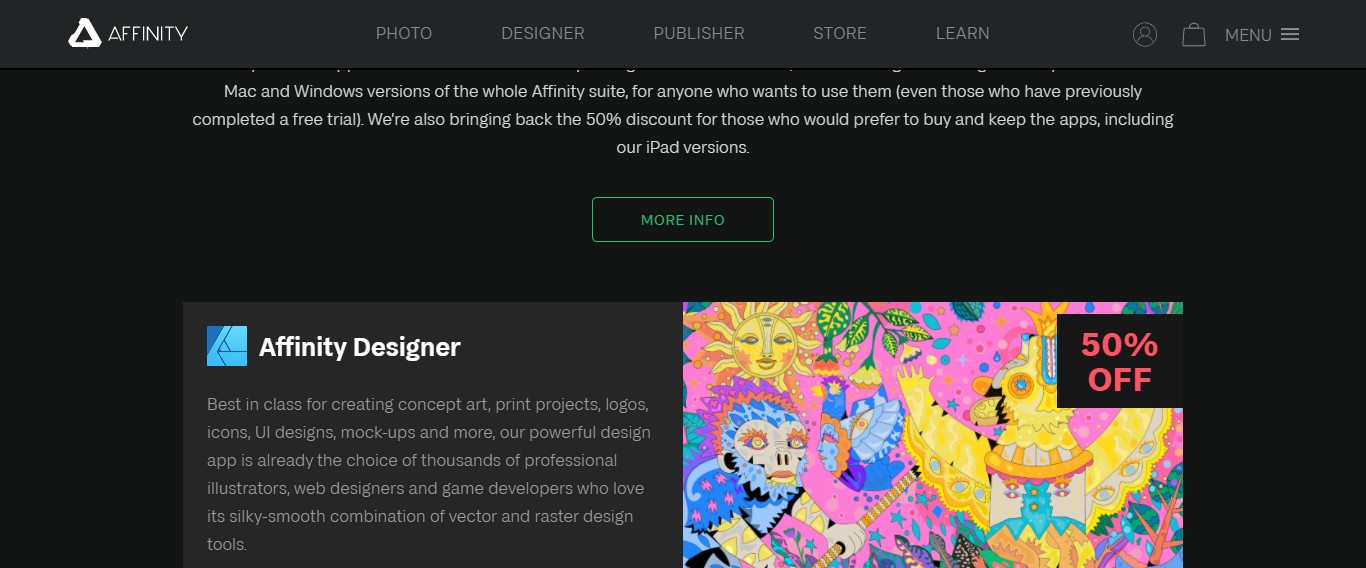 Source: affinity.serif.com
It is an award-winning vector graphics software that was developed by Serif for macOS, iPad, and Microsoft Windows. It was initially created solely for macOS, but in November 2016, its PC version was launched.
It is essential for creating realistic illustrations, icons, print projects, interface designs, mockups, web graphics, typography, and pattern designs. The interface is lightweight and easy to navigate.
It utilizes modern hardware to increase the speed and fluidity of workspace projects without obstructing the creativity of the user.
The app itself is not lightweight, so it requires a lot of RAM and storage space.
The app runs on a 64-bit multi-core optimization and hardware acceleration which makes the in-app designing and development processes fast. You can create and save your toolbars and toolbar presets. It has a stylish and minimalistic interface. Tool presets and options are automatically kept out of the artboard to help declutter the workspace and increase the user's concentration.
There is an option for a light or dark user interface. This option can be tweaked to adjust to the current daylight setting. Its easily accessible settings allow users to create and save custom keyboard and menu shortcuts.
Document states can be stored as snapshots. With its document autosave feature, you don't have to worry about file loss during unexpected shutdowns. There is a 90-day free trial option available to help users get comfortable with the software's many features.
key features
Tool Switching – This feature allows toggling between tools and temporarily switching between different modes in a workspace.
Live Gradient Fills – This tool takes the stress out of designing through the use of colors and gradients. You can apply transparency gradients to fills and outlines, and also adjust the nodes on this preset
Live Boolean Geometry – It allows you to calculate the combination of shapes and outlines with intricate precision.

Pricing
There is a fee of US$24.99 on Windows or Mac and US$9.99 for the iPad version of the software.
With the windows, Mac, and iPad versions, you have the following:
Optimization for complex documents
Ability to take care of thousands of objects without lagging
Document Organisation with layer groups and color tagging
Vector or Raster option or both
Keyboard shortcuts can be customized
Live outline view to select objects accurately
Unlimited artboards
You can save history with alternate futures
Various file formats like PDF, TIFF, PSD, EXR, SVG, AI, and JPG
Advanced snapping, grids, and alignment
Linked symbols and constraints
You can continuously export slices
Presence of 16 & 32bit RGB, Pantone, ICC profiles
One million percent zoom and unlimited artboards
Choose one and start designing now.
Inkscape
Perfect for beginner and intermediate artists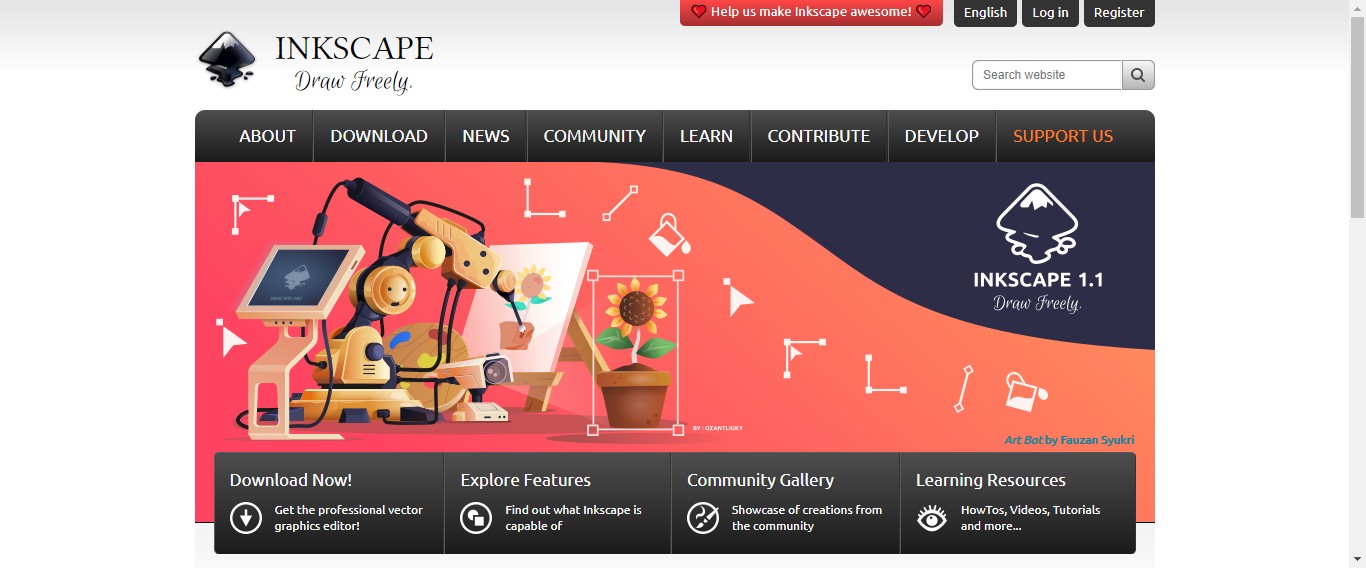 It is a free and open-source drawing software that is bundled like a paid graphics application. It is intuitive, beginner-friendly, and creates accurate designs, and is used for graphics and vector images.
It requires a small memory RAM space and can be used to create and design high-quality graphics and vector arts.
The user panels and the interface is easy to navigate, but one downside to it is that the sidebar panels don't reopen easily after it is accidentally closed.
Also, sometimes when developing high-fidelity artworks, the app may initial a force-close action. When that happens, ensure that you close all other applications and restart the application.
The themes and icons are customizable. There is an option to modify each tool and preset. The keyboard shortcuts are fast and easy to navigate. It speeds up the development of clean and scalable SVG files. Bitmap graphics are edited easily with its pre-installed editing tools and it is community-based and supported.
Key features
Compatibility – It is compatible with older OS versions.
Export options – Inkscape allows you to save different designs contained in one document as a whole, or separately, and export them at the same time.
Spiro mode – This option is available when using the pen tool.
It is an intuitive feature that allows the experimentation of shapes and objects. Shapes can also be drawn without sketches.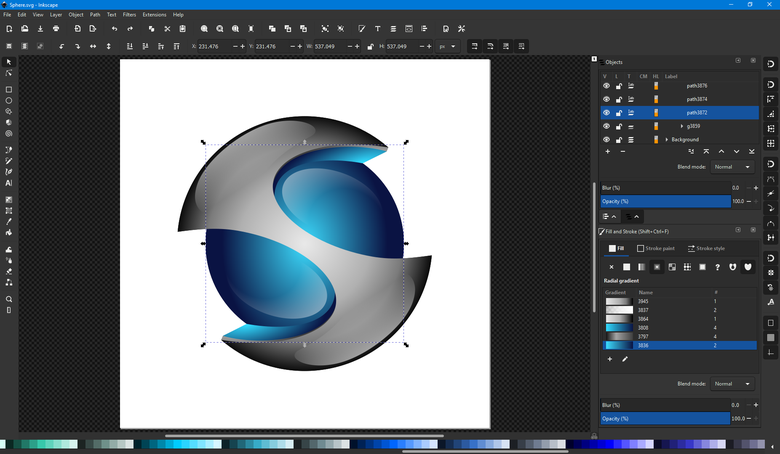 Inkscape is for you if you are an illustrator, designer, web designer, or simply someone who wants to create vector imagery.
Drawing instruments that are adaptable
Spiro and Bezier curves
File format compatibility is extensive.
Text editor with a lot of power
Want to learn more about how Inkscape may assist you? Examine the entire collection of features or give it a shot.
Pricing
It is free to use across all supported devices.
Autodesk SketchBook
Perfect for all skill levels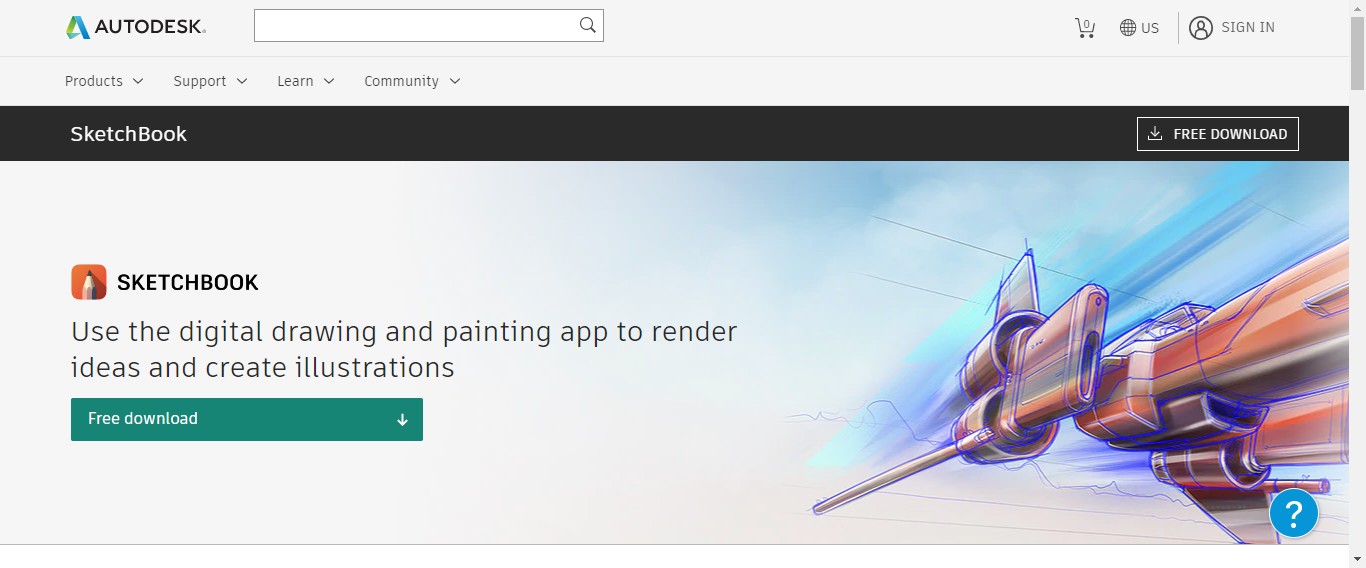 Source: autodesk.com
Are you looking for drawing software that can be used on smaller devices? Then you should check out Autodesk's SketchBook.
It is a great software for creating engineered representations of ideas.
The variety of sketching tool presets and resources helps to give your design project definition.
It allows you to stay creative on the go.
The downsides to using this software are limited scripting tools, file transfer is not seamlessly linked across all synced devices, and the absence of premade word balloons.
Regardless, it is still a pretty decent drawing software.
Perspective guides that help in the creation of multiple-point perspectives in projects. Option for a curved ruler to draw curves and sweeps is available. It has a huge brushes preset panel, and it also supports the creation of new brushes. Its intuitive symmetry and predictive stroke features let you create precise designs and sketches.
Key features
Flipbook animation tool – It allows users to create a wide range of in-depth sketches with motion.
Sketch scan – This is adaptable that allows sketches to be scanned and imported into the software's interface.
Time-lapse – This feature allows you to record the entire design process of each project for future references and comparisons.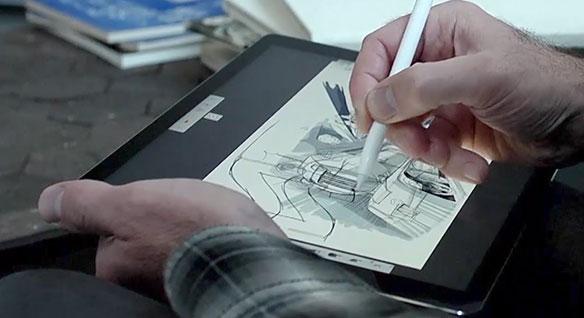 Pricing
Free to use across all devices.
Procreate
Perfect for all skill levels
Unlike the vector-based apps in this article, Procreate is a raster graphics software that creates detailed pieces of art with full color, texture, and effects perfectly.
Specifically designed for tablets and mobile devices, It aims to recreate the natural free-hand drawing done with an actual pen and paper.
Files can also be imported from a camera and exported to Dropbox, iTunes, as Photoshop PSD files and can be shared in-app, on various social media platforms.
One major disadvantage is that the one-off purchase is rendered null and void when your device crashes or switches between devices.
It operates on a Valkyrie graphics engine that increases the speed of built-in tools. It increases your device's core performance. Its advanced ProMotion technology lets you paint at a speed of 120fps. It does all the work so you don't have to.
The customization functions of the brush presets and panels are limitless. In Procreate, you can switch between layers can be done with a tap. This is especially useful when working with multiple layers in a project.
All of its brushes are handcrafted by professionals to meet the artistic needs of designers. Its multi-touch gestures maximize the user interface and optimize workflow. The filter panel contains some industry-level finishing effects like Noise, Liquify, and Chromatic Aberration which is simple to use.
Procreate has revolutionary brushes that intuitively use the selected texture of the grain into the brushes shape. It lets you create artworks with depth.
Key features
StreamLine – Turn your projects into beautiful pieces of art with this tool that lets you create precise strokes, with minimal errors.
Full font control – Create artworks with depth and beautiful typography with this tool.
You also get the option to import your favorite fonts right into your workspace.
Creative digital effects – You can refine your designs with some extra effects. Choose from the unique FX panel to make your already gorgeous designs more appealing.
Animation assist – Translate designs and create stunning 2D animations with this AI-assisted feature. Make use of the onion skinning, looping GIFs, and storyboards to bring your creation to life.
QuickShape – It lets you create shapes with perfect geometry without having to click on the menu panel, buttons, and change modes.
You can also share your art across multiple devices and with other people
Pricing
The iPad and mobile versions can be gotten at the rate of US$9.99 as a one-time purchase. It is surprising that the Procreate app costs just $9.99 to download. There are no subscription or renewal costs. You only have to pay once for the app.
If you already have an iPad Pro and an Apple Pencil, that's a really good price. This procreate gets a little more appealing every month when you have to pay a higher cost for other apps like Adobe.
For less than 10USD, Procreate is worth trying even if the features may not be all-encompassing.
Adobe Photoshop
Perfect for all skill levels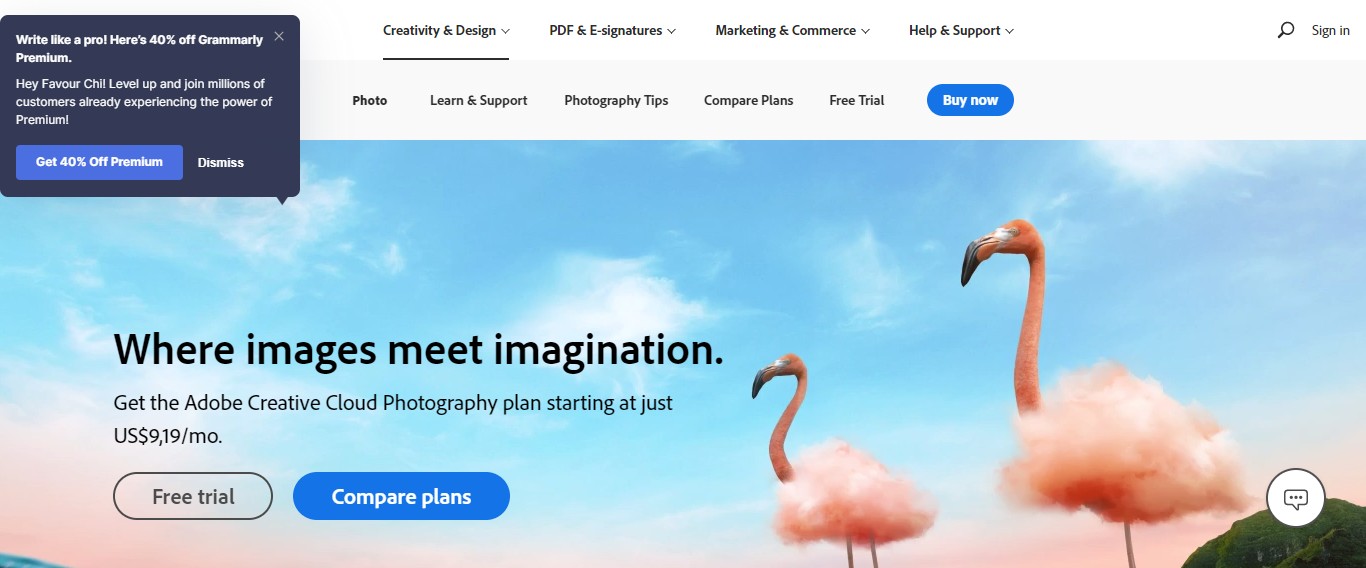 Photoshop is a world-class professional graphics software that has simplified object manipulation which helps designers to create product mockups, professional websites and mobile applications designs, major photographic edits, fliers, icons and logos, and other typography projects.
It is a raster graphics software that has tons of creative resources that can help you to come up with innovative designs and transform impossible projects into realities.
Photoshop comes pre-packed with a few disadvantages;
– it requires a high graphics card to create top-notch design patterns.
– it requires a lot of RAM and storage space; it is not fully functional on a device with less than 4GB of internal memory.
– since it is not vector-based software, the options for manipulating vector graphics are limited.
– it is a pricey application, so it is not a hit with amateurs and beginner graphic artists.
– the quality of your created artworks does not remain the same when scaled up to large sizes. This is because it is raster-based and utilizes the pixel convention.
You have access to the Adobe Stock library for free resource packs and designs. Photoshop comes with a 7-day free trial to help new users get comfortable with the software's interface and presets. Also, 100GB of cloud storage and free access to Adobe fonts, that are made possible when you subscribe to or renew a payment plan.
Files are synced across all linked devices, so you can create or edit new work on the go. It comes pre-installed with an advanced user interface that isn't suitable for beginner graphic artists and it has special integrations for UI and UX designing.
Social media posts can be created with a wide array of tools and presets. It doubles as a regular photo editing app that produces impeccable pictures and alterations. The easy-to-use license management and policies allow members of a team to be added to the same pan.
Create files with different names or file formats when you click on the Save button. It takes the hassles out of the overall file-saving process.
Key features
Video editing – Creating and editing videos with Photoshop is a sure thing. It packs on an integrated and simplified panel that enables the production of surreal videos.
Adobe Sensei – Adobe sensei helps in the precise manipulation of shapes and objects, so you don't have to worry about crooked pieces in your projects.
Other app integrations – With Photoshop, third-party applications can be linked seamlessly. You can also log into your portfolio accounts, save and edit projects.
Neutral filters – You can choose from different filter options to create realistic patterns, icons, and images.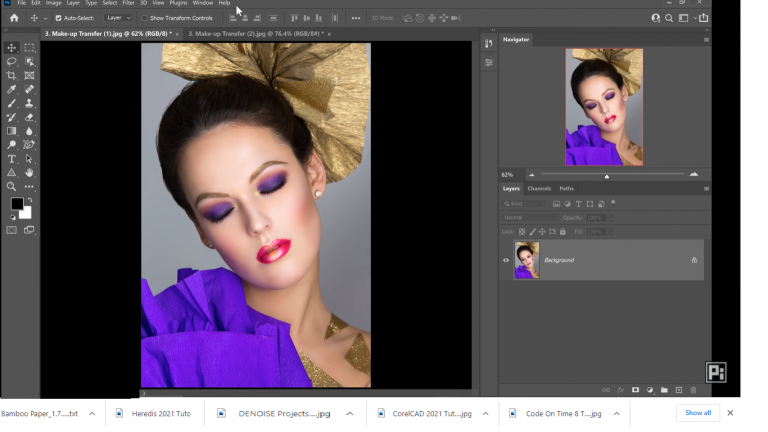 Pricing
Adobe Photoshop comes at US$22.99, US$11.49, and US$9.19 prices per month.
The $9.19 plan for the first year has the features of Adobe Lightroom, lightroom classic, Adobe Spark, Adobe Photoshop, IPad photoshop, Adobe portfolio to build your website, photoshop for desktop, and 20GB of cloud storage.
After the first year, you can renew with the $22.99 plan and have most of the features and comes with 1tB of cloud storage or the USD 11.49 plan which comes with 1TB of cloud storage but does not have a lot of features. You can check out the $9.19 plan here
ArtRage
Perfect for all skill levels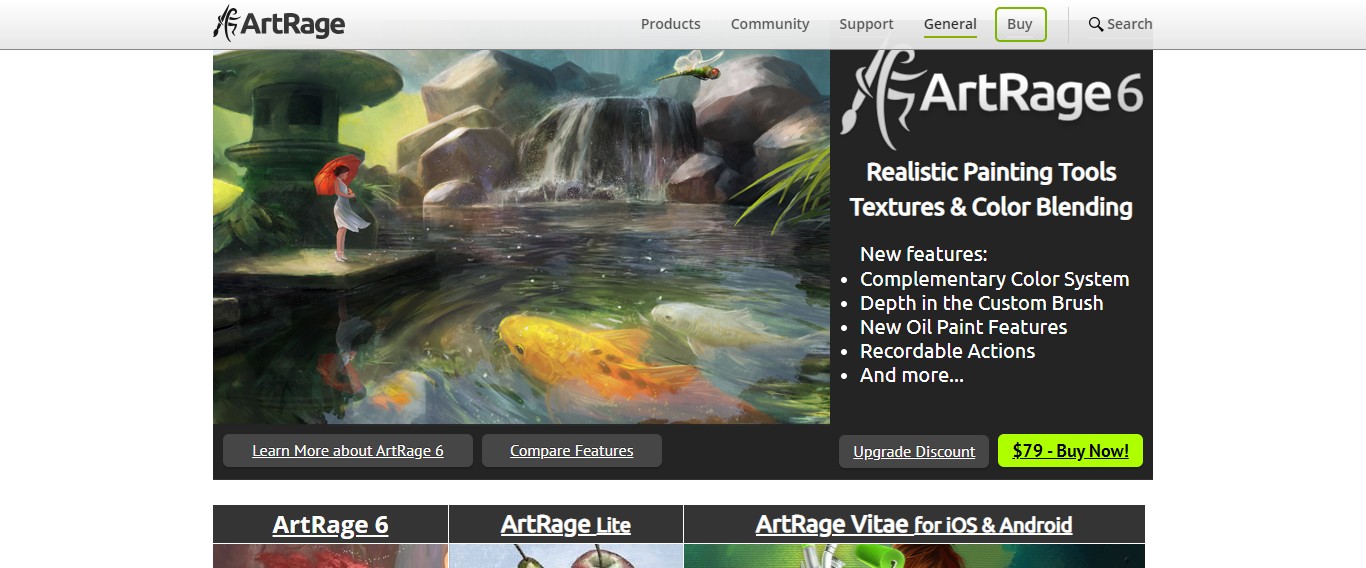 Source: artrage.com
ArtRage is a bitmap graphics editor for digital art creation. It is one of the few bitmap graphic editors that gives full control and customizable features.
It is a digital artist's studio that includes a full set of recognizable tools that imitates almost exactly the real drawing. It's a canvas for strong, expressive oils and delicate watercolors. It has a sketchpad with a complete set of pencils, a sheet of paper that has a stack of wax crayons.
ArtRage's work is to produce natural color gradients, smear and combine heavy oils, draw with pencils and shade with the tip of the pencil, make delicate watercolor strokes that react to the texture of the surface, and much more.
It is supported and fully functional on Mac, Windows, iOS, Wacom Cintiq devices, tablets, and Android.
ArtRage comes in different device-specific packages;
ArtRage 6 – This is the complete art studio packaged for Mac and Windows devices.
ArtRage Lite – It is bundled for Windows and Mac operating systems and packed with the basic tools required by beginners and intermediate graphic art lovers.
ArtRage Lite aims to emulate traditional painting and sketching as naturally as possible. It's simple to learn even if you've never used a digital art tool before, and it allows you to keep using your experience and traditional art talents.
ArtRage is not your typical digital art program: it's a little messier, has more area for inspiration, and is incredibly adaptable. No other program provides the stunning textures, simple color mixing, and creative freedom that ArtRage delivers. We took time to explain this package because it is the easiest to use for beginners.
ArtRage Vitae – It is bundled for iOS and Android operating systems. It contains all the core tools that are available in the Mac and Windows version.
It has a few disadvantages which include;
– It requires frequently paid upgrades
– Its dimensions are in pixels, so it limits the type of artwork that can be done
– The watercolor tool lags occasionally making it difficult to use.
– The pencil tool in the PC version lacks the natural realism that is achieved when using an actual pencil.
– Getting used to the keyboard keys and actions can be hard.
It is suitable for non-English users because it has an extensive manual and documentation that is published in different languages. The built-in blend modes can be used to create high-quality designs and projects.
The user interface is easy to use and navigate and it is beginner-friendly because it contains numerous videos and guides on navigating the software for first-time users. It is bundled with various professional editing tools and presets such as Tracing and Reference Imaging, textured canvas, customizable gradients, and multiple layers.
It is lightweight and requires a small amount of storage space to be fully functional.
Key features
Unique script files – Script Files can be used to record and playback the design creation processes so that they can be accessed at a later date, in order to recreate every bit and piece of the design.
Script files can also be shared with other users in ArtRage. Users can also make notes, record, and playback annotations while making designs using the shared files.
Script playback – Script files can also be played back at different resolutions and speeds across all connected devices.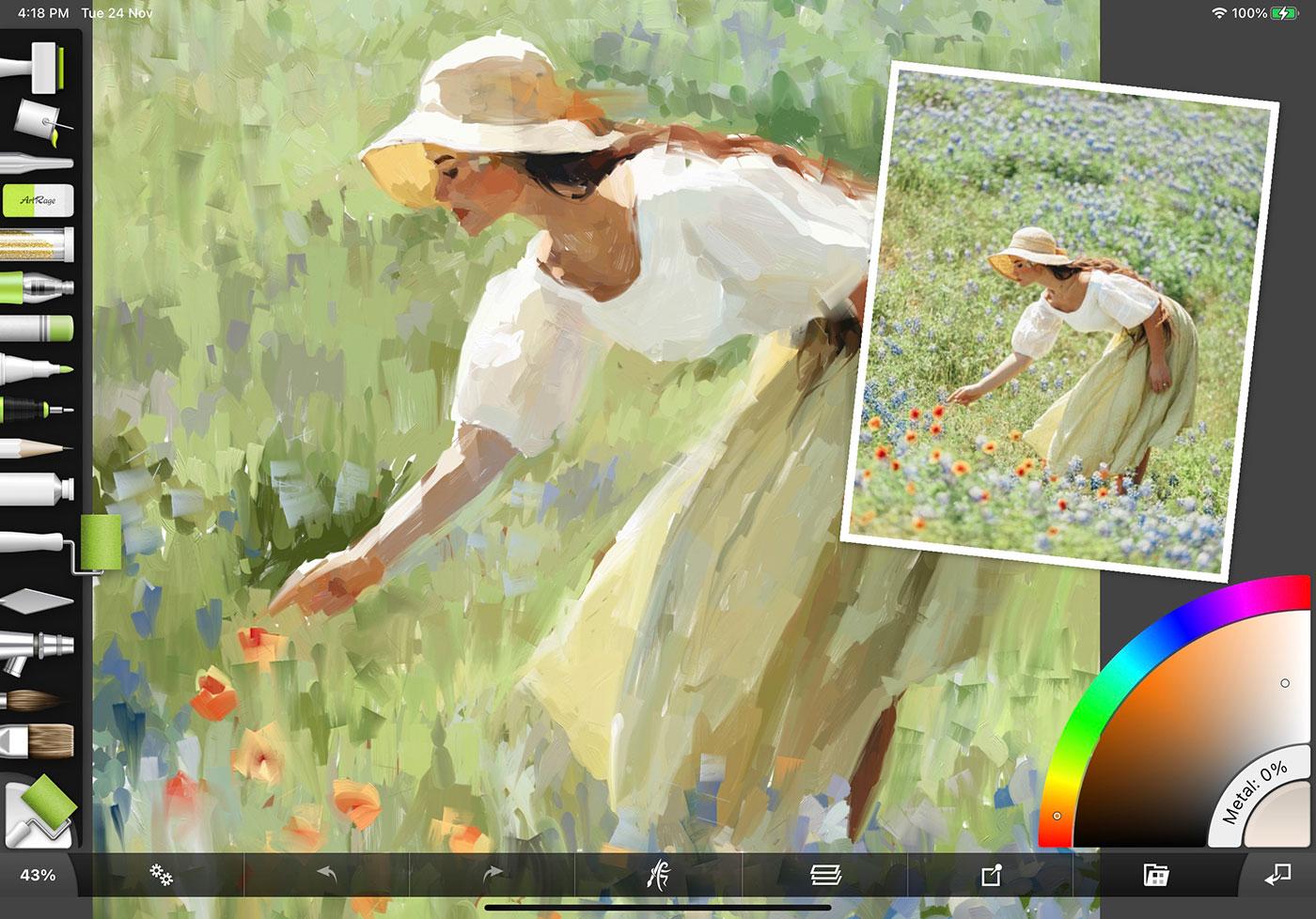 Pricing
ArtRage 6 can be bought at a one-time purchase of US$79. It has the following new features
Custom brush for in-depth painting
Complementary colors
Automated recorded actions
Canva customization
Thicker paint strokes with Gloss and Impasto
Retina Supoort for MacOS
.
ArtRage lite can be bought at a one-time purchase of US$29.90. It has the following new features
Improved Performance but eas to use for beginners
Ink Pen Opacity
Paste from External Clipboard
Canvas Positioner
Updated Interface
Canvas Lighting toggle
ArtRage 6 Discount added to Help menu
ArtRage Vitae can be bought at a one-time purchase of US$3.90. It has the following
16 tools with countless variations through Presets and Settings.
Natural Painting Tools: Palette Knife, Oil Brush, Paint tube, Watercolor, Paint roller.
Sketching & Drawing Tools: Pencil, Airbrush, Ink Pen, Felt Pen, Wax / Chalk Pastel, Eraser.
Utility Tools: Color Sampler, Flood Fill.
Special Effect Tools: Color Sampler, Cloner, Glitter Tube, Gloop Pen.
Canva
Perfect for individuals and businesses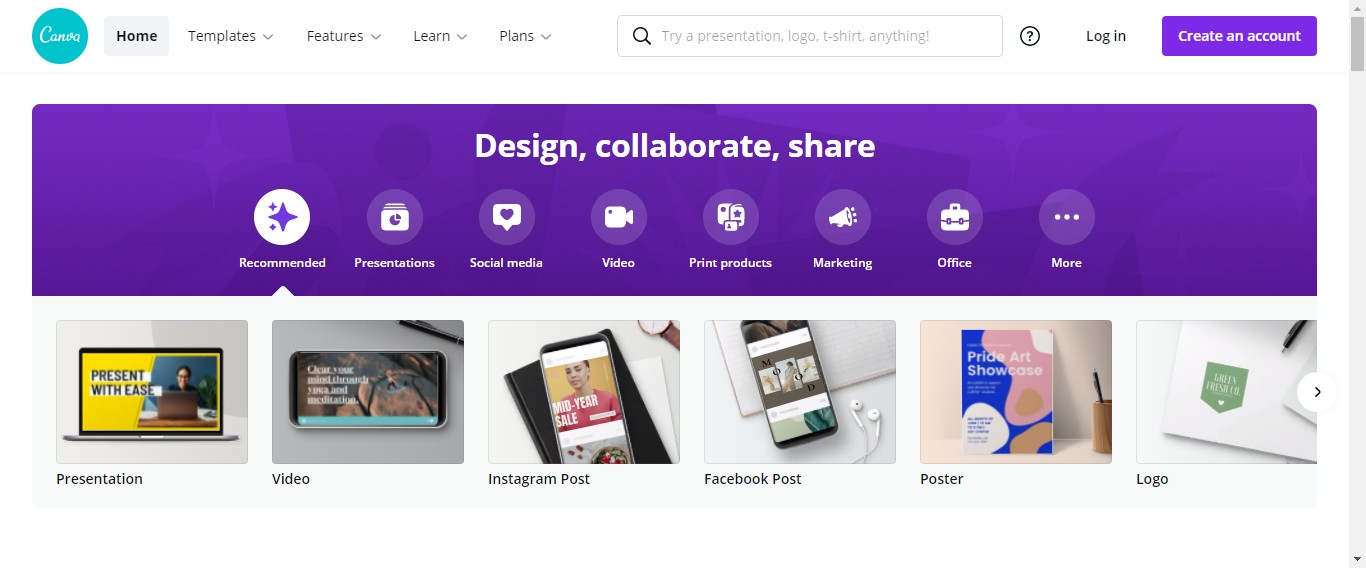 Canva is a graphics design software that can be used to create social media content, presentations, logos, flyers, documents, posters, and other visual designs.
It was specifically created for iOS and Android platforms, to help designers create and edit appealing designs on the go at no extra cost.
It is lightweight and is compatible with various OS versions.
It offers four different packages which are;
Canva Free – This package enables people who are interested in graphic art to design quality artworks at no cost.
Canva Pro – It is aimed at people and companies in need of unique designs. With this version, brands and teams can come together to work on projects that can help expand their businesses.
Canva Enterprise – This is suitable for large companies with the need to simplify their work into smaller executable bits. It has the tools required to manage and secure workflows.
It has a few disadvantages which are;
– It doesn't have a wide range of image edit options
– The user interface may appear amateurish to seasoned graphic designers.
– The snap-to-position feature does not provide accurate results.
It comes with a lot of free professional editing tools and templates that can help to create something new. The pro version is available for education and nonprofit organizations. It is available to users in 100 languages and is beginner-friendly.
Key features
Drag-and-Drop – This feature allows the creation of intricate designs from scratch, with ease and speed.
Scheduled content – You can create, edit and publish finished designs directly from Canva to various social media platforms.
Live collaboration – Designers can share projects and ideas in real-time. The shared files can be accessed anywhere via supported and synced devices.
Customizable templates – There is a template available for every design need. They can be edited to recreate new patterns which can be simple or complex.
Custom Search – This functionality makes it easy to discover images and elements that can be used to create awesome designs.
You can search for and download specific elements that can be combined in a project.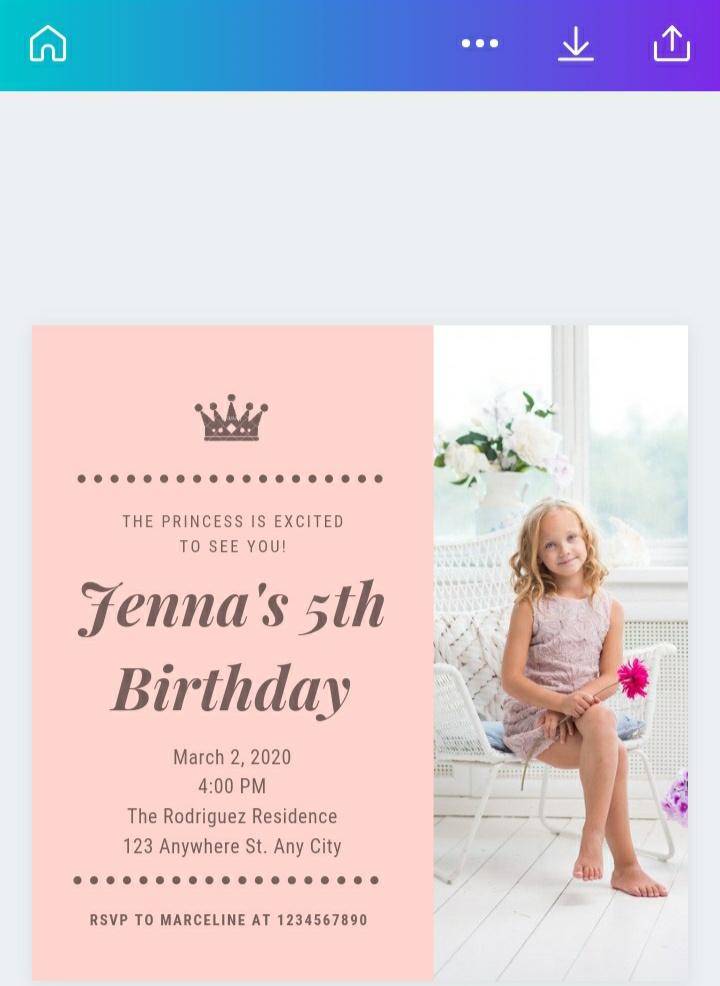 Pricing
The Canva Free version is free to use.
The Pro version is billed at US$9.99 per month and US$119.99 per year.
The Enterprise version is billed at US$30.00 per month per user. There is a 30-day free trial for the Pro and Enterprise versions
Gravit Designer
Perfect for designers of all skill levels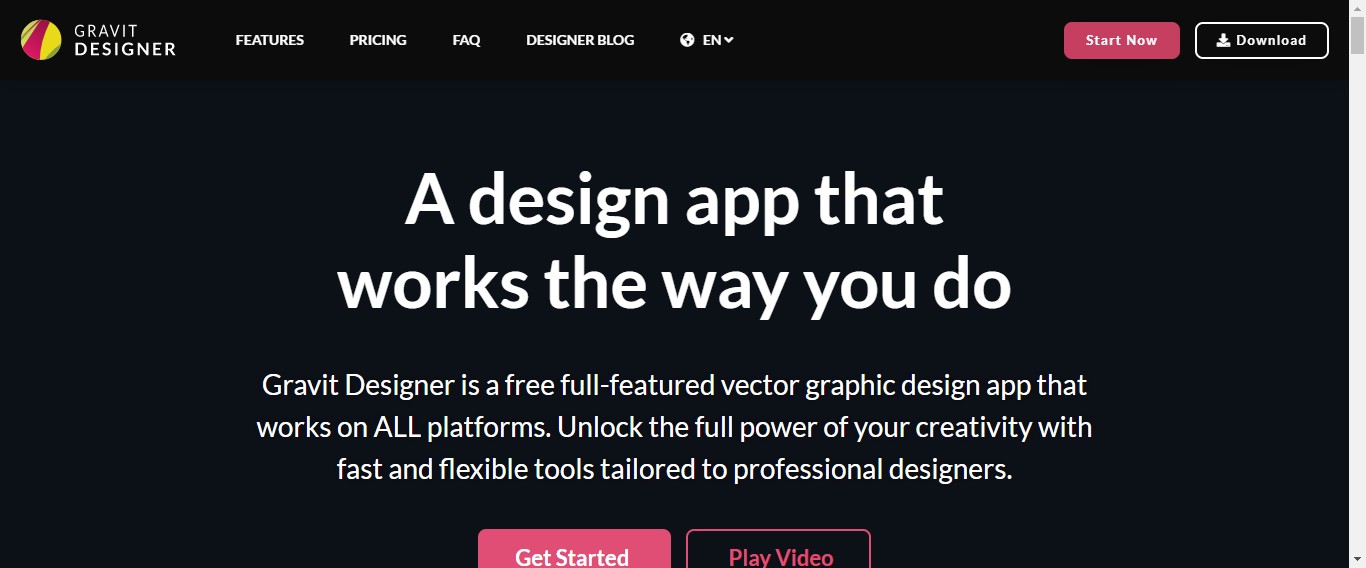 Source: designer.io
This is a vector graphic design software that lets users create images, UI mockups, website designs, for print, social media, and export purposes.
Gravit Designer boosts a smooth learning curve for first-time users. It has extensive community support with resources to keep you engaged and inspired.
It comes in a free and paid version, so you get to choose the one best suited for your needs.
It has a few disadvantages which are;
– Multiple team members cannot access shared files at once.
– No functionality allows the in-app testing of finished designs.
Key features
Graphics imagery – creating designs is made easy with a wide range of tools and presets.
It offers unlimited cloud storage for the Pro version and 500MB of storage space for the free version.
The Pro version comes with an offline feature that allows users to create and edit designs without internet connectivity.
It has a built-in function for touchscreen support.
It has a 30-day money-back guarantee for the paid version.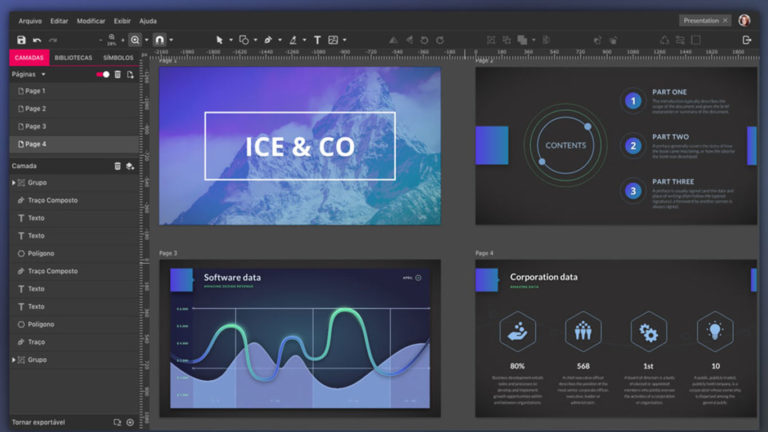 Pricing
A yearly subscription of US$49.00 allows you to use the app's Pro features. You can try the pro version free for 90 days
FireAlpaca
Perfect for illustrators and animators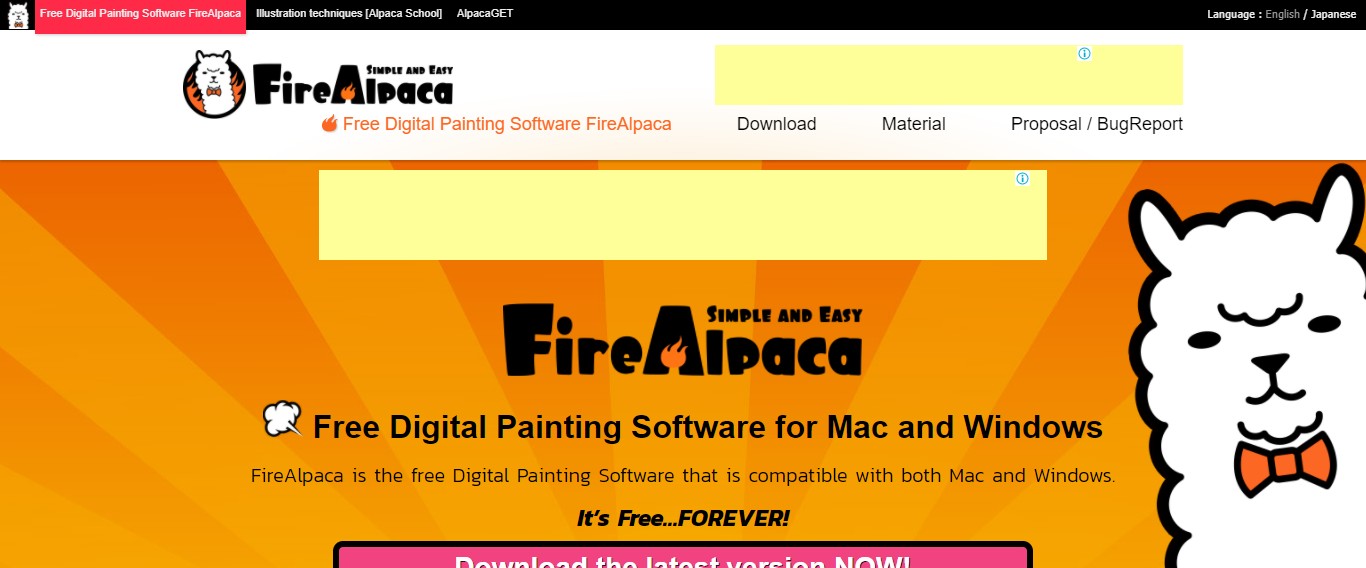 Source:firealpaca.com
It is free digital drawing software that was developed by a Japanese software developer. It is available for use on devices running on Mac and Windows operating systems.
It supports the creation of GIFs and animated SVGs. Custom brush presets can be created and exported outside the workspace.
It has support for 10 major languages. It is lightweight and processes designs at a fast rate.
Manga and comic settings – It is fully equipped with the tools required to create custom and superior comics and manga.
Line art – The correction feature in the line art can be turned on to automatically correct lines and edges in order to achieve a smoother and precise finish.
Features
The features are fully functional on low-end devices.
Brushes can be snapped to visual guides on the canvas.
Gradients can be easily painted onto objects on the canvas.
It can be used to create animated shorts.
The brush panel automatically combines two colors, in order to give each stroke a natural and artistic look.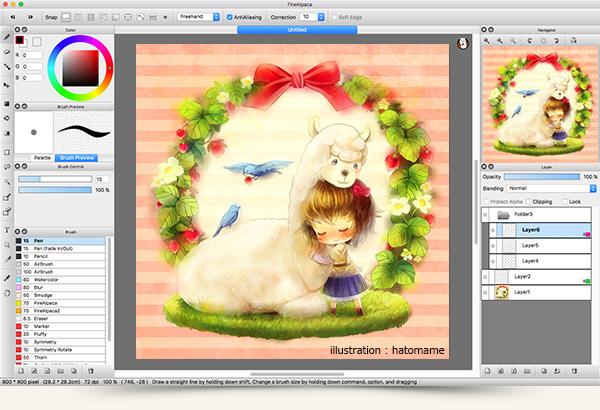 Pricing
It is free-to-use software.
GIMP(GNU Image Manipulation Program)
Perfect for designers, researchers, photographers, and illustrators.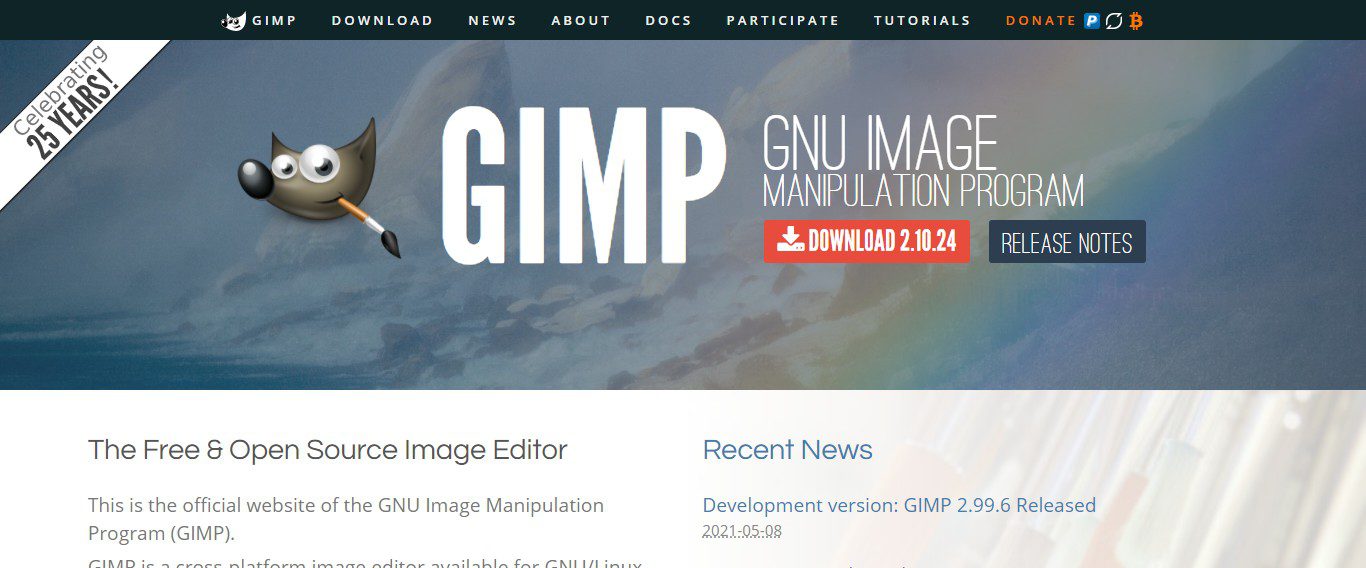 It is a cross-platform raster graphics editor that is available for use on various operating systems. It creates astonishing designs with fluidity. The software's source code can be modified by the users in order to suit their personal app needs.
Gimp gives you control over every aspect of your project. It is available for download on mobile devices as XGimp Image Editor via the App Store. Manipulation of the highest caliber. GIMP includes all of the tools required for high-quality image modification. The only restriction is your creativity when it comes to retouching, fixing, and creating artistic composites.
Creation of Unique Artwork
GIMP allows artists the power and flexibility to modify photos into genuine one-of-a-kind works of art.
Graphic Design Elements. GIMP is a program used to create icons, graphical design elements, and graphics for user interface components and mockups.
GIMP is open source. The app is extensible via integrating with a variety of computer languages, including Scheme, Python, Perl, and others. As a result, there is a great level of customization, as shown by the enormous number of scripts and plug-ins available in GIMP.
The major disadvantage is that;
– The user interface is hard to use.
Features
The use of 3rd party plugins is supported.
High-quality image restoration and editing.
Its color panels and swatches ensure high-fidelity color reproduction across print and digital media.
It helps to create top-notch designs when used in combination with other free software such as Inkscape.
It is a hit among non-English speakers because it is available in 80 different languages.
It is capable of handling large professional projects and designs.
Images consist of many layers of transparencies.
Key features
Foreground selection tool – It can be used to extract foreground elements that are in focus.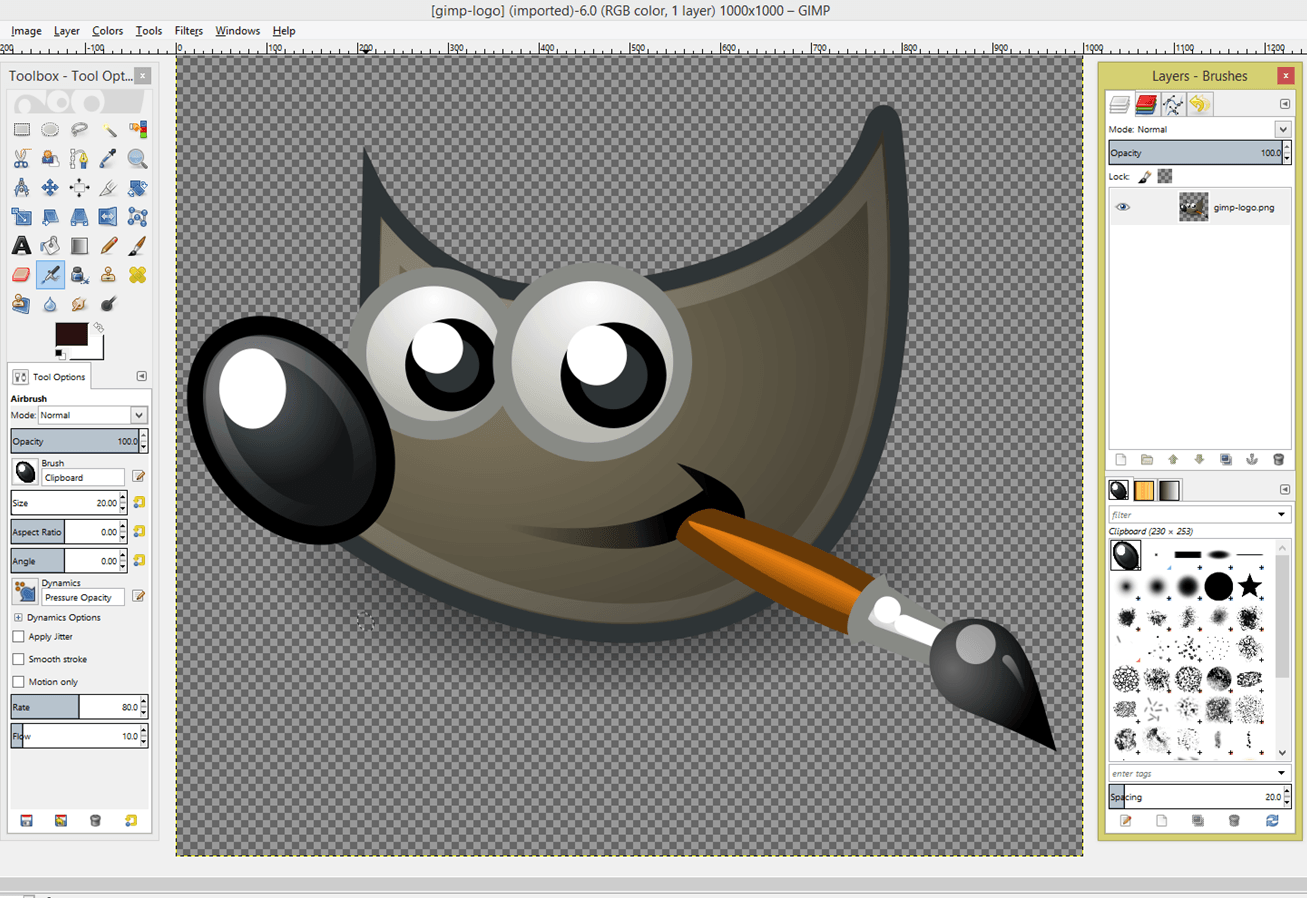 Pricing
It is free to use all supported operating systems.
Easy Paint Tool SAI
Perfect for artists of different skill levels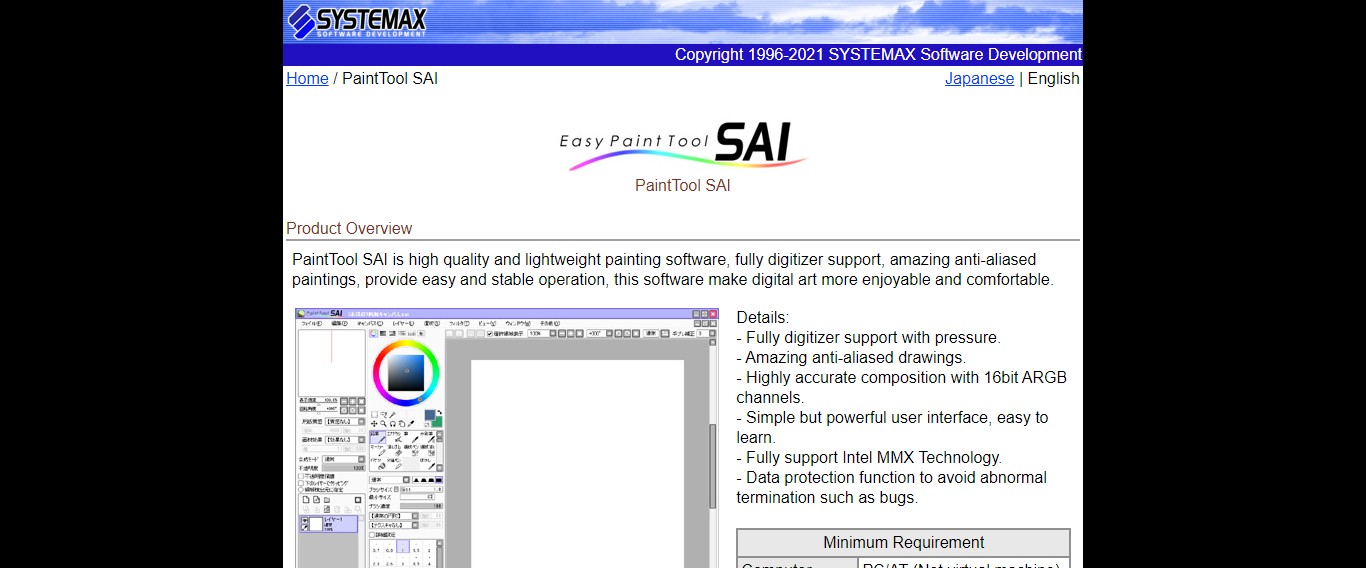 It is a lightweight and versatile digital image manipulation program.
The software's functionalities work better for digital artists and illustrators than graphic designers.
It has a few disadvantages which are;
– It does not does have support for exporting files and editing them in other drawing software.
– The support for PSD file format is not fully functional.
– It does not have the features required for finishing Image touches and edits.
Key features
Hardware support – There is a unique support for various input devices. Actions that are often used can be bonded to devise events to help speed up the entire workflow.
Channel mixer – It provides powerful presets that help to improve your black/white images.
It has a 31-day free trial version and it provides tool support for anti-aliased drawings.
It does not require a high device GPU and the interface is user-friendly and easy to navigate.
Each task requires a different environment and it is customizable in the user settings. The interface can be stacked into different tabs.
It features a fullscreen mode that allows previewing and editing of the current artwork. It has a highly customizable interface.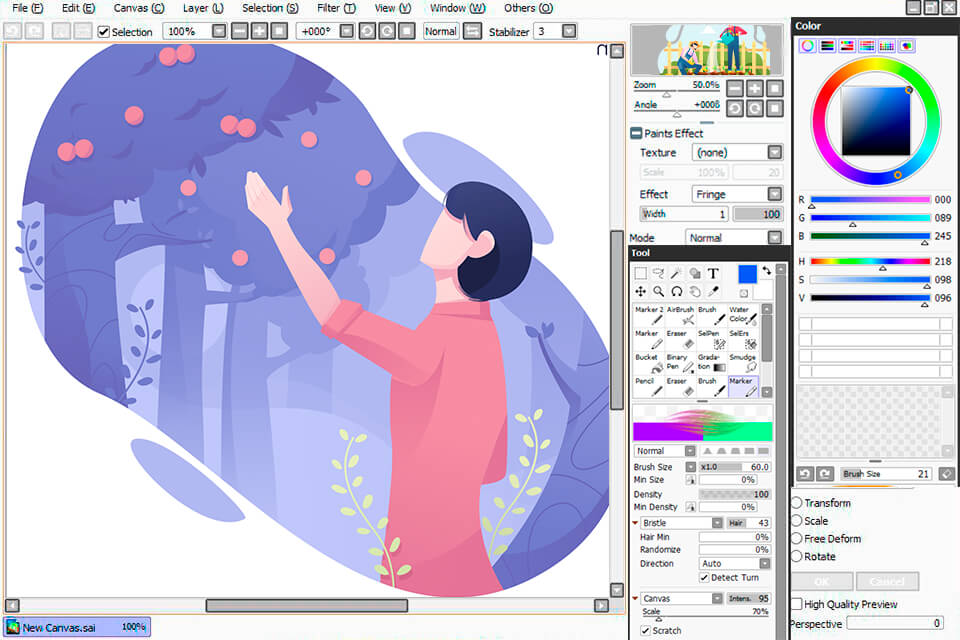 Pricing
PaintTool SAI offers only enterprise pricing licenses to its users and it can be purchased for US$50.81.
Concepts
Perfect for illustrators and designers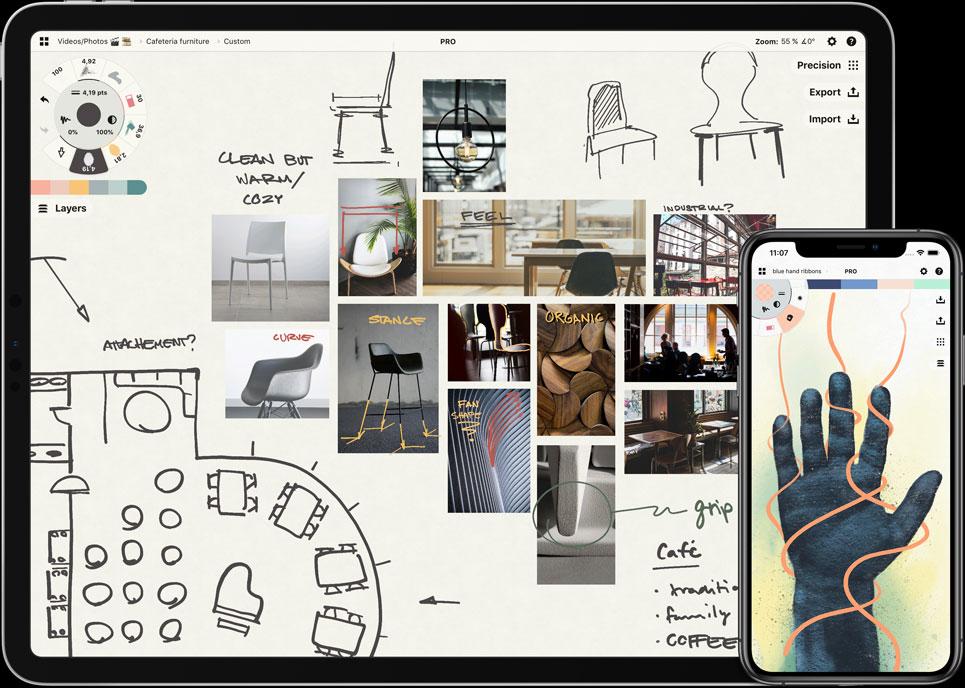 Source: concepts. app
It is a unique and flexible sketch app that works perfectly on devices running on Windows 10 OS platform. It is specifically optimized for Wacom tablets and other similar-level touchscreen devices.
It strives to emulate the natural feel of sketch pen against paper, so you can relax and be fully immersed in the creative design process. Concept claims to be a succeeding hybrid vector-raster Fluid Engine that powers Resolution Independent Concepts – 64-bit precision with low- and mid-processing, It is an unlimited canvas with precise strokes at any magnification level, and mobile from the scratch.
It is an App designed for performance. Concepts are much more intuitive than any other drawing experience because it is optimized for high-performance 120Hz monitors and ultra-low latency styli like the Apple Pencil and Surface Pen. It's like paper, but better.
In Concept, you sketch without commitment. It makes quick revisions or experiments with fortunate accidents – Concepts is extremely adaptable. With a tap+hold, you can duplicate, measure, modify the tool, line weight, or colors of anything you've ever drawn.
The major disadvantage is that app experiences differ from one device to another.
Key features
Make Your Objects (MYOO) – Various hand-crafted objects can be stored and easily accessed. This way, quick and unique elements can be added to projects.
A huge canvas that can be sectioned off for group illustrations and sketches.
Velocity features can be enabled on touchscreen devices for flexible sketches and drawings.
Sharing capability allows you to effectively sync and work on files with others.
Pricing
Essentials pack can be purchased for the free version for a one-time price of $9.99.
The Pro version can be purchased for $4.99 per month or $29.99 per year.
Corel Painter
Perfect for advanced illustrators and designers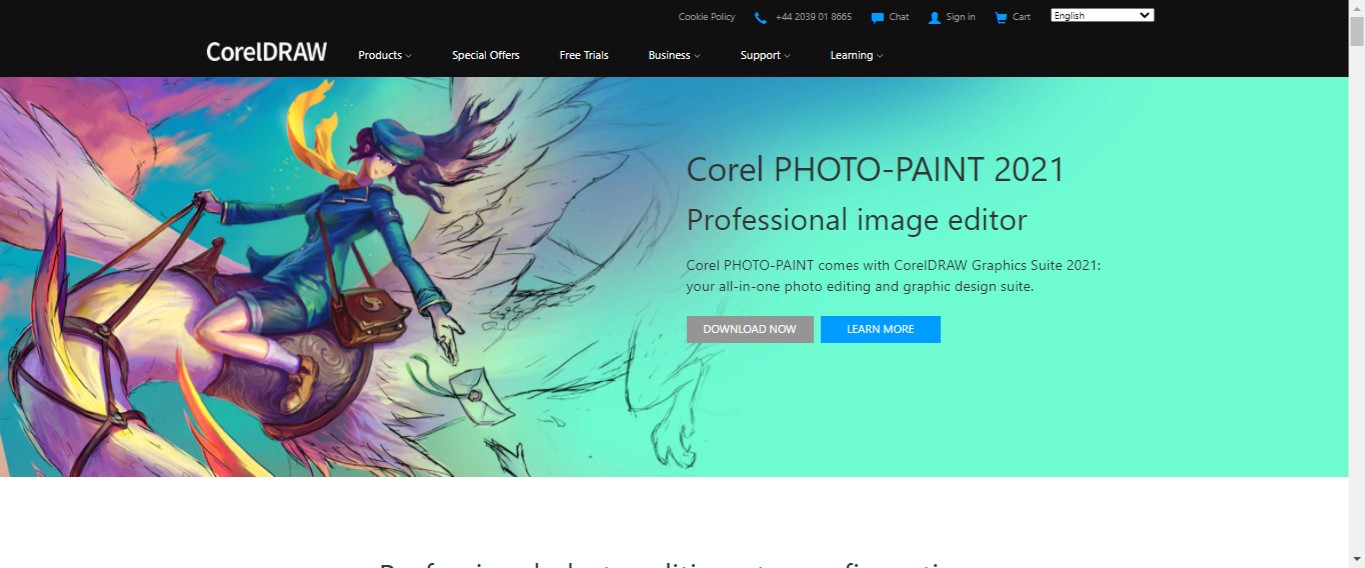 Source: painterartist.com
It is a raster-based digital graphics software that was created to accurately simulate the elements of traditional media associated with drawing, painting, and printmaking.
The Corel Photo paint has new features. The new Replace Colors filter has been completely redone. Color pickers with eyedropper tools have been enhanced. Also, a fully updated control has been embedded to allow fine-tuning hue and saturation ranges increasingly simple.
The HEIF assistance is another new feature of the Corel Photo paint. This new feature makes use of photographs taken on iPhones that support High-Efficiency Image File (HEIF) for better picture effects.
The new Docker alterations give you rapid access to crucial and frequently used filters, allowing you to work non-destructively, promptly, and contextually. The new Local Adjustment Mode makes it easier for you to apply a filter to a particular area of a photo.
One major disadvantage of the software is its heavy memory consumption.
Key features
Auto-paint – This feature allows the creation of powerful works of art.
It offers users a 15-day free trial.
It is equipped with various professional drawing tools to help you sketch, draw, paint and illustrate to produce realistic art.
It has support for stylus tilt and touch-sensitive devices.
A unique artificial intelligence process that allows you to bring your photos to life.
The concept art tool is optimized for film and game environment development.
You can create and import custom palettes, brushes, and other custom content.
The enhanced brush smoothing is perfect for precise illustrations.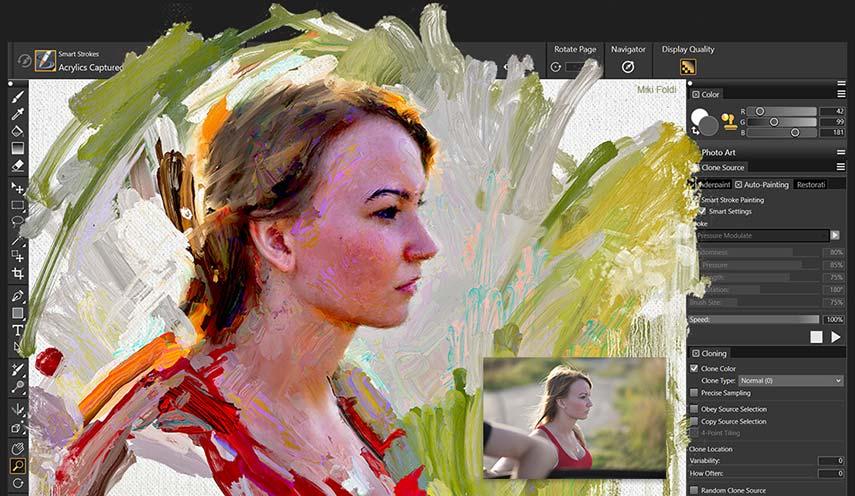 Pricing
The full version can be purchased for US$429.00.
You can also purchase the Corel Graphics tools at 33.25 USD per month or be billed annually at $399 with a 30-day money-back guarantee featuring 7 apps.
Clip Studio Paint (Kurisuta)
Perfect for comics illustrators and painters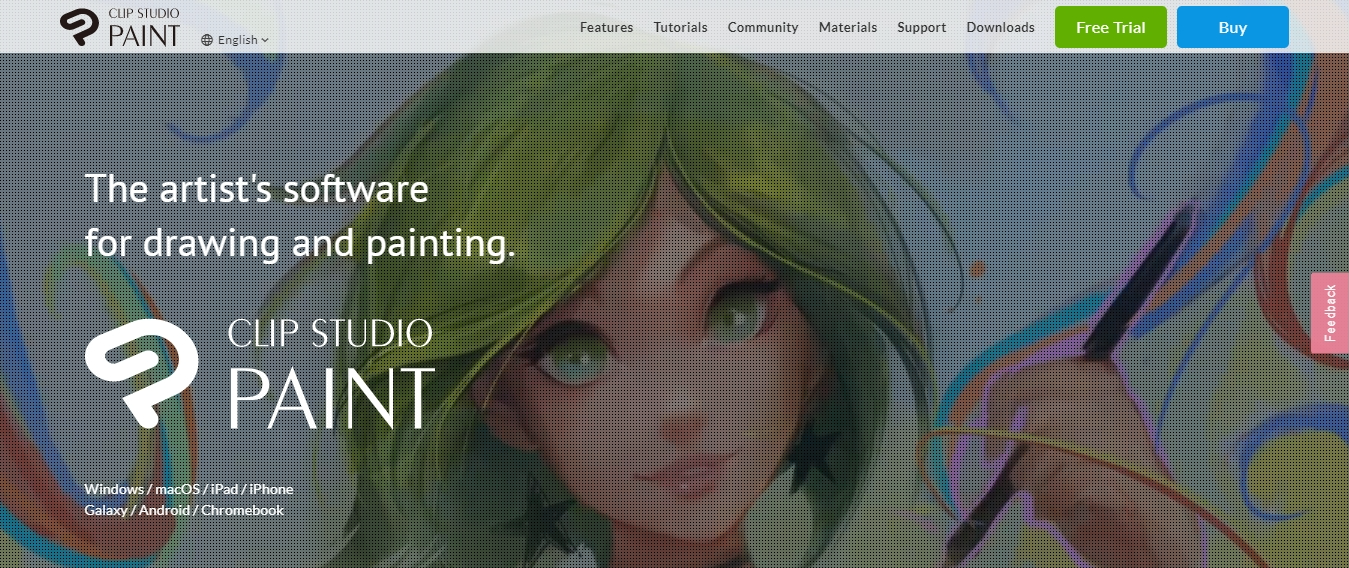 Source: tips.clip-studio.com
It is a powerful digital comics creator that was developed by a Japanese graphics software company.
It comes with a launcher on the user interface where the materials created by other users can be accessed. All downloaded resources can be exported out and saved in a separate folder on your device.
It has an extensive asset library.
There are 2 different packages available to users and they are,
– Clip Studio Paint Pro
The difference between the two plans is Single/Multi-page comics and illustrations. Also, the Pro package has up to 24 frames for GIFs and animations while the EX package has unlimited frames for professional animations. The EX package has Export and print multi-page files and can convert images and 3D models into lines and dot shading
Key features
3D tool – This tool allows a user to use and modify the available 3D models of characters, objects, backgrounds, and images in order to create new art.
Stabilizer – This allows perfectly smooth and homogeneous lines to be drawn.
Simplify Vector Line – eliminates anchor points in strokes and lines.
Pinch Vector Line – allows users to move a line without moving its anchor point.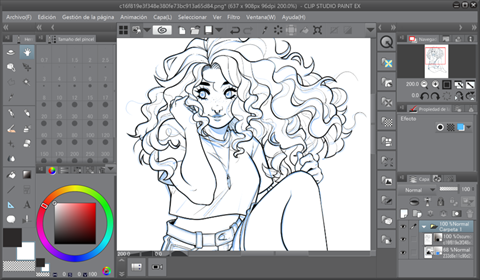 Pricing
The Clip Studio Paint Pro can be bought for a one-time US$49.99 ++
purchase or US$0.99 per month.
The Clip Studio Paint Ex can be bought for a one-time US$219, or US$2.49 per month.
paint.NET
Perfect for artists of all skill levels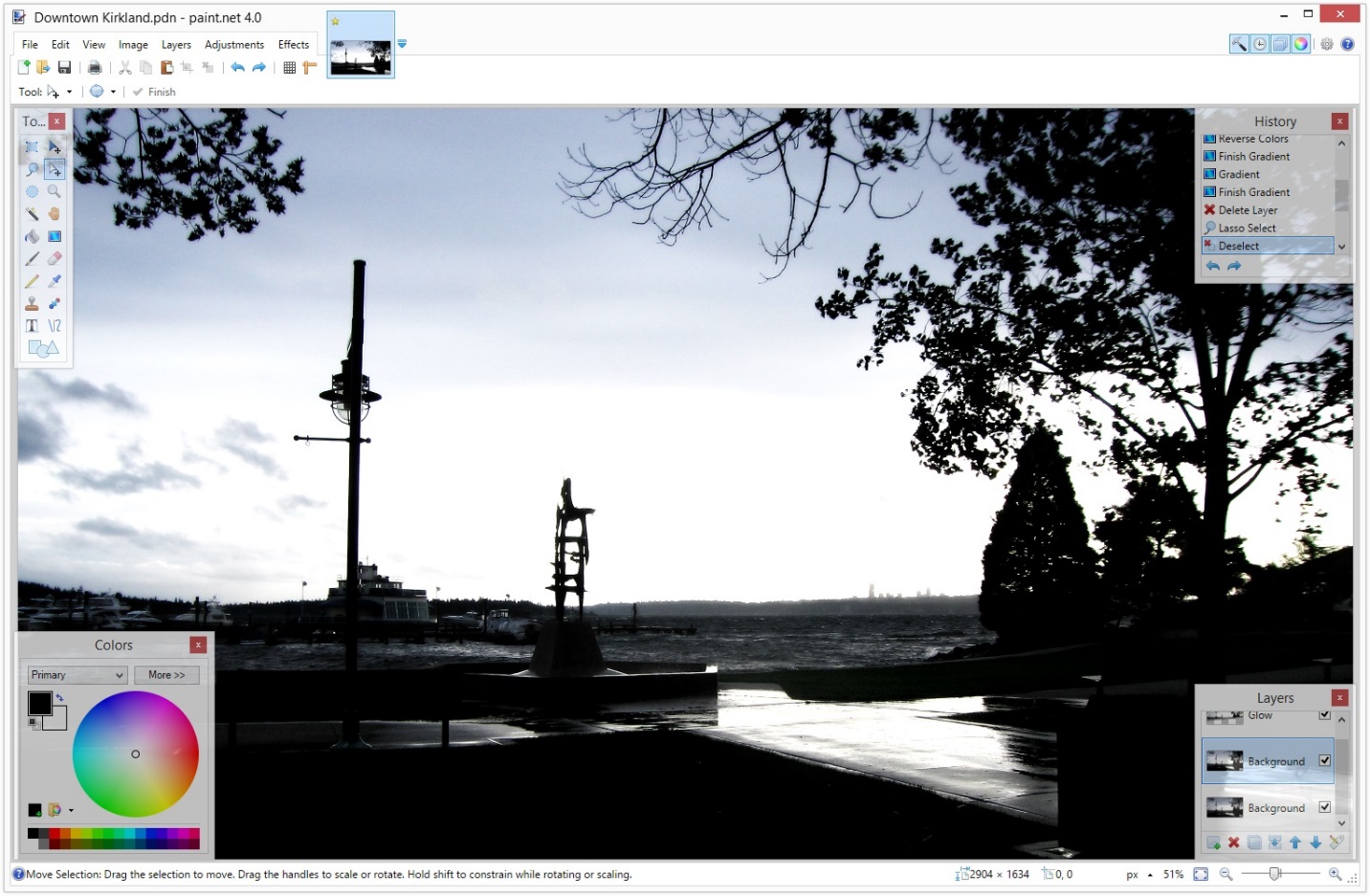 Paint.NET is image and photo editing software for Windows-based computers. It has a user interface that is both easy and innovative, with support for layers, limitless undo, special effects, and a plethora of useful and powerful tools. A lively and expanding online community offers helpful advice, lessons, and plugins.
It is a raster graphics editing software that has a huge resource base with support for layers, file history recovery, and a wide range of powerful and precise tools. Paint.NET is dependent on Microsoft's .NET Framework 4.7.2, which is installed automatically if it isn't already on the system.
Paint.NET will run in 64-bit mode if it is available. You must have a 64-bit CPU and a Windows x64 edition.
Paint.NET stores temporary data relating to undo/redo history on your hard drive. As a result, the real disk space needs will be determined by the activities you take on an image as well as the size of the image.
Some of its disadvantages are;
– The brush presets are limited.
– There is no Burn and Dodge tool in the image edit tools panel.
– Texts cannot be corrected after applying other layers and effects.
– It does not support the CMYK color swatches.
Features
A well-ordered user interface.
Users can access a feature called "online consulting" and other useful tutorials on image creation.
Completed projects can be saved and exported in different formats.
It is lightweight and does not affect the GPU of supported devices.
Key features
Intelligent history recovery – You can return to any stage of your photo editing.
Pricing
It is free-to-use software. However, Microsoft sells it at $6.9
ibisPaint X
Perfect for beginner illustrators, manga, and comics artists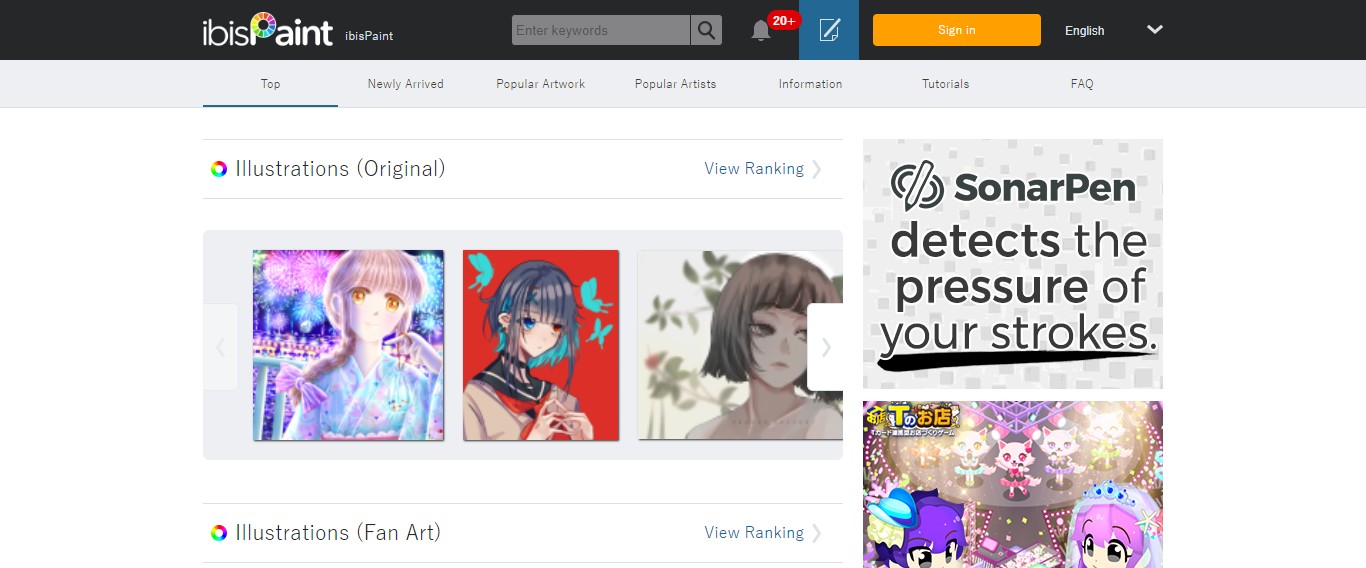 It is a digital painting software that has enhanced drawing and illustrating features that allow users to create sellable pieces of art. You can choose between 142 different pencils, canvas, layers, and tool presets to create detailed designs.
You can create, save, edit and sync on the go and across all supported devices. It is beginner-friendly and easy to use. It has lots of free design content and presets and files can be imported and exported with ease.
It is available for download on only mobile and tablet devices.
Some of its disadvantages are;
– It does not have support for third-party plugins and tools.
– It is not suitable for professional artists and illustrators.
– Accounts can only be created with a Twitter or Facebook account.
– The user interface is unappealing.
Key New features
It is beginner-specific – There are not many softwares that are targeted at amateurs, but IbisPaint is different. It allows beginners to build and develop their creativity at their own pace.
The new features on the Ibis paint are the new perspective form, When using the Transform tool, "Perspective Form," you can now select one of four repeat types: "None," "Inner," "Horizon," or "Full." This makes pasting stock photos into illustration backgrounds considerably easy.
You can now put hexadecimal color codes
Addition of filter art (cross filter) and filter style (Good ray) and filter artistic (bloom)
You can now select a wider variety of sizes in the canvas size selection window.
Custom brush installation from the online gallery
6 Image interpolation methods
Layer support for moving and transforming folders
Pricing
It is free to use on all supported devices and operating systems.
Blender
Blender is a free and open-source 3D animation, modeling, rigging, simulation, composition, renderer, and motion tracking software. It is also a video editing and 2D animation pipeline software.
Blender is created by specialists from various fields around the globe and it includes a strong path-trace engine that produces real-world results. It contains advanced sculpting and other capabilities that allow you to easily create and change models. Blender's interface can be customized and it allows you to change the fonts, layout, filters, colors, and others. There are numerous add-ons produced by users that can be utilized by anyone who uses the software.
Key Features
Production-ready camera and object tracking
High-quality rigging and animation tools
Combination of 2D and 3D full animation
Flexible Python control Interface
Connect with Blender Render's API
Pricing
Blender is free.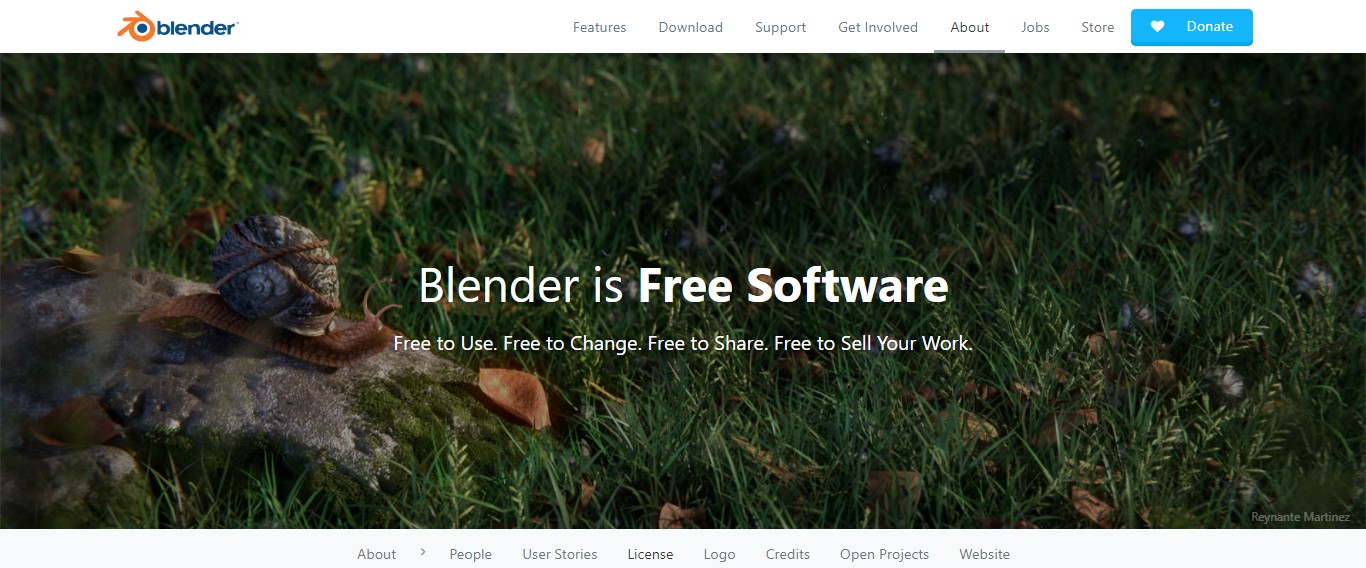 ArtFlow Studio
Drawing app specially creative for kids and adults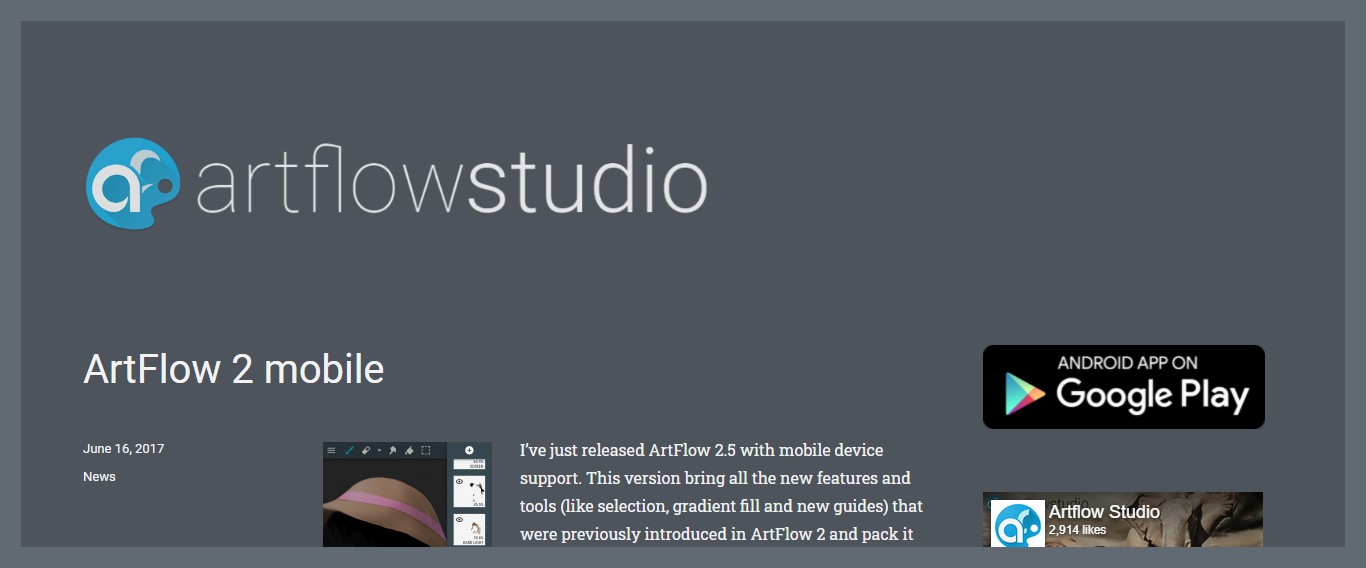 ArtFlow 2.0 is a sequel-released version of the Atflow app. It includes over 70 brushes, a smudge tool, an eraser, and a file tool. It's a wonderful software made for both kids and adults. The app allows children to be more creative and fun with it. The software supports pressure-sensitive pens, making it feel more like drawing on a real canvas.
There are a lot of recent changes both in the user interface and underlying painting and layer engine. Notable key features of artflow studio include: New stroke blending – no more artifacts with low opacity or low flow brushes (and thus much smoother and better-looking airbrushes)
Hires canvas optimization – large images are now much faster and available on a wider range of devices (including Nexus 7 2013)
Memory management optimization – which means more layers (eg. Nexus 10 supports now 3 layers in 4K)
Tons of small (but useful) UI changes (new shortcuts, fine-tune controls, left-handed UI, and more).
Features
New, Holo and material- design inspired UI, with new workflow
Up to 7–16 layers with 11 different blending modes and global opacity
Per-brush blend mode and sRGB support
Selection and selection mask (selection tools include lasso and magic wand)
New brush engine with multiple new features
Separate flow (tip alpha) and opacity (stroke) control for brushes
Device orientation support (portrait/landscape)
Universal brush support: each drawing tool uses brushes
Non-incremental flow and pressure simulation for touches
64-bit smudge and high-performance accelerated engine
New transformation with deform support with infinite undo and redo
Canvas rotation and active edge shortcut system
Color adjustment (HSV, brightness & saturation, and more)
Hi-res canvas – up to 2048×2048, 2560×2560 or 4096×4096
Focal guide and pressure-sensitive support for devices with Stylus (SPen)
Pricing
The app is free; however, if you desire to utilize more of its advanced tools, you can get them through in-app purchases.
Vecteezy
Perfect for illustrators of all skill levels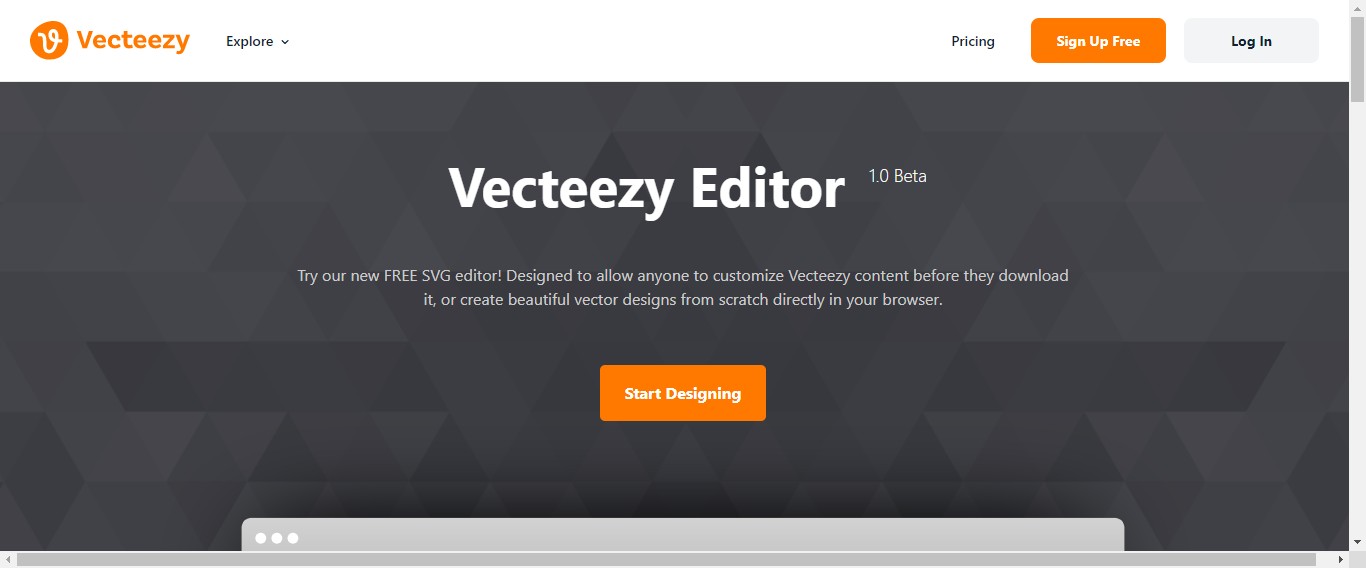 It is a vector graphics editor that contains a lot of high-quality free resources that can be customized. It is browser-based software, so it doesn't consume a lot of storage space.
Blend mode – It has a lot of blend mode presets that gives each finished project a unique and artistic look
Some of its major disadvantages are;
– It does not have a wide range of tool presets.
– Layers cannot be stacked together.
– It does not support all file formats.
Features
It has a simple user interface.
Users can access a community of graphic designers and resources.
It is lightweight and does not affect a device's GPU.
There are lots of customizable options and tools.
It has a unique search feature that easily processes queries.
Its powerful tools help you create art when you are time-crunched.
Pricing
It is free to use across all supported devices.
The thing with drawing applications is that you can make your custom objects, manipulate images layers, retouch a photo, create new designs and other creative content. There are a host of free and paid apps to choose from.
You should choose digital graphics software based on your goals, requirements, and budget.
If you're on a budget or a beginner, you should consider getting a freeware application. If you're considering drawing and illustrating comics, you should download software that does that.
If you're a 3D graphics artist, apps that are best suited for 3-dimensional designs are the right option for you, and if you are a photographer or editor, you should consider using software that primarily lets you manipulate and edit images.